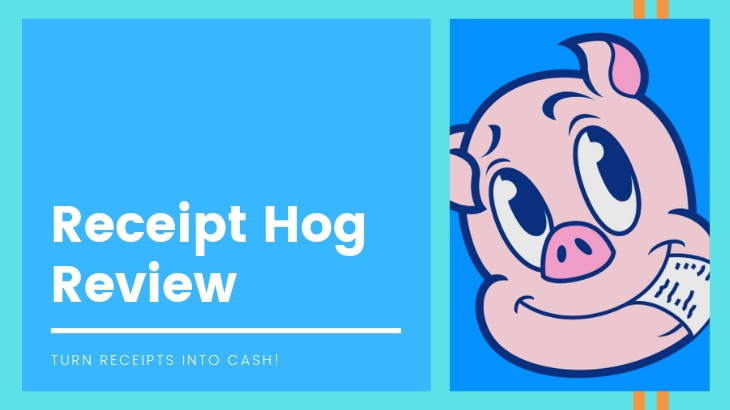 Receipt Hog Review – Can You Make Money From Receipts? Yes You Can!
Welcome to my Receipt Hog review!
What if I told you that you could make money from scanning your receipts?
It's not going to be a lot of money, but mind you, it's still a few bucks to have.
And one app that's going to help you is Receipt Hog.
First of all, I must Congratulate you for taking your time to do your own research before buying into any "seemingly good" product.
That's the way to avoid scams and find the legitimate way to make money online!
Let me be completely transparent with you, I'm not associated with Receipt Hog in any form.
So, rest assured that I'm not here to pitch or sell anything to you.
Instead, I'm here to reveal how you can turn receipts into potential cash!
Receipt Hog Review Summary
Product Name: Receipt Hog
Founder: Jared Schrieber / InfoScout
Product Type: Get Paid To Scan Receipts
Price: Free To Join
Best For: People who love to shop and would love to earn some cash for their purchases!
Summary: Receipt Hog is an app that rewards you for scanning receipts. You get coins for every scan you do, and then you can convert these coins into cash or vouchers. However, like any other GPT sites or survey programs, the earning potential is really low so you can't do this full-time. But other than that, if you find yourself shopping frequently, this app might be worth looking into.
Rating: 70/100
Recommended: Yes and No!
More...
Receipt Hog is an app that allows you to earn money by uploading your receipts from different stores in exchange for "coins", which you can use to convert into cash or vouchers.
The app was developed by a market research company called InfoScout, founded by Jared Schrieber.
And unlike earning money completing surveys or doing other tasks, the process of scanning and earning is relatively easy and can be done in a few seconds.
There's no need for you to invest a lot of time in front of a computer to earn a few bucks.
All you really need is a smartphone with a camera and access to the Google Play or Apple Store to download Receipt Hog.
Once you're done downloading the app, you'll be asked to sign up using the registration form on their app. You can also opt to link your Facebook account to make things easier.
When you complete your registration, you are now ready to start scanning and earning.
The Reward Section
There are three different ways for you to earn coins on Receipt Hog:
You can complete a survey within 5 minutes to earn 30 coins. This depends on your demographics and the kind of receipt you upload.
You get 100 coins immediately when you link your email account. This allows you to get rewards for e-receipts that are sent to you via email. Note that Yahoo, iCloud, or an AOL addresses are not accepted.
The Hog Household Bonus earns you 40 coins. When a member of your household signs up and takes the survey, he or she needs to scan at least 20 receipts for you to qualify for this bonus. This is their only version of a referral system.
I'm Jerry!
I Created My Own 4-Figure Monthly Passive Income at just 21 Years Old!​
Uploading Receipts
Just access your camera via the app and be sure to capture the following details in the photo:
Store name
Amount of purchase
Date of purchase (not older than 2 weeks)
Items purchased
All of these must be within the photo, otherwise the scan is rejected.
Handwritten receipts, cinema tickets, and receipts are deliveries are also not accepted.
Rewards For Scanning Receipts
You earn coins from receipts you get at groceries, beauty suppliers (salons, barbers, etc), cash & carries, corner shops, convenience stores, discount stores, pharmacies, and pet shops.
The amount of coins you earn depend on the total shown on the receipt.
Each receipt you upload also gets you one sweepstakes entry automatically.
The Hot Slot Spins is earned when you upload receipts from shops that carry clothes, electronics, books, office supplies, sports equipment, home furnishings, and hardware. The spins also get you a few coins too.
How Much Are Coins Worth In Real Money?
Receipt Hog coins are what you're primarily after for scanning receipts because this is where you get your cash.
You can withdraw your cash via PayPal or through Amazon gift cards.
Note that the values presented to you are based at the time of this review, so they may change by the time you read this.
The app gives out coins based on how much was spent on each receipt:
If you spend $10, you can earn 5 coins
If you spend $10-$50, you can earn 10 coins
If you spend $50-$100, you can earn 15 coins
If you spend $100+, you can earn 20 coins
But you also need to convert the coins into cash, and here's the breakdown:
You need 1000 coins to get $5 (which is the minimum needed to cash out).
You need 1800 coins to get $10
You need 3200 coins to get $20
You need 4500 coins to get $30
Redeeming Rewards
As mentioned earlier, you can get your cash via PayPal, MasterCard vouchers, and Amazon Vouchers.
The process takes about 7 days delivered to your email or your PayPal.
Receipt Hog is a great app for people who want to get a few cash out of their receipts.
If you're spending an average of the minimum amount to get coins from Receipt Hogs, this app might be for you.
But if you're looking for a way to make serious cash online, I would invite you to check out my step-by-step guide on affiliate marketing.
It's free and doesn't need you to sign up for anything.
Receipt Hog Ugly Truths Revealed!
#1 – Low Earning Potential
Mind you, this is another variation of a GPT or Get Paid To rewards program, and the income potential is always very low for programs like these.
Let's do the math.
You need to spend $10 to get 5 coins, and you need 1000 coins to get $5.
So, to get $5, you need to spend $2,000!
But they make up for it by reducing the number of coins needed to get the higher amounts, so it's not exactly having to double the amount of coins to get to $10 and so on.
My tip here is to convert only to cash out at $20 or higher.
If you're expecting to churn out thousands of dollars a month from this program, then you need to look someplace else.
#2 – You Need To Be Active!
Much like other survey sites and GPT programs, Receipt Hog requires you to be active.
If you've been inactive for more than 3 months, or haven't scanned a receipt within that time period, your account will be frozen or even eliminated.
There's no mention of the app emailing you before this happens, but I haven't read any complaint about people getting their accounts closed for no reason.
One way or the other, the app must have some way to remind you to scan receipts.
#3 – No Referral Program!
A referral program would've been amazing for Receipt Hog and could've turned this review the other way around.
This could also give people a chance to earn more coins by referring others to this program, and it would've benefited Receipt Hog in more ways than one.
What I Like About Receipt Hog?
#1 – It Turns Your Receipts Into Cash!
This is a good way to motivate you into keeping your receipts, or asking for one, for every purchase you make.
It doesn't also work like a cash-back feature or program like what Paribus has to offer, but it does give you some form of cash back for your purchases.
Receipt Hog may not be a get-rich-quick scheme or a way for you to earn thousands of dollars online, but it is a great way for you to earn money from your receipts.
But this is an app that I can't really recommend if you're looking to earn some serious cash online.
The low-income potential is definitely a buzzkill and doesn't give you enough to quit your day job.
If you're frequently buying something, then this app might be for you.
How I Make a Living Online?
I've personally created a 4-Figure Monthly Passive Income Stream and become financially independent at just 21 years old without any College degree or working experience!
Through my own hard work, I went from a broke restaurant waiter to living my dream laptop lifestyle in less than a year's time...
If you want to discover the secrets of how I did it at such a young age, click here!