18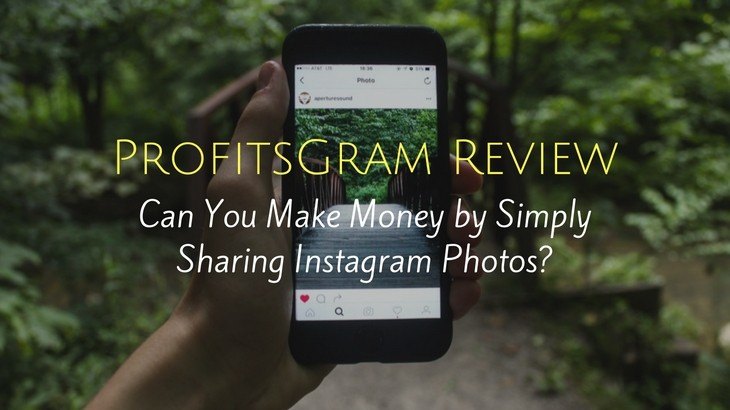 ProfitsGram Review: How To Make Money From Instagram?
In this ProfitsGram Review, I'm going to walk you through step-by-step on what you should expect from this product and reveal to you whether it's really possible to make good money from Instagram by sharing photos.
ProfitsGram, also known as InstaProfitGram, claims to be a tool that can help you easily monetize your Instagram account and make up to $750 per week or even $200 per day.
I'm pretty skeptical about this product so I've purchased it myself and let me just offer you my honest first-hand experience and advice in this review...
More...
ProfitsGram Review Summary
Having some Photography skills is preferred
Various claims made: $748/month, $750/week, $200/day
ProfitsGram is an eBook that teaches you how to make money by selling photos on Twenty20. It has nothing to do with Instagram or even Facebook. The eBook is all about how to best sell your photos online to earn commission. Recommended for passionate smartphone/professional photographer.
ProfitsGram LIVE Video Walkthrough
Below is a video I did to walk you through what you're going to see before and after you purchase this product. Like I've said, I've purchased this product myself and this video recorded down my first-hand experience with ProfitsGram.
---
How To Make Money From ProfitsGram?
​I've searched for many ProfitGram Reviews online and none of the reviewers seem to have purchased the product themselves. All the reviews are not really revealing the truth and are just blindly promoting it as an affiliate.
Today, I would like to reveal to you all the pros and cons about this product from my first-hand experience.​
ProfitsGram is not related to Instagram at all. Mr. Dawson is just using "Instagram" as a way to promote his product.
ProfitsGram is simply an eBook (46 pages) teaching people how to make money by selling your own photos on another platform called "Twenty20". ​This is a Stock Photography website which allows customers to purchase stock images and mobile photographers to sell their photos as "Royalty-Free Images" online.
As a seller on Twenty20, you'll get paid different percentage of commissions depending on the different plans and licenses. What you need to do is just to setup a seller account and upload high quality images from your smartphone. All the images you upload will be vet by their team and will be available for sale very quickly.​
That's ​basically what you'll be doing and how you're going to make money if you follow what ProfitsGram tells you.
As you can see, this has nothing related to Instagram. Mr Dawson​ simply uses the name of "Instagram" as a way to promote this eBook because he assumed all Instagram users are passionate mobile photographers who like to take quality photos from their phone and upload them for sale.
The Good
​1. Detailed Guidance on Photo Selling
​ProfitsGram is an indeed thorough and detailed eBook on how to sell your photos online. It has quite a lot of information on the legal issues about online photo selling and many tips to help you better monetize your photos.
So, the advantage of this has nothing to do with making money on Instagram. What you'll learn is all about Twenty20 and the right way to sell photos there.​
2. 100% Money Back Guarantee​
ProfitsGram has a 100% Money Back Guarantee in 100 Days where you can get a full refund if you're not satisfied within 100 days.
This is pretty good because this shows that they are confident about their eBook.
The Bad
​1. Has Nothing Directly Related to Instagram
​You would have known by now, ProfitsGram is simply using the name of "Instagram" to promote and sell their eBook. It has nothing related to Instagram.
What I feel is that they failed to deliver what they promised​ about "making money from your IG account". Seeing from this perspective, it is a scam.
In fact, ​it did explicitly mentioned that this eBook is all about making money from Twenty20, not Instagram:
2. Not Worth The Price
​The cost of this eBook is USD$37. It may seem quite affordable to most people because it is not something that costs a few hundred bucks.
However, after I've read through the whole eBook, I feel the value that it delivered does not worth $37.​
Despite it has a thorough guide on selling photos online, all these information can be quite easily found online for free. There is also a "seller's guide" within the Twenty20 platform where you can learn more information about this topic.
So, this eBook doesn't worth the money in my opinion.​
3. Not a Good Long Term Full-Time Income
​I believe you can really make some money by selling photos on Twenty20. However, what I feel about the platform is that it's quite competitive so it's not easy to make money.
You can make some good money if you're a very passionate mobile photographer who put a lot of time and effort into this. If not, you may just be earning a few bucks here and there.​ It's definitely not a good long-term money making method in my opinion.
---
My Recommendation​
Regardless of whether you're a passionate photographer or not, you can definitely join Twenty20 and try out the platform. Even if you're not a dedicated mobile photographer, I'm sure all of us have some beautiful photos in our phones where we can share with others and potentially make a few bucks there.
But for the ProfitsGram eBook itself, it's not recommended because I don't feel it's worth the price. You can simply explore Twenty20 yourself and do some research online.
All in all, this is definitely NOT a way for you to make a full-time income online. If you're looking for ways to do that, please check out My Top Recommendation Here!
Thank you so much for checking out my review and I hope this offers you some valuable information to help you make the best decision for yourself.
If you have any questions about ProfitsGram, Twenty20 or basically how to make money online, please feel free to leave them in the comments below.