20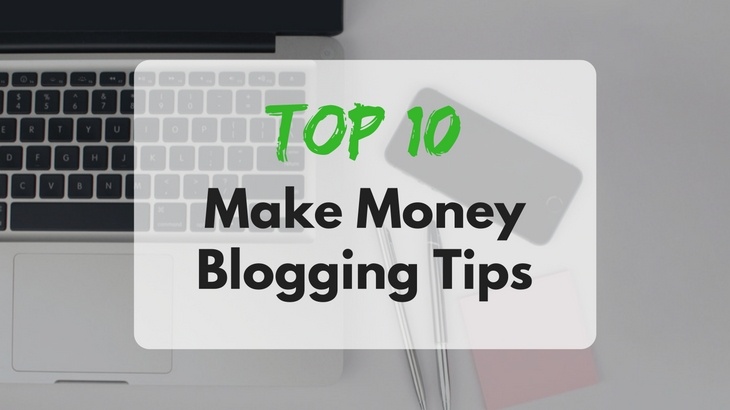 10 Make Money Blogging Tips That Every Bloggers Should Be Practicing
​Make money blogging online is one of the most common reasons that encourages people to set up a blog and start their "blogging business". However, it is not as easy as it may seem to be, especially to make a full time living from blogging alone. In this post, let me offer you 10 of the most important make money blogging tips I've learnt over the years to help you build a more profitable blog.
More...
Top ​10 Make Money Blogging Tips
---
#1 Purchase Your Own Paid Domain Name
Most of us started off with a very limited budget so we always want to look for free tool and resources. However, if you are really serious about your blogging business, you should definitely invest in purchasing a paid domain name. This is the money that you shouldn't be saving.
I've seen a lot of bloggers running on a free subdomain website, be it wordpress.com, blogspot.com or wix.com and they are trying to make money. It is possible to make money with a free subdomain website but it just has a huge disadvantage against paid domain websites.
The reason is simple. Search engines trust a paid website more than a free website. You'll likely to get more attention and better rankings in search engines with your own paid website.
So, if you are serious about making money blogging, the first tip I have for you is to get your own paid domain if you've not done so yet.
Generally, the cost of a paid domain is less than USD$20 per year. It is definitely a very affordable investment. If you put in enough time and effort, you'll earn a lot more than the $20 in your first year to cover the cost.
#2 Create Your Own Conducive Environment For Blogging
Since blogging is a type of home business, most people work on their blog in a very relaxed environment. There tends to be more distractions in these kind of places. The direct disadvantage of this is lower productivity.
I recommend you to create a conducive environment for your blogging business so that you are more focused. What I mean by conducive is that you are comfortable but not too relaxed in that place so that you won't be distracted by other things when you're working on your business.
You can go to a local library or coffee shop to do your work if you're the type of person. There are also many successful internet entrepreneurs who have set up their own "home office" as the conducive environment for them to work on their online business.
Below is a video tour by Pat Flynn in his own home office. I love it a lot. You may not have the ability to set up such a good place for now. It's just an inspiration for you.
The most important thing is that you are comfortable with the place you blog and you can concentrate at the same time without much distractions. If not, procrastination and inefficiency are the most critical factors that are hindering you from success.
As you can see in the video, Pat Flynn's initial home office was a small corner in his house when he just got started. The transformation to his current home office is both amazing and encouraging!
#3 Focus on a Targeted Niche
A lot of beginners start their blog as a personal hobby blog which they share their own stories and experience. Some people choose a very broad niche such as travel blog, food blog or lifestyle blog.
The problem with these niches is that they are not targeted enough to attract targeted visitors and potential customers.
One common misconception for beginners is that they thought they can attract more traffic if their blog covers a very broad topic to include many different groups of people. The problem with broad niches is that they are very competitive so it's a lot harder to outrank blogs with higher authority and stand out from the crowd.
From the money making perspective, the recommended way for beginners is to start with a very targeted niche so that you can attract high quality traffic to make you money.
The way to do this is to dig down deeper into the current niche you may have and adjust your blogging approach from there.
For example, if you have a travel blog, a more targeted niche can be backpack travelling, business trip, Las Vegas travel guide, etc. Any specific type of travelling or destination can make your niche more targeted in this case.
The tip here is to think creatively and ask yourself which specific area can you provide the most value in.
#4 Do Proper ​Keyword Research & SEO
In order for you to rank well in search engines and get more traffic, you cannot just randomly publish blog post according to your feeling. Keyword Research and Search Engine Optimization (SEO) are two very crucial skills you need to learn and master as a blogger.
By practicing proper keyword research and SEO, it allows search engines to better understand your blog content and rank them well.
You can check out my recommended keyword research tool here.
​#5 Quality & Relevant Products/Ads
The best way to make money from a blog is affiliate marketing, followed by Ads. The tip to succeed with these is to have quality and highly relevant products and advertisements to incorporate into your blog.
The most common places to find affiliate products are Amazon, ClickBank, ShareASale and Commission Junction. These are high authority and trustworthy affiliate networks for anyone to find affiliate products. But you should definitely do your own research on the individual product before you incorporate them into your blog.
There are also many private affiliate programs which can be very profitable as well. Just make sure you take some time to investigate before diving into any programs.​
A very common mistake for Ads is that some beginners tend to fill up a lot of their blog spaces with Ads. They thought this can increase click-through rates (CTR) but the reality is that it makes your blog very messy and spammy.
If you want to incorporate ads, put yourself into your reader's shoes and insert adequate Ads so that they are not distracting and annoying.
​Google AdSense is the most common place for website owners to get ads. There are also private ad companies which you can work with to sell your ad space on a contract basis.
#6 Forums & Facebook Groups Are Gold​
Don't underestimate the power of online forums and Facebook groups. They are places where you can get immediate traffic and sales if you do it correctly.
These forums and groups have highly relevant and targeted group of people in the first place. Many of them are looking for information you can provide. If you're able to help them with your blog, you can easily gain backlinks, drive traffic and make more sales on your blog.
As a blogger, you should search and bookmark relevant online forums and FB groups in your niche.
For bloggers in the "make money online" or "online marketing" niche, Warrior Forum and Digital Point Forum are two awesome forums to participate in.
Whilst for people in all niches, search for relevant Facebook Groups. There are FB Groups in almost any niches. You just need to spend time for your research and engagement in the groups/forums.
A friend of mine can earn $2000 commission by just participating in forums to help and answer people's questions.
#7 Develop a Good Social Network​
Social media marketing is as important as SEO. It is a good way to not only build your brand or your authority in your niche, but it's also a good way to get targeted traffic to your blog.
Developing a good social network can allow you to make good e-friends online. There are a lot of benefits to this, such as:
So, what you need to do is to make sure you have your social media accounts set up properly first. Be active, helpful and social as much as possible. You'll slowly make more friends online and build up your authority in the niche.
#8 Start Building Your List Since Day 1
Not literally Day 1 of your business but as soon as possible.
A lot of people are underestimating the power of email marketing despite you only have a couple of subscribers.
Although you may think it's not worth the time and cost to work on list building when you don't have much traffic and subscribers to entertain, there are still many benefits to collect an Email list at the beginning stage of your blogging journey.
The most important benefit is that you can make a lot of errors and learn along the way. After all, email marketing is just another set of skill you need time to learn and master. Why not familiarize yourself as soon as possible so that you can better utilize and monetize the bigger list you will have in time to come?
Another thing to keep in mind is that subscribers are still subscribers, no matter how many you have. I'm sure you'll have "fake" subscribers at the start, like you subscribing to your own list or asking your friends and family to subscribe to it.
This is normal. Slowly, you'll have more and more organic subscribers and you should treat every subscriber like a real potential customer.
Let me quote Pat Flynn on this. He said that even if you only have 100 subscribers, they are still real people whom you have permission to get in touch with them through emails. Imagine you're in a room with 100 people sitting down and waiting to hear from you. I'm sure you'll be at your best possible condition to deliver whatever you want to deliver to them, right?
So to conclude, learn and build your list at the same time from a small scale and value every subscriber you have. Deliver the best content and help possible despite you may only have just one subscriber. That's how you set yourself to up to reach the big scale eventually.
#9 Treat Blogging as a Serious Business
A lot of people just want to have fun with blogging but they also want to earn some money at the same time.
Here comes the problem...​​​​​
You'll only achieve things that your mind is determined and dedicated to. If you just treat blogging as a pure hobby then you definitely won't put in that much amount of time and effort to monetize it. It's a mindset thing.
If you want to make serious money through blogging (which is totally possible), you have to treat blogging as a serious business. It can still be your hobby, just that you need to tell your mind what you really want to achieve and the amount of effort you're willing to put in.
"You Can Do Anything You Set Your Mind To" ~ Benjamin Franklin
#10 Be Patient & Consistent
Blogging is a marathon, not a sprint.
As cliche as it may sound, you need to be totally patient and consistent in your work in order to reap the huge reward in time to come.
As a blogger, you'll have to focus on publishing great content regularly, doing the right SEO techniques and build your authority by reaching out to famous and successful people in your niche.
If you're consistently doing these things right, success is not very far from you.
Conclusion
To be frank with you, blogging is indeed a time-consuming and lonely thing to do especially when you have to spend hours in front of your own laptop.
However, it can be really rewarding if you are able to find the passion in it and establish goals with a good action plan to achieve it.
In the blogging world, success is only for people who don't quite & just keep hustling despite there's no instant result.
I hope you find this list of 10 make money blogging tips useful and really take action! Let me know in the comments below if you have any make money blogging questions.
Don't Forget To Check Out My Top Recommended Way To Monetize Your Blog!