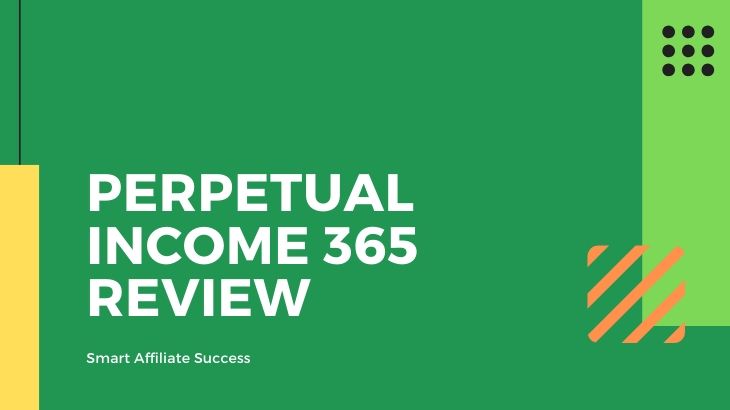 Perpetual Income 365 Review – An Email Marketing DFY System Review!
Welcome to my Perpetual Income 365 review!
Email marketing and affiliate marketing are two legitimate business models that can help you make money online. When done right, you could literally generate a decent passive stream of income.
That's what these training courses are here for. Unfortunately, not all of them are created equal. In fact, only a few stood out as being better than the rest.
Today, we're looking at Perpetual Income 365 and we're going to find out how good it is.
First of all, I must Congratulate you for taking your time to do your own research before buying into any "seemingly good" product.
That's the way to avoid scams and find the legitimate way to make money online!
Let me be completely transparent with you, I'm not associated with Perpetual Income 365 in any form.
So, rest assured that I'm not here to pitch or sell anything to you.
Instead, I'm here to reveal what this system is all about...
Perpetual Income 365 Review Summary
Product Name: Perpetual Income 365
Founder: Shawn Josiah
Product Type: Email Marketing DFY System
Price: $47 per month + Additional Costs
Best For: People who want to get started on email marketing.
Summary: Perpetual Income 365 is an affiliate marketing and email marketing DFY system created by an expert marketer. The program's legit as it seems, but there are a few things that doesn't sit well with us. On top of using fake testimonials, there's not much room for flexibility and customization with the pages unless you buy the upsells. We'll explore the good and bad issues of this program below.
Rating: 50/100
Recommended: No!
More...
What is Perpetual Income 365?
Perpetual Income 365 is an email marketing and affiliate marketing DFY system designed by Shawn Josiah, a veteran marketer.
The focus of the system is on solo ads and paid traffic, but we'll get right into that. His underlying concept of affiliate marketing relies on Netflix's philosophy of recurring income, which we'll explain below.
Who's Behind Perpetual Income 365?
Shawn Josiah has made a name for himself in the affiliate marketing industry over the past few years by using this product alone. A few years ago, he found the algorithm that's used by companies such as Netflix and Apple which allows them to make a lot of money.
Shawn claims that when used the right way, the algorithm can increase the person's net profit by 210% in no time. This claim is apparently backed by a lot of his members who said they started to see results after going through the course.
On top of his product, he's also a Platinum ClickBank member which means that he's one of the top affiliate marketers who's earning a lot of money on the platform. Having said that, his credentials alone to back this course's legitimacy is more than enough.
Inside Perpetual Income 365
Simply put, Perpetual Income 365 is a DFY or Done-For-You system that tackles affiliate marketing, email marketing, and some SEO or search engine optimization.
This system also covers training videos and programs that allow you to learn about these business models. This system doesn't let you go in blind, but rather it lets you know what you're getting into.
​Perpetual Income 365 Members Area
Why Does Netflix Help with Perpetual Income 365?
The sales video on their landing page claim that ordinary people are manipulating the secret Netflix algorithm to make income every month, perpetually.
Shawn claims that you'll learn how to tap into the science behind Netflix's recurring business model, and you can use this secret to make a recurring monthly income for yourself.
The training video explains that Netflix has a certain way of marketing to users that it gets people to sign up and for them to keep paying every month for years.
The video lasts 10 minutes and will help you understand why this system works so well.
​Perpetual Income 365 Money Pages
This is the automated part of Perpetual Income 365. Here, you're able to manage your money pages (or what others call Landing Pages or Optin pages)
Once you create the page, you automatically start the 31 days of DFY email campaign. It starts sending leads into your funnel and you start to generate results.
Note that with a default account, you can only choose from 2 of the 7 available landing page styles. You can unlock more when you upgrade your account. ​
Perpetual Income 365 Traffic Crusher​
365 Traffic Crusher is a training course that teaches you how to generate traffic. There are 3 videos all in all, totaling to 45 minutes. It explains concepts of solo ads and paid ads, without making it look like you need to spend a lot of money on them.
I'm Jerry!
I Created My Own 4-Figure Monthly Passive Income at just 21 Years Old!​
How To Get Started with Perpetual Income 365?
There's a monthly fee of $47 per month, but what they don't tell you is that you need to pay for the other tools that you use for this program.
GetResponse offers a 30-day free trial within the system, but you get charged $12 a month after.
Solo Ad Traffic: $40 to $100 to generate 20-50 leads (subscribers)
At the minimum, you're looking at $99 per month in total if you just go for the lowest Solo Ad Traffic costs.
Perpetual Income 365 ​​Upsells​
There are upsells listed on the Perpetual Income 365 landing page that allows you to maximize the experience of the program:
Perpetual Asset ($127) – This gives you 5 more squeeze pages and may be a good option for you to expand and if you want to try out other pages.
5 Clicks Profit Activator ($197) – This allows you to customize your pages further by displaying extra banners, visitors' country flags, "spots available" texts, and visitor tracking.
Email ATM ($297) – You can automatically re-write email swipes with Content Fountain. You also get access to Spambox Filter, which cloaks your affiliate links to prevent your email from going into the spam folder.
Help and Support
Email support is available, and problems are addressed within 48 hours. There's also a Facebook group for members to join which will allow you to get your questions answered.
Money-back guarantee
You get a 60-day money-back guarantee and has no requirements for you to comply. This is a hassle-free refund system, so you get your money back.
Who's Perpetual Income 365 For?
Perpetual Income 365 is intended for people who have a slight understanding of how affiliate marketing and email marketing works. It helps if they already have an existing website or product they're marketing, so this system will just supplement the income stream (if ever).
Enter your text here...
Perpetual Income Ugly Truths Revealed!
#1 No Flexibility
This is a DFY system, so there's little customization offered here unless you buy into the upsells. The scale of the customization is also in question, so you're more or less going to have similar pages with other members.
This isn't really a sustainable way to scale a business simply because you're going to be pooled in with the other marketers based on your pages. It's a good start to be honest, but not something that you'd want to use in the long run.
#2 Nothing New Being Shown Here
The reason why this program's appealing is that it refers to algorithms used by multi-billion dollar companies, and even used by that 7-year old YouTuber who makes $22 million a year.
But as you login, you'll find that there's no algorithm here. The system is all about generating leads using standard lead pages and making ClickBank affiliate commissions using solo ads.
There's nothing new behind this particular form of affiliate marketing, and Shawn is not showing anything unique that sets Perpetual Income 365 apart.
#3 Fake Testimonials
You'll find that some members have posted their results on the Facebook page, but on their landing page, some testimonials aren't quite like the others. You see, these testimonials are paid for and come from a site called Fiverr, as seen below.
Using fake testimonials is a big no-no because it's misleading and does not help with the company's success claims.
Now this doesn't mean that all testimonials are fake though. As you can see here, there are people who did earn a few bucks using the system. However, take these with a grain of salt because these might be fake and that there's no way to disprove these.
What I Like About Perpetual Income 365?
#1 Free Email Swipes
Having 31 days' worth of email sequence is a time-saver and can be tedious for new marketers. Perpetual Income 365 literally saves you a lot of time with creating campaigns.
This might also be worth looking into for veteran marketers looking to save up on time.
#2 Ready-Made Squeeze Page Integration
The squeeze pages are readily integrated into other platforms and autoresponders, so it doesn't take a lot of work to migrate squeeze pages. If you don't like Perpetual Income 365's autoresponder, you can use other software and the squeeze pages will be usable.
Is Perpetual Income 365 a Scam?
Perpetual Income 365 is a legitimate affiliate marketing and email marketing DFY or Done-For-You system and is something that new marketers might look into. The program itself can be used by experienced marketers who have a website running or are marketing products already.
However, we just want to point out a couple of things that could affect your decision to purchase this program:
There's no flexibility being offered with their squeeze pages because this is a DFY system. At best, you're going to have to purchase the upsell that offers more customization. It doesn't really help you scale your business in the long run.
The testimonials are fake, but not all of them. I found it disappointing that they used fake testimonials to hype up the program even though they did have real people reporting real results.
Either way, this is still worth checking out if you need to delve into email marketing.
How I Make a Living Online?
I've personally created a 4-Figure Monthly Passive Income Stream and become financially independent at just 21 years old without any College degree or working experience!
Through my own hard work, I went from a broke restaurant waiter to living my dream laptop lifestyle in less than a year's time...
If you want to discover the secrets of how I did it at such a young age, click here!