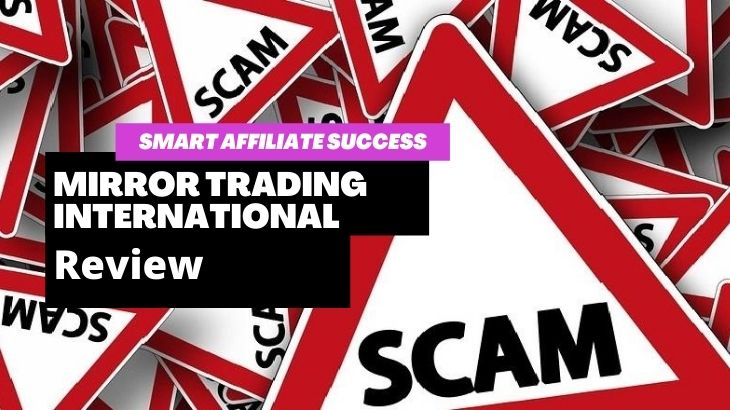 Mirror Trading International Review – Don't Join This Program!
Welcome to my Mirror Trading International review!
So in the MLM industry, cryptocurrency and investment niches are quite popular. This is probably because of the fact that people are promised insane amounts of money within a period of time.
Unfortunately, that's not really how investments and cryptocurrencies work. You need to be actively trading them in order to make a profit, and not recruit people.
This is what this scam is all about. This is Mirror Trading International.
First of all, I must Congratulate you for taking your time to do your own research before buying into any "seemingly good" product.
That's the way to avoid scams and find the legitimate way to make money online!
Let me be completely transparent with you, I'm not associated with Mirror Trading International in any form.
So, rest assured that I'm not here to pitch or sell anything to you.
Instead, I'm here to reveal why we don't want you to join this program...
Mirror Trading International Review Summary
Product Name: Mirror Trading International
Founder: Johann Steynberg
Product Type: Cryptocurrency MLM
Price: $100 minimum investment
Best For: No one!
Summary: Mirror Trading International is a cryptocurrency MLM scheme that's nothing more than a pyramid scheme. There's nothing of value that you could ever get from this program. They don't have any products or services to offer here.
Rating: 1/100
Recommended: No!
More...
What is Mirror Trading International?
Mirror Trading International, or MTI, is a MLM or multi-level marketing company that works within the cryptocurrency and investment niche. It claims to use advanced digital software and AI to make the trades on international Forex markets using Bitcoin as the base currency.
In simpler terms, it markets an automated process for trading Forex via the Bitcoin cryptocurrency. Profits are divided daily amongst members who pool in their money for that day's trades.
On their landing page, they provide no information as to who runs the company or who owns them. But third-party information reveals that the owner and CEO is Johann Steynberg. The company and Steynberg operate out of South Africa.
Prior to creating Mirror Trading International, he was actively promoting Syntek Global and it wasn't long before he started to gain interest in cryptocurrency. And not for the right reasons.
The company claims they've been around since 2016, but their domain registration says otherwise. The domain name was registered privately on June 2020, so they're not that old.
Mirror Trading International Product Line
There are no retail products or services being offered here. If you think the trading service is what's being marketed by the company, then you thought wrong.
All that Mirror Trading International has is membership to purchase in order to avail of the compensation plan.
I'm Jerry!
I Created My Own 4-Figure Monthly Passive Income at just 21 Years Old!​
Does The Product Work?
There's a lot of things wrong with the way Mirror Trading International works. They run a pyramid recruitment scheme on top of a passive income opportunity.
Steynberg doesn't have any trading background, so we're unclear as to how trading is being done in Mirror Trading International. This is very important to focus on because their passive income opportunity constitutes a securities offering.
Since they operate in South Africa, securities are regulated by the FSCA or Financial Sector Conduct Authority. They also released a statement warning people to not have any dealings with Mirror Trading International since they're not registered to carry out trades.
Because they are not registered to take in securities, they're operating illegally worldwide. Note that if you want to offer securities in different countries, you'd have to be registered with their regulatory agencies.
As it stands, the only verifiable source of income that Mirror Trading International has is its recruitment, which is another red flag against the FTC's guidelines for MLM companies.
Their guideline stipulates that MLM companies should not be offering more recruitment-based incentives than sales-based incentives. The fact that they don't have products or services to offer just adds to the list of red flags that the FTC created for its consumers.
Earlier August 2020, Mirror Trading International announced that their broker was FX Choice, but it barely lasted a month. FX Choice blocked Mirror Trading International after they investigated that the company was just a "multi-level marketing pool" that uses "aggressive multi-level marketing campaign" to get investors into the pool.
You'll read more about their public statement here.
How To Make Money with Mirror Trading International?
Mirror Trading International offers two ways to make money from their compensation plan:
ROI from your contributions to the investment pool
Recruitment commissions from building a team
How To Get Started with Mirror Trading International?
A minimum investment of $100 is needed. But Mirror Trading International wants you to invest more in order to get the most out of the compensation plan.
You also earn more from your downline when you invest more.
$10,000 is needed to access the entire compensation plan.
Mirror Trading International Compensation Plan
Their compensation plan is easy to understand.
Recruitment Commissions
You get a 10% of the investments made by your recruits.
Residual Commissions
You make residual commissions from the money made by your downline. This follows a binary structure and looks like the following.
Your investment determines how much money you make from residual income. The more you invest, the more money you make from your downline.
Invest $200 to $999 earn 10 levels down.
Invest $1000 to $4999 earn 20 levels down.
Invest $5000 to $9999 earn 30 levels down.
$10,000+ earn from unlimited levels down.
Mirror Trading International sets aside 20% of the company-wide revenue and all commissions are based on the amount of people recruited or invested by your downline from that 20%.
Mirror Trading International Ugly Truths Revealed!
#1 No Products Offered
There's no products offered by their compensation plan, so there's no real way to make money from this program other than to recruit.
This is a huge red flag!
#2 Not Registered To Offer Securities
They're not registered with any financial regulatory agencies, and that's the biggest red flag of all the other red flags we discovered here.
They're not authorized to carry out investments and trades in behalf of others. They even got shut down by their brokers for being a MLM pool.
That's how shady they are.
#3 Obviously A Ponzi Scheme!
The company's running on a pyramid recruitment structure where all of the income comes from recruitment.
There is no proof that money's being generated outside of recruitment.
What I Like About Mirror Trading International?
There's nothing to like about the program because Mirror Trading International is a scam!
Is Mirror Trading International a Scam?
Mirror Trading International is a scam, and we're confident to come up with that conclusion. There's nothing that you could possibly get from this program that would benefit you.
They don't have any product offerings and there's no proof that money's coming in apart from membership investments. To me, those are the two red flags that the FTC will want to keep an eye out on.
They're not even registered to do trades or investments for other people. They got shut down by FSCA in South Africa and more will follow.
Stay away from this program!
Legit Ways To Make Money Online
How I Make a Living Online?
I'm not a fan of MLM, not because it's illegal or not profitable, but because of all the restrictions and the expensive costs involved.
Instead, Affiliate Marketing is my top recommended business model for anyone to make money online.
The reason is simple...
You don't have to recruit anyone to make money
You have the freedom to promote any products you want and not being restricted to only promote the products from one MLM company
It's Free to get started
In fact, with affiliate marketing...
I've personally created a 4-Figure Monthly Passive Income Stream and become financially independent at just 21 years old without any College degree or working experience!
Through my own hard work, I went from a broke restaurant waiter to living my dream laptop lifestyle in less than a year's time...
If you want to discover the secrets of how I did it at such a young age, click here!