7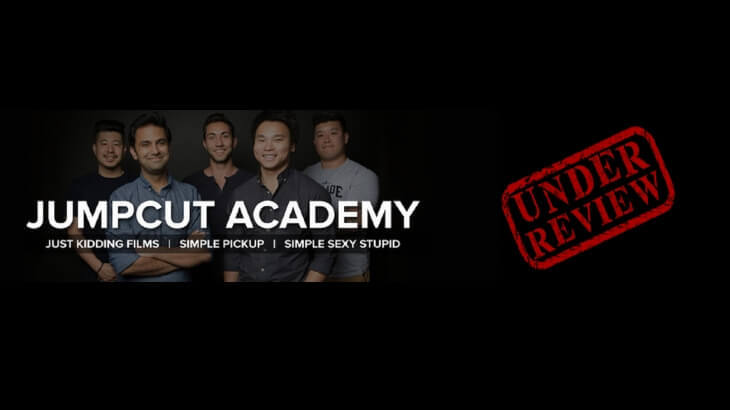 Jumpcut Academy Review: Is It Worth The Money?
Welcome to my Jumpcut Academy review!
Chances are, you want to make money online as a YouTuber creating videos. That's probably how you came across this program called Jumpcut Academy.
First of all, I must Congratulate you for taking your time to do your own research before buying into any "seemingly good" product.
That's the way to avoid scams and find the legitimate way to make money online!
Let me be completely transparent with you, I'm not associated with Jumpcut Academy in any form.
So, rest assured that I'm not here to pitch or sell anything to you.
Instead, I'm here to reveal what Jumpcut Academy is all about and why people have a lot of things to say about this training course. 
Read on more about my Jumpcut Academy Review and see if it's worth the money...
Jumpcut Academy Review Summary
Product Name:  Jumpcut Academy
Founder:  Jesse and Kong from Simple Pickup
Product Type:  YouTube content creation training course
Price:  $997 - one-time membership fee  or $197 / month for six months
Best For:  People with an enthusiasm and passion for making video content and those who want to earn money through their video content.
Summary:  Jumpcut Academy is a training course designed for people who want to start their own YouTube channel and earn money through that channel. The course  is designed to help people start from scratch and provide them with a solid foundation of creating video content and its nuances. However, the price is relatively more expensive compared to other training courses and programs.   On top of their membership fee, there's a waiting list because enrollment is only limited within a set period of time, so it can be difficult to get into. 
Rating:  90/100
Recommended:  Yes
More...
**Updated with new information from Jumpcut Academy** - June 3 2019
Jumpcut Academy 2.0 or otherwise known as Viral Academy is an e-course specifically geared towards individuals who want to become successful YouTube influencers.
This course provides you with step-by-step modules on how to launch and grow your own successful YouTube channel.
The course was created by Jesse and Kong from Simple Pickup, who've created successful YT channels under their belt, and they currently have over 2.7 million subscribers.
Now, their website states that you'll be taught how to make original content, develop your dedicated online following, and monetize your videos so that you can make money while doing something that you enjoy doing.
Apart from the main modules, Jumpcut Academy are bonus lessons provided (for free) to its students.  
Jumpcut Academy is kind of like a school for people who want to become successful YouTube influencers and content creators. And just like a school, this academy has its own teachers.
According to their updated roster from their own landing page, Jumpcut Academy works with 6 instructors that have an accumulative 15 million subscribers to their YouTube channels.
These instructors were picked out because of their niche and specialization and what they could bring to the table.
Who Are Jumpcut's Instructors? 
The course is taught by 6 instructors across five different teams:
1. David So (DavidSoComedy) – 1.4M subs with a total of 245M views.
David So handles all of the courses involved with vlogging and the comedy niche.
2. Aryia (simplesexystupid) – 900K subs with a total of 100M views. Specialty: Blog Marketing
Ariya from Simplesexystupid covers blog marketing for people who want to market their YT channels on blogs.
Together with David So, Joe and Bart from JustKiddingNews will handle both comedy vlogging and also discuss about getting and managing brand deals. 
4. Jesse & Kong (simplepickup) – 2.7M subs with a total of 325M views. 
Jesse and Kong will personally handle the course about launching and selling digital products. 
How Does Jumpcut Academy Work?
On their landing page, you'll be greeted with a small pop-up that says "Watch our YouTube Training for Free".
This free training course is called the YouTube Influencer 101 Course.
The YouTube Influencer 101 Course
In order to avail of the free course, all you need to do is sign up with your name and email address, and that's it.
There's no commitment to a trial, no payment, or anything that has to do with money at this point.
This is a free course consisting of four videos that introduces what Jumpcut Academy is all about:
Video #1: The Channel Idea Scorecard
This is the first video containing an overview of what you'll learn within the free course.
From there, the framework will show you how to find fans for your content, for coming up with content ideas that have a high chance of being successful, and a step-by-step process on building profitable channels.
They also mention that there's no shortcut and that it's going to take a lot of work.
Video #2: The Remix Strategy
The Remix Strategy focuses on coming up with viral video ideas designed for social media sharing. This is how SimplePickup channel founders Jesse and Kong were able to have their videos reach more than a million views each easily.
Video #3: The Traits of Virality
This video focuses on three important psychological triggers that makes a video go viral.
Video #4: The Influencer Economy
In this final video, the video shows you how Jesse and Kong were able to go from college dropouts to successful entrepreneurs who built their multi-million-dollar business.
Similar to a self-improvement book, Jesse will show you the key mindsets necessary to become successful in YouTube along with real life examples of how this can help students earn potentially thousand of dollars in passive income.
I'm Jerry!
I Created My Own 4-Figure Monthly Passive Income at just 21 Years Old!​
The Main Jumpcut Academy Course
Once you've gone through all of the four videos, you'll then be invited to enroll in their official program.
 Now slots for their program are only open for a limited amount of time as the community is kept exclusive by the founders.
Oftentimes, enrollment is only open twice a year.
In order to help their students achieve success, the course is broken down into five modules:
Social Media Secrets – This is an overview of the entire course and contains motivational sessions that help these successful YouTubers get to where they are now.
Launching Your Channel – Pretty self-explanatory. This module focuses on bringing your magical channel idea into a niche that you can love and dominate.
Viral Marketing Masterclass – This module shows you how to create viral content using the remix and infotainment strategy.
Influencer Intel – The module teaches you how to get to your first 10,000 subscribers and how to grow your channel through social media and blog promotion.
Paid to Promote – Lastly, this module shows you how to monetize your channel, from advertising to e-commerce to branding to crowdsource funding.
Video Bootcamp
Apart from the modules, students also have access to the 12-Week Video Bootcamp.
These are a series of challenges that forces students to work on different components of their video to increase the chances of going viral.
The bootcamp lets students study and rate elements from different YT content creators and then use that to create their own videos using the following strategies below:
What is your channel's unique angle
Viral potential
Titles
Hooks
Thumbnails
The final set of projects is to create four videos with all of these components and then choose the best one to be rated.
Note that the Video Bootcamp is more on application than it is about teaching, so don't expect a lot of information absorption at this point.
I would suggest going through the five modules first before going through Bootcamp.
Bonus Lessons
Students also have access to bonus lessons that were created by different YouTube content creators.
These vary in length but the content is enough for you to understand different YouTube niches and specialties.
1. Growth Hacking Facebook
This video is all about getting quality likes ok Facebook within a short period of time. This is handled by James Shamshi, an accomplished viral and growth expert who's got 1.6 million likes for his Facebook page in less than 7 months.
2. Gaming for Dollars
This video training shows you everything you need to know about how to make money on YouTube in the gaming niche. 
3. The Legalities of YouTube
It's horrible to lose your channel due to legalities, and this video covers just that. This video will teach you how to avoid copyright infringement while protecting your channel at the same time.
4. Musicians on YouTube
With the right exposure, any musician can find success on YouTube. From starting your own music channel to managing your content, this video will cover everything a musician needs to succeed.
5. The JK Empire
Bart Kwan and Joe Jo from JustKiddingFilms will show you their insights on niches that they dominated: brand deals and comedy.  
Bonus Content - June 3 2019 Update
You'll also have access to bonus content when you enroll in Jumpcut Academy's program. 
Here's a list of the bonus content provided:
Access to Forum of YouTube Creators
Jumpcut Academy also grants students access to a forum of YouTube creators that makes the educational journey more insightful.
The forum provides students with the opportunities to collaborate and find business partners in the same time.
How to Get Started with Jumpcut Academy?
Jumpcut Academy costs $997 for the entire course, which will also need to be paid out before you can access it.
They also provide a monthly installment of $197/month for six months. They also offer a 365-day money back guarantee.
Who's Jumpcut Academy For?
It is a good training program for someone looking to grow their business online using YouTube.
But I would not say it is particularly a great investment for someone new to online marketing. 
It's quite a hefty payment to get into an exclusive training course, and I'm pretty sure that there are other programs out there that are cheaper.
What I Like About Jumpcut Academy?
#1 - There Is A Lot Of Training Provided
With the money that you paid for to get into Jumpcut Academy, you should be getting your money's worth in lessons.
And Jumpcut Academy is not just any X-part training series that's prevalent right now either.
The bonus lessons and the forums are great supplementary content for their course, which makes Jumpcut Academy somewhat of a great investment if you want to get quality education.
#2 - Long List Of Successful Students!
It's safe to say that Jumpcut Academy has a long and growing list of successful students thanks to its programs. 
It's also safe to say that there's some valuable information that can be attained as well. 
Here's a list of their students that they provided me with:
#3 - The Course Is Easy To Follow
With the course content developed by people who started from the bottom (or at least that's what they claim), it's no surprise that the course is very easy to follow.
Each module and training video were designed for a specific purpose, and nothing more, so there's no content overlap between one video and another.
#4 - 365-Days Money Back Guarantee
Jumpcut Academy offers a 365-day money back guarantee for people who didn't find success in their YouTube channel after going through the course.
Granted, nothing's every guaranteed online and it takes time to be successful.
However, the guarantee has a catch. You need to complete a handful of assignments to prove that you really went through the course and found no success afterwards.
If you did all that the course instructed you to do, found no success within a year, and have the proof to back it up, then you'll get a full refund.
This is to stop procrastinators from stopping in the middle of the course because they found it boring and want their money back.
What I Don't Like About Jumpcut Academy?
#1 - It's Too Expensive!
For $997, what's stopping anyone from just going on YouTube and looking for what they need to learn about making their own YouTube channels?
I mean, isn't YouTube flooded with channels that teach you how to become a YouTube content creator?
I did a quick search on YouTube and this is what I got:
And the list just goes on and on…
Yes, you're paying for these instructors' time and expertise, but what makes them any different from other successful YouTube content creators?
Speaking of courses, there are also cheaper alternatives if you want to learn how to start your own YouTube Channel. Udemy, a website that provides online courses, has these different courses about YouTube:
Unless you have the capital to spend on starting your own YouTube channel, Jumpcut Academy is just too expensive for what it's supposed to do.
P.S. This program that has enabled me to generate a 4-Figure Monthly Passive Income at just 21 years old is FREE to get started and only cost $49/month fee to go full-time!
#2 - There Is A Waiting List
Jumpcut Academy is an exclusive site, so it only opens enrollment at least twice a year. With that said, if you're interested in enrolling, there's currently a waiting list that you need to sign up for.
There's no schedule as to when the enrollment will be open again for this year, or for the next, either.  
Is Jumpcut Academy A Scam?
Jumpcut Academy is a very legitimate training course created by reputed YouTube content creators.
It's definitely not a scam and it definitely has potential to show people a thing or two about the world of YouTube content creation.
However, the price is really expensive for a training course like this, and apart from the bonus educational content and forum access, it's not intended for people who don't have the capital to invest in a training course like this.
The membership fee would've been okay if there was at least some proof that their students succeeded.
After all, 4,000 students found success as the site claims, so why didn't they post their channels as proof?
That alone would've been a great marketing ploy for the site and to get more people into the course.
But, you do get what you paid for. The training is handled by professional YouTube content creators with subscribers and viewers as proof of their success online, so it's kind of like a Masterclass of sorts, but for the Internet.
And even then, Masterclass is still relatively cheaper than Jumpcut Academy even with their star-studded instructors. 
I would recommend this product to anyone who wants to go into creating content for YouTube and for those who have the passion for making videos consistently.
How I Make A Living Online?
I've personally created a 4-Figure Monthly Passive Income Stream and become financially independent at just 21 years old without any College degree or working experience!
Through my own hard work, I went from a broke restaurant waiter to living my dream laptop lifestyle in less than a year's time...
If you want to discover the secrets of how I did it at such a young age, click here!