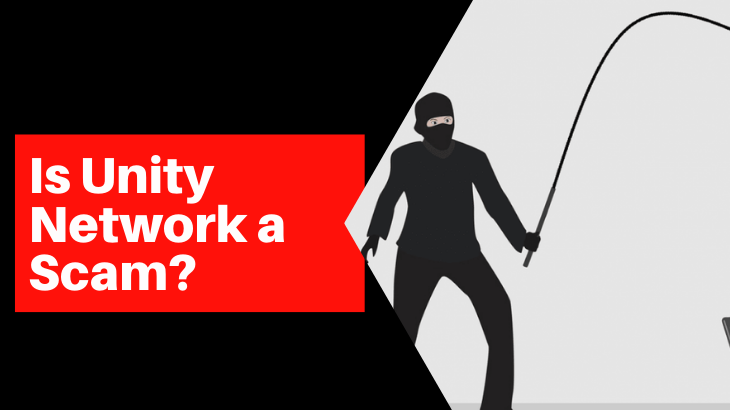 Is Unity Network a Scam? It's a Scam From The Philippines!
Welcome to my Unity Network review!
A lot of these affiliate marketing courses have the potential to be great programs, and some of them even provide great value.
On the other end of the spectrum, you have affiliate marketing programs that claim to provide you with the "key to success" and will even promise you that you can make a lot of money while you're still learning!
One of the programs that promises that is Unity Network and we're going to expose the program for what it really is.
First of all, I must Congratulate you for taking your time to do your own research before buying into any "seemingly good" product.
That's the way to avoid scams and find the legitimate way to make money online!
Let me be completely transparent with you, I'm not associated with Unity Network in any form.
So, rest assured that I'm not here to pitch or sell anything to you.
Instead, I'm here to reveal 
Unity Network Review Summary
Product Name:  Unity Network
Founder:  Eduard Reformina
Product Type:  Affiliate Marketing Program 
Price:  $60 to $17,592 for membership packages
Best For:  No one
Summary:  Unity Network is an affiliate marketing training program that also has an income opportunity program. Unfortunately, it works a lot like MOBE and Digital Altitude, so it's nothing but a scam that takes away your money. They already had a warning against them issued by the SEC, and it's more than enough reason to stay away from this program. 
Rating: 1/100
Recommended:  No!
More...
Unity Network is a SEC-registered company in the Philippines and is founded by Eduard Reformina in 2016. He was also the person behind Ignition Marketing.
The company claims to have 40,000 members signed up, and they're ranging from entrepreneurs to students to ordinary Joe's and Jane's.
This company offers digital products, specifically for setting up an online business for entrepreneurs. Their courses include modules, training videos, live event seminars, and even Mastermind retreats.
Editor's note: the main currency for Unity Network is Philippine Peso, so all prices will be listed in Php. A USD conversion at Php 50 per $1 will be included.
Unity Network works a lot like Digital Altitude and MOBE or My Own Business Education where you get taught the basics of setting up your online business and then include a high-ticket income opportunity.
These types of companies put on a show about how you can make a decent source of income through the limitless opportunities provided by the Internet.
In a nutshell, Unity Network focuses on teaching you all about Affiliate Marketing, which is a legitimate business model.
But what Unity Network sets you up for is that you're going to be required to invest a lot of money to be able to make money from their program.
What happened with Digital Altitude and MOBE was that they got shut down by the FTC and got flagged as a pyramid scheme. Likewise, the SEC (the Philippines' counterpart for the FTC) has issued several warnings against Unity Network.
According to their website, the courses are designed to provide you a solid foundation for affiliate marketing and they provide different membership packages.
What is Ascending Profit System?
The title of their coaching program is called Ascending Profit System, and I can't understand why they had to go through a different name for their program.
But from what I could gather, Ascending Profit System is the underlying training course and the income opportunity comes from Unity Network. You have to buy your way into the Ascending Profit System through Unity Network's membership.
Here's the 10 Step Program. I won't go into too much detail because it's pointless.
Step 1- Secrets of the Internet Marketing Millionaires
Step 2- How to Shortcut Your Success by Leveraging a Proven Systems
Step 3- What to Sell to Have a Profitable Business Online
Step 4- What is the Most Important Income for Your Business
Step 5 How to Earn Your First Million Much Faster
Step 6 How to Properly Position Your Business for Future and Long-Term Success
Step 7 How to Think Like a Millionaire Business Owners
Step 8 How to Level Up your Business to Double or Triple Your Income Without Doing Any Additional Effort
Step 9 How to Earn Php200,000.00- Php2,000,000.00 in 1 Year or Less With Ascending Profit System (APS) & Unity Network
Step 10 10-Step Training Program
Steps 7 to 10 will cover different marketing schemes to help you attract new members and to encourage them to upgrade their membership plans. Higher membership plans means higher commissions.
Again, another indication that it's a high-ticket program.
I'm Jerry!
I Created My Own 4-Figure Monthly Passive Income at just 21 Years Old!​
Price of Memberships
Membership packages are not sold separately and you have to start from the bottom and work your way up. You just can't buy your way to the top.
Basic Level at Php2,990 %(Approx $60)
The basic level gets you into the training program, a 30-day Traffic Implementation program, and access into Ascending Profit System.
It also gets you into a 1 on 1 coaching program. You also get access to the weekly group coachings and resell rights for the program. You get Php 1000 or $20 for every referral.
Gold Level at Php22,890 (Approx $457)
This covers basic package plus the breakthrough vault (library of weekly coaching) and impact instrument. You also get access to a new tool called RocketPages. The resell rights get you Php 3,000 or $60 per referral.
Titanium Level at Php48,880 (Approx $977)
This is Gold package plus additional ticket to the Titanium Inner Circle Seminar Live. You also have lifetime access to the Inner Circle Seminars (Titanium Vault) and Freedom Formula Course. The resell rights get you Php 7,000 or $140 per referral.
Platinum Level at Php87,960 (Approx $17,592)
You get everything from Titanium Level but Platinum members can attend the Platinum Mastermind Retreat (which is a 3-day,2-night retreat). The resell rights get you Php11,000 or $220 per referral.
Let's be honest here. There's no way that this program is meant for anyone, and even if you think I'm providing a very biased opinion, I have proof (legally) that will convince anyone that this is not worth anyone's time.
Unity Network Ugly Truths Revealed!
#1 No ROI Guaranteed
Even if you purchase these expensive packages, it doesn't necessarily mean that you're going to be successful. Remember that before you can make a profit, you'd have to recoup your expenses first.
At the Basic membership, you'd need to sell 3 memberships to get your money back. And just like MOBE or DA, you'll only earn the commission for the membership you're signed up for. If you're referral signed up for Titanium, you still get $20.
#2  Shady Tactics
Whilst the initiative is admirable for providing people with affiliate marketing training, the fact remains that they are charging an insane amount of money for information that could be found on Google for FREE.
#3  SEC Warning
Just like Digital Altitude and MOBE, Unity Network also had a warning issued against them by the SEC (Securities and Exchange Commission), which is a governing-body of the Philippines that regulates the securities industries and investment businesses.
The company received a warning, as seen below, and it means that they are doing something that they shouldn't be doing.
 Their membership packages are no joke, and in the Philippines, paying $50 for a program is a luxury in itself. For a program that doesn't guarantee any ROI, I don't see any reason why people should even bother with this program.
Just because you're registered with the SEC doesn't mean you're allowed to take in investments unless you're given specific permissions to do so. Sadly, majority of Filipinos don't know that this is how it works.
#4  Expensive Membership Packages
Their membership packages are no joke, and in the Philippines, paying $50 for a program is a luxury in itself. For a program that doesn't guarantee any ROI, I don't see any reason why people should even bother with this program.
What I Like About Unity Network?
Nothing. There's nothing that I like about the program that makes me want to give this a positive review. The program is an absolute scam.
Unity Network follows the MOBE and Digital Altitude Business Model where the more money you pay, the higher your income. And this program basically just has you signing up for expensive memberships that doesn't even guarantee your money back.
The SEC warning against them is more than enough to dissuade me and the rest of our readers from joining this program.
How I Make a Living Online?
I've personally created a 4-Figure Monthly Passive Income Stream and become financially independent at just 21 years old without any College degree or working experience!
Through my own hard work, I went from a broke restaurant waiter to living my dream laptop lifestyle in less than a year's time...
If you want to discover the secrets of how I did it at such a young age, click here!