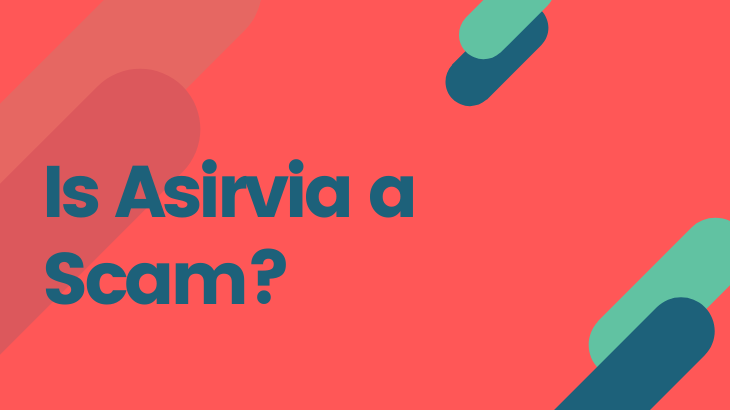 Is Asirvia a Scam? We Found Out Something Shocking!
Welcome to my Asirvia review!
So we've reviewed a handful of products here that are very unique, and in the MLM industry, being unique doesn't necessarily mean that you're going to succeed with the products too.
One of these unique MLM's is Asirvia.
First of all, I must Congratulate you for taking your time to do your own research before buying into any "seemingly good" product.
That's the way to avoid scams and find the legitimate way to make money online!
Let me be completely transparent with you, I'm not associated with Asirvia in any form.
So, rest assured that I'm not here to pitch or sell anything to you.
Instead, I'm here to reveal what we discovered about the company!
Asirvia Review Summary
Product Name: Asirvia
Founder: Donald Laplume
Product Type: Advertising Gadget MLM
Price: $149.95 to join
Best For: No one!
Summary: Asirvia is a MLM company that markets an advertising speaker. Unfortunately, the company's gone under due to its poor customer service. However, we discovered that the company might be operating under a different name, and you might want to check the proof below.
Rating: 20/100
Recommended: No!
More...
Asirvia is a MLM or multi-level marketing company that sells advertising beacons that's meant to send out advertising messages to all devices within vicinity.
The device was very popular that even companies such as Facebook used it to broadcast their messages within their booths and offices.
The company was founded by Donald LaPlume and was located in New Hampshire.
Asirvia Product Line
Asirvia only offers one product, but comes in different variations depending on the size of the "proximity marketing" it provides.
The price ranges between $69 and $320, but there's a difference in the number of units that the company gives out based on the membership.
Here's the short list:
$69/month for 3 units
$99/month for 5 units
$129/month for 8 units
$192/month for 12 units
$320/month for 20 units
You'll also need to pay $30 for the activation fee per unit, and then shipping and handling.
Does The Product Work?
While Asirvia is a great product, the reviews on their BBB or Better Business Bureau profile speak differently. It doesn't really talk about the product itself but more on the service, which is still a big factor.
Most people have complained about still getting charged even if they have canceled their monthly subscription.
We'll get more on that later.
Meanwhile, the product isn't 100% perfect either. The messages are sent via Bluetooth so every phone within the vicinity needs to have Bluetooth enabled. This could make or break if your business doesn't have a lot of foot traffic nor mobile phone users.
How To Make Money with Asirvia?
You'll be hired as an independent representative if you sign up for their income opportunity.
And then there are 4 ways for you to make money from their program:
Direct Sales Commissions (instant 10% to 25%)
Direct Sales Residual (monthly, 1% to 10%)
Base Pay (daily, ranging $1 to as much as $3,000 depending on Sales Volume)
Generational Check Match (daily, 5% to 25%)
How To Get Started with Asirvia?
To sign up for their program, you'll have to purchase the $149.95 Founder's Club. Unfortunately, I couldn't find any other information as to what this package contains.
Asirvia Compensation Plan
There isn't much to talk about their compensation plan. Here's a short video that explains the plan in great detail:
Direct Commissions: You earn 25% commission on direct sales, but only after within 30 days of your purchase. So you have to move inventory the moment you get it.
Residual Commissions: These are paid monthly, and you earn 10% on your first level affiliates who sign up new customers or get subscription renewals.2nd level affiliates get you 5% .
Base Pay: Base pay is paid daily, with additional commissions going out if you reach a monthly sales volume. The pay increases as you go up in rank, but going up in ranks means to generate more sales and to build a bigger team.
Asirvia Ugly Truths Revealed!
#1 Lots of Complaints
The company's received a total of 39 complaints in the last 3 years on their BBB profile. That puts them at about 1 complaint a month for the last 3 years.
The customers brought up certain issues about poor after-sales support and that their issues about poor product quality were being ignored. Issues about replaces and returns were also being ignored.
You'll find a lot of them on their BBB profile, which sucks because the product has quite the potential but the company isn't giving it any justice.
#2 No Commissions?
Some complaints on their BBB Profile also mentioned that they never received their commissions. However, these were very few and it's hard to dispute or prove the claim at the same time.
I can say that there's no income disclosure statement so it's most certain that no one's making any money from their program.
But still it's quite alarming to know that the program doesn't pay out commissions, even if it's just a handful of people reporting about it.
#3 New Company?
Throughout my research, I found out that Asirvia ceased operations in December of 2018. But I continue to write the review because I found out something interesting.
Another company called Royaltie popped up early in 2017, just about the time when Asirvia started to go downhill. They already stopped their MLM program in 2017, but the company stopped in 2018.
Royaltie is a company based in Canada, but unlike Asirvia, the name of their CEO is undisclosed. This leads me to believe that the same person running Asirvia is running Royaltie.
Now here's what's interesting. Check out the testimonials from the Asirvia and Royaltie websites.
Both are saying the exact same thing. It's clear that they both have a working relationship and that there's something that ties them.
And yes, Royaltie also sells the same product as Asirvia. They also buy the device from a company called Kontakt, and then just essentially white-labelling the product.
Mind you, Royaltie's BBB Profile also has the same set of complaints with Asirvia, so they probably just migrated their program over to this company and started out fresh.
What I Like About Asirvia?
Asirvia has a decent product, but the MLM side of things leaves a lot to be desired.
The fact that the company, Asirvia, has closed down doesn't mean that it's stopped working.
The company has done poorly in terms of providing a decent service towards its members and customers, so that's probably a huge reason why it failed.
However, there are clues here and there that tell us that the company is now working under a different name and that it's operating the same way as it did.
How I Make a Living Online?
I'm not a fan of MLM, not because it's illegal or not profitable, but because of all the restrictions and the expensive costs involved.
Instead, Affiliate Marketing is my top recommended business model for anyone to make money online.
The reason is simple...
You don't have to recruit anyone to make money
You have the freedom to promote any products you want and not being restricted to only promote the products from one MLM company
It's Free to get started
In fact, with affiliate marketing...
I've personally created a 4-Figure Monthly Passive Income Stream and become financially independent at just 21 years old without any College degree or working experience!
Through my own hard work, I went from a broke restaurant waiter to living my dream laptop lifestyle in less than a year's time...
If you want to discover the secrets of how I did it at such a young age, click here!