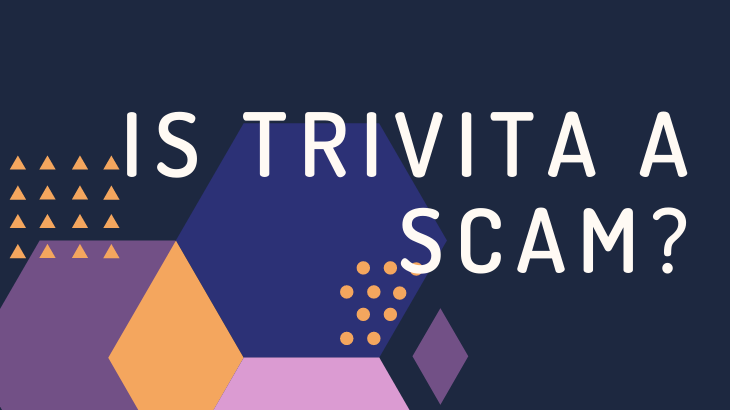 Is Trivita a Scam? Another Health MLM Powered By Science!
Welcome to my Trivita review!
Health and wellness MLM companies are dime a dozen, and only a few of them are actually legit enough to either give you a decent source of income or guarantee high quality products.
Will Trivita provide you with both?
Find out in this review…
First of all, I must Congratulate you for taking your time to do your own research before buying into any "seemingly good" product.
That's the way to avoid scams and find the legitimate way to make money online!
Let me be completely transparent with you, I'm not associated with Trivita in any form.
So, rest assured that I'm not here to pitch or sell anything to you.
Instead, I'm here to reveal what this MLM is all about and if their opportunity is worth getting into.
Trivita Review Summary
Product Name: Trivita
Founder: Michael R Ellison
Product Type: Health and Wellness MLM
Price: $50 Monthly PV
Best For: People who can sell health and wellness supplements easily.
Summary: Trivita is one of those health and wellness MLM's that claim to be powered by science. We've reviewed a handful of them here on this site, but none of them are that impressive. Our main issue here with this program is that there doesn't seem to be any indication that people are earning due to the absence of any income disclosure statement. We can't be sure how much people are earning through their program.
Rating: 50/100
Recommended: No!
More...
Trivita is a health and wellness MLM or multi-level marketing company that was founded by Michael R Ellison in 1999. They are currently located in Scottsdale, Arizona.
According to their website, they market "science-based nutritional supplements", but they've also pivoted towards providing medical content through their podcasts and online web series.
Here, they feature prominent medical professionals on their show and they also publish their own quarterly magazine.
They also have their own Trivita Clinic of Integrative Medicine, where their physicians use holistic processes to treat patient illnesses. This makes them a very unique MLM company.
Michael Ellison still currently serves as the company's CEO while Marcus Ellison serves as the Chief Marketing Officer. The upper management team is composed of other positions such as CIO and director of legal affairs.
Trivita Product Line
Listing all of their products would take some time, so instead we're just going to divide them according to their categories.
You'll find a full list of their products and prices by clicking this link.
Healthy Aging – This category includes their flagship product, Nopalea, which is a fruit drink packed with a nutrient called Betalain, an extract from the prickly pear called Nopal. Other products also include the TriVita Slow Dissolve B-12 tablets.
Targeted Nutrition – Under this category, Adaptuit is their flagship product which is a nutritional supplement meant to combat stress-related illnesses such as diabetes and heart disease. They also have sleep-related products called Adaptuit Sleep, and medicines for the joint called Joint Complex.
Performance – These products are meant to help you "build lean muscle faster". Products include MyoHealth™ Essential Amino Acid Complex Berry Crush, MyoHealth™ Vegan Capsules, and MyoHealth Lemonade 2 Pack.
Herbal Supplements – Their herbal supplements are extracted from herbs found in the Amazon rainforest. These products include Fiberzon Capsules, Zamu Protect, Rainforest Treasure Tea, Aqua Algae, Rejuvenate.
Does The Product Work?
While their products may look great, Web MD, one of the most reliable and top medical blogs, issued a warning about possible side effects about any of their products.
You'll find out more about this warning by clicking that link. Meanwhile, they have garnered mostly positive reviews about their products from their customers.
On their Facebook page, most reviews mentioned that the product worked for them and the negative ones said that the products did nothing for them.
Personally, health supplements are always going to be hit or miss for different people. This is because we're all designed differently to receive any foreign vitamins or minerals.
That's why there's such a thing called ALLERGIC REACTIONS.
How To Make Money with Trivita?
Trivita has your typical MLM compensation plan where you earn money by:
Product commissions
Bonuses from recruiting
How To Get Started with Trivita?
To get started as a MLM business with Trivita, you'll need to sign up for their monthly autoship of $20.
Their Autoship Requirement
If you want the most payouts and highest commission rates, you'll be required to purchase a bottle of Nopalea on autoship, which is about $50 per month.
From there, you'll receive your own replicated website and back office access with no additional charge.
Trivita Compensation Plan
You'll be able to earn money from Trivita through their compensation plan. By default, you earn a commission for generating sales as either retail customer or as a member.
Affiliate Membership Ranks
There are membership ranks that members need to work through to get the most out of their commissions and bonuses.
There are 10 different ranks in total and the higher ranks are obtains by increasing your GV and PV.
Simply put, the more you sell and the more your team sells, the more likely you're going to be promoted.
Income Accelerator Weekly Bonus
Whenever a new member joins the company, they have a chance to earn the Income Accelerator Weekly Bonus.
To qualify for this bonus, a new member or customer must order a product within the first 60 days after signing up. The amount of bonus he or she earns depends on the rank they possess.
Unilevel Commissions
Once the 60 days have passed, members can now earn residual commissions paid out via a unilevel commission structure.
There are infinite levels built below the member for his team, but there's an earning cap of the first 7 levels.
The value of the commissions depends on the rank.
Here's a video that tells you more about their compensation plan in detail:
Trivita Ugly Truths Revealed!
#1 Expensive Products
Looking at some of their products, I can say that the prices of their products are on the high-end. Let's take a look at their 60-count Trivita Omega3 Prime capsules.
These cost for $29.99 and are already expensive compared to other generic brands.
A generic brand would cost around $9.09 and there are a lot from Amazon that cost less than $30.
Their high-priced products would mean that members would have difficulty selling their products, no matter how good they make it look like.
#2 Fined For Bogus Health Claims
Trivita was the subject of a lawsuit back in 2014 for violations of the FTC act, which basically prohibits unfair or deceptive acts affecting commerce.
Simply put, they released false claims and advertisements through infomercials and print ads. These are unsubstantiated claims from their flagship product, the Nopalea.
You'll find BehindMLM's article about the lawsuit here.
#3 No Income Disclosure Statement
Most of the MLM's we review here live and die by the income disclosure statement. IDS exercise transparency of how much members from all ranks among the public, and may bring awareness about the sustainability of the business.
To read any income disclosure statement, you want to look at the lowest rank and how much they earn annually.
If they earn anything less than a thousand dollars, then that means they average at about a hundred dollars per month for that year.
And the absence of an IDS or income disclosure statement affects the review of any MLM company done by Smart Affiliate Success.
What I Like About Trivita?
There's nothing unique about their opportunity, and I think there are far better MLM companies out there.
If you want to get started with a MLM business, I would suggest looking at these companies. We've reviewed them and you can check out what we think about them:
Trivita is a legitimate health and wellness MLM company that market science-based supplements, but their income opportunity leaves a lot to be desired.
Their expensive products might make it difficult to market due to the cheaper competitor prices, and then there's the absence of an income disclosure statement.
I can't prove that there's anyone making any money from their opportunity.
How I Make a Living Online?
I'm not a fan of MLM, not because it's illegal or not profitable, but because of all the restrictions and the expensive costs involved.
Instead, Affiliate Marketing is my top recommended business model for anyone to make money online.
The reason is simple...
You don't have to recruit anyone to make money
You have the freedom to promote any products you want and not being restricted to only promote the products from one MLM company
It's Free to get started
In fact, with affiliate marketing...
I've personally created a 4-Figure Monthly Passive Income Stream and become financially independent at just 21 years old without any College degree or working experience!
Through my own hard work, I went from a broke restaurant waiter to living my dream laptop lifestyle in less than a year's time...
If you want to discover the secrets of how I did it at such a young age, click here!