1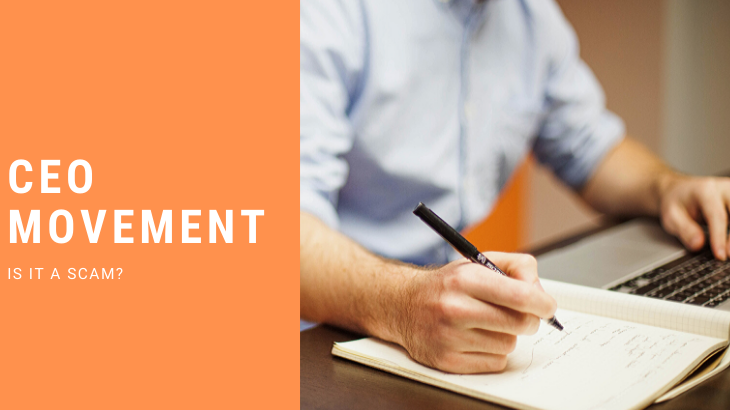 Is CEO Movement a Scam? How To Be Your Own CEO!
Welcome to my CEO Movement review!
Self-improvement programs easily sell out like ice cream on a hot summer day, and that's because people are more interested and more eager to become better versions of themselves.
That's why people are willing to invest up to thousands of dollars on self-improvement programs. The industry itself is worth billions of dollars.
Today, we're going to take a look at CEO Movement and how it's going to help you become a better version of you.
First of all, I must Congratulate you for taking your time to do your own research before buying into any "seemingly good" product.
That's the way to avoid scams and find the legitimate way to make money online!
Let me be completely transparent with you, I'm not associated with CEO Movement in any form.
So, rest assured that I'm not here to pitch or sell anything to you.
Instead, I'm here to reveal what this self-improvement program is all about and why it might be good for you...
CEO Movement Review Summary
Product Name: CEO Movement
Founder: Rob Brautigam
Product Type: Entrepreneur Mindset MLM
Price: $99 per month
Best For: People who want to become entrepreneurs
Summary: CEO Movement is a self-improvement program that contains a MLM opportunity and affiliate marketing programs. This aims to help you transition from employee to entrepreneur by training you mentally and physically. You get some value from their training programs that're worth thousands of dollars each, but you access all of them for a small monthly fee. However, there's an issue with the MLM they're associated with and I'll explain more of it below.
Rating: 80/100
Recommended: Yes
More...
CEO Movement is a self-improvement program that has a MLM or multi-level marketing aspect created by a guru named Rob Brautigam. CEO stands for Community of Entrepreneurs Online, and as the name implies, it's a network of like-minded individuals who want to build a business online.
One of their primary seervices is mentorship within their different classes, ranging from beginner level to the advanced level.
We'll talk more about their program in the next section.
CEO Movement Product Line
On their landing page, you'll see a video for their free web class, which is an introduction of sorts to the basics of building a successful online business.
This is meant to encourage people to seek out means of passive income outside of stocks and investments.
Rob Brautigam aims to teach you how to quit worrying about your finances and to start living the hustle life. He'll teach you what works and what doesn't, what to do and what not to do, and how to ensure close to a 100% success rate in the business.
Listed below are some of the programs you can expect from CEO Movement once you're a member:
Masterminds
This is a weekly meeting held LIVE in their private Facebook group by the founders and is very interactive. The schedule is meant to accommodate members from all around the globe, and even if you're not able to catch it LIVE, there will be a playback available.
Online Advertising
This is one of the focal teaching points for CEO Movement, and they'll teach you how to proceed with online advertising and sales. Advertising and sales are important parts of the business, and they'll show you how to get things done the right way.
Branding & Marketing
. When you're building an online business, it's a difficult challenge to get your brand across different platforms. CEO Movement teaches you how to go about branding and marketing the right way.
Connectivity
CEO Movement also connects you to various high commission products for you to market on your online business. This removes the need for you to come up with your own product (at least to begin with). It also helps you save time in finding out the best affiliate programs out there. The founders have curated their personal list of programs that will help you set up passive income.
Automation
The goal is to automate your business, and to do that, CEO Movement is going to help you with everything. You'll learn all of the fundamentals for automation with this program.
Not Just Business
This is focused more on helping entrepreneurs build lives and passion outside the business because the founders believe that there's more to life than running the business. This module contains a lot of self-help and personal growth resources too.
Personal Development
Transitioning from employee to entrepreneur is a huge leap and there are numerous hurdles. CEO Movement aims to help you navigate those hurdles and helps develop the right kind of mindset and self-belief that turns you into an entrepreneur.
Keep Fit
These are resources and tools that help keep you fit anytime, anywhere. You can use these fitness programs when you're traveling or when you're faced with limited equipment at home.
You can check out the rest of their classes through this video right here:
I'm Jerry!
I Created My Own 4-Figure Monthly Passive Income at just 21 Years Old!​
Does The Product Work?
On their official Facebook page, there are a lot of positive reviews about the program.
Most of the reviews state that the program's worked for them and that they were able to transition into entrepreneurial lives within a few weeks.
As of this writing, there are 72 reviews on their Facebook page and only 2 of them are negative so that says a lot about the program.
How To Make Money with CEO Movement?
There's only one way to make money from CEO Movement and that is to get into the MLM program that they are promoting, which is Kangen Water.
You'll read all about their compensation plan in our separate review of Kangen Water.
How To Get Started With CEO Movement?
Here's a complete list of how much the program costs:
Below is the detailed list of what you are expected to pay up for in the program:
$12/month- Social Media Training Academy
$1,908- Automated Online Sales System
$1,271- Global Facebook Community
$378- 1-on-1 Half Hour Coaching Call
$761- Weekly Team Mastermind Calls
$1,268- Invite to Future Live Events
However, you only need to pay $99 per month to access everything. That's a lot of money saved in total.
CEO Movement Compensation Plan
So basically the only way to earn from this program is to join their opportunity via Kangen Water.
Unlike most community-based programs such as Wealthy Affiliate, there's no referral system in place to keep you incentivized to recruit.
Then there's also the issue of other members getting booted out of the program for calling the water purification business (Kangen Water) a MLM, which it is. They would rather call it a business, than anything else.
Here's a video from Rob himself about how to make CEO Movement work for you.
What I Like About CEO Movement?
#1 Lifetime Transformation For $99
I was pretty surprised about their membership fee and the value of the programs itself far outweigh the membership fee.
CEO Movement focuses on building businesses from scratch and whether or not they have that MLM business for you, it's still going to get you a solid foundation for building a business online.
I would still highly recommend Wealthy Affiliate if you are eager to get your online business started.
#2 High Quality Programs
I am impressed with what people say about CEO Movement, and it's going to be difficult to debunk them all so we'll just leave it at that.
To have different demographics say the same thing about CEO Movement means that it's a consistent program and that it's worth looking into.
CEO Movement Ugly Truths Revealed!
#1. Limited Information
For non-members who want to get more information about CEO Movement, they'll have to dig through reviews about the program because there's no official information (at least free information) on their website, Facebook page, or even LinkedIn Profile.
They want you to spend money on them first before they let you in on whatever they got going on.
#2. Linked MLM [Selling Kangen Water]?
According to some members, CEO Movement is nothing more than a subtle network marketing company that's bundled really well to lure members intojoining through extensive training on how to build an online business.
We've written a review about Kangen Water and it doesn't sound as promising as it gets.
All in all, if there's any truth to this claim, then it's just one big marketing scheme.
CEO Movement is far from being a scam. It's a legitimate self-improvement program that markets a MLM opportunity (and that's one of its downsides).
If you're willing to look past that, this program is worth spending money on to check out why people are saying all the things about this program.
Quite frankly, I'm impressed with this program and I would recommend this to anyone who wants to kickstart the entrepreneurial journey.
How I Make a Living Online?
I'm not a fan of MLM, not because it's illegal or not profitable, but because of all the restrictions and the expensive costs involved.
Instead, Affiliate Marketing is my top recommended business model for anyone to make money online.
The reason is simple...
You don't have to recruit anyone to make money
You have the freedom to promote any products you want and not being restricted to only promote the products from one MLM company
It's Free to get started
In fact, with affiliate marketing...
I've personally created a 4-Figure Monthly Passive Income Stream and become financially independent at just 21 years old without any College degree or working experience!
Through my own hard work, I went from a broke restaurant waiter to living my dream laptop lifestyle in less than a year's time...
If you want to discover the secrets of how I did it at such a young age, click here!