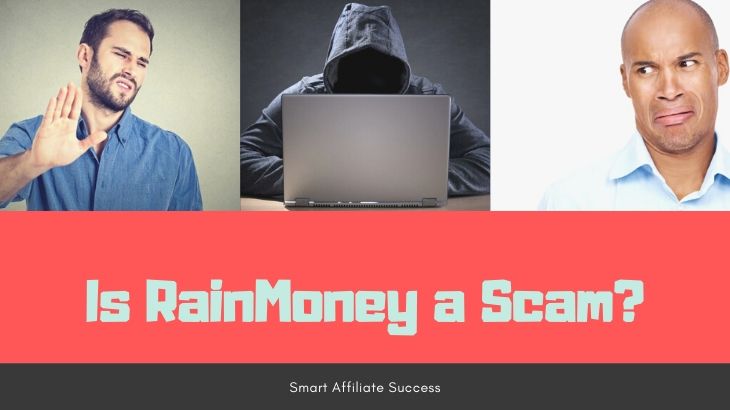 Is RainMoney a Scam? Don't Fall For This Influencer Scam!
Welcome to my RainMoney review!
This program promises that you could make easy money just by being an influencer.
Why does that sound so familiar?
Well, it could be because we've reviewed similar programs like that and they all turned out to be nothing more than scams.
Will this one be any different?
This is RainMoney.
First of all, I must Congratulate you for taking your time to do your own research before buying into any "seemingly good" product.
That's the way to avoid scams and find the legitimate way to make money online!
Let me be completely transparent with you, I'm not associated with RainMoney in any form.
So, rest assured that I'm not here to pitch or sell anything to you.
Instead, I'm here to reveal why you shouldn't even fall for this scam!
RainMoney Review Summary
Product Name: RainMoney
Founder: Not disclosed
Product Type: Get Paid To Program
Price: Free to Join!
Best For: NO ONE!
Summary: RainMoney is a get-paid-to program that hires you as an influencer, but this is actually just one big scam! There's a lot of fake information being pushed here, from proofs of payment to testimonials. And we'll prove that they did in this article.
Rating: 1/100
Recommended: No!
More...
RainMoney is a GPT or Get-Paid-To site that provides you with rewards for doing small tasks and for recruiting new members.
However, what they are and what they claim to be are two separate things.
According to RainMoney, you get $2 every time someone clicks on your referral link and $10 if they join the program.
You also get $50 for uploading a YouTube testimonial video about the program, along with $30 for each task you complete.
If you think about it, that's some serious rewards and if you do it full-time, you could make a decent amount of money.
However, they're kind of similar to other sites that we reviewed:
Viral Bucks
Viral Dollars
Kids Earn Cash
Kashtree
Emotepay
Buxify
And these sites have proven themselves to be scams.
Let's dig deeper into the program.
RainMoney lures you with a $25 signup bonus, which is nothing more than just a promise.
Majority of people will join RainMoney because of that bonus, thinking that they could get that cash the moment they create that account.
But RainMoney will have you jumping through hoops to get that cash out. You'll have to do the following:
referred at least 5 people to RainMoney.co
completed at least 5 tasks
been credited with at least $200
at least 20 clicks on your unique referral link
When people find out that they have to do all of these, they just quit. But there are a few lucky ones who do manage to complete these tasks.
Once they complete these tasks, they'll be able to cash out the $25 signup bonus. But what they don't know is that RainMoney will ban their account the moment they use a payment. They'll try to use the excuse of the user faking the referrals and clicks.
It's terrible, right?
RainMoney just makes you think that you've done something wrong, so you work even harder by doing the other tasks to make it look like you're doing everything by the book.
Then RainMoney just bans your account all over again.
And then it's just a vicious cycle from here on out.
I'm Jerry!
I Created My Own 4-Figure Monthly Passive Income at just 21 Years Old!​
How Much Does RainMoney.co Cost?
RainMoney is free to join, but you'll have to complete the tasks to "verify your account". Some of the tasks will ask for your contact information such as email and phone number, which they'll send to their clients for whatever reason.
So expect to be flooded with cold calls and spams after doing that.
RainMoney isn't something that I would recommend to anyone, and that's because we uncovered a lot of red flags. We're going to list these red flags in the next section.
RainMoney Ugly Truths Revealed!
#1 Fake Payment Proof
RainMoney's proof of payments look impressive, but upon closer inspection, I realized that they were nothing more than copy and paste texts of other scams that we mentioned above.
They used the same payment proof as shown in KashTree…
Check this out:
This leads me to believe that they either stole this from another site, or that these sites are one and the same. I'm inclined
#2 The Numbers Don't Add Up
One of the biggest questions that I have about the program is how are they getting all their money?
I mean, if we look at these testimonials, you'll notice that people are making thousands of dollars online. So what's their source of income?
If you look at legitimate GPT sites, their main source of income come from their clients, but even then, their payouts aren't that high because companies don't pay that much.
But somehow, you don't need to make sense of their source of income because they just want to get paid by their clients without cashing out to their members. That's why they're banning their members for cashing out.
#3 Fake Testimonials
Speaking of testimonials, these are all fake. RainMoney's members claiming that they make thousands of dollars a month are not real.
Let's take Cristina Richards as an example, who said they earned $12k a month on RainMoney.
Cristina is also Samantha Wright on another site called RideFaster, a bike maintenance site. The latter looks legit and we have no reason to believe otherwise. I doubt that Samantha is also a real person either, but you know what we mean.
#4 Unknown Owners
It's expected that they're never going to disclose the owners of the site because they're obviously a scam. Scammers try to hide their identity so they don't become targets for lawsuits and so they don't get caught.
#5 Unable to Cashout
You won't be able to cashout the signup bonus or your earnings because they will just ban your account if you request payment.
This alone is more than enough to dissuade people from joining because it beats the purpose of joining the site in the first place.
#6 Part of a Huge Scam Network
We think that RainMoney is part of a huge "#1 influencer network" out there. We've identified these scams, and we even reviewed some of them here:
If you look closely at RainMoney and the other sites, you'll notice that they also use the same texts on their landing page.
What I Like About RainMoney?
I don't like anything about RainMoney. It's just a terrible scam and I don't want to say something positive about this program.
It doesn't make sense to even praise this program!
RainMoney proves to be nothing more than a scam, and this is because of the numerous red flags that we found:
The biggest red flag is that you won't be able to cash out, and they'll ban you for requesting payment. They'll give you the excuse of you faking your way to referrals and clicks.
The testimonials and payment proofs are all fake, and it's clear that they're just copied from the other sites that they're networked with.
Speaking of networked sites, it looks like they belong to a huge scam network of sites that promise that you could be the "#1 influencer in the world".
Stay away from this program!
How I Make a Living Online?
I've personally created a 4-Figure Monthly Passive Income Stream and become financially independent at just 21 years old without any College degree or working experience!
Through my own hard work, I went from a broke restaurant waiter to living my dream laptop lifestyle in less than a year's time...
If you want to discover the secrets of how I did it at such a young age, click here!