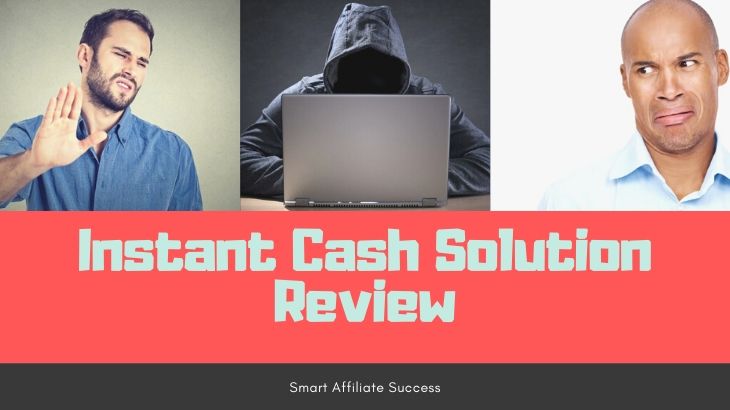 Instant Cash Solution Review – No Cash, No Solution Here!
Welcome to my Instant Cash Solution review!
Some affiliate marketing programs try to promise you the entire world, but in reality, they're nothing more than empty promises.
The thing is that these programs will prey on novice marketers, or those with zero experience because they're gullible and they don't know any better.
This program is a good example of one of those that make false promises.
This is Instant Cash Solution…
First of all, I must Congratulate you for taking your time to do your own research before buying into any "seemingly good" product.
That's the way to avoid scams and find the legitimate way to make money online!
Let me be completely transparent with you, I'm not associated with Instant Cash Solution in any form.
So, rest assured that I'm not here to pitch or sell anything to you.
Instead, I'm here to reveal what this program is all about and why you won't be making any cash here.
Instant Cash Solution Review Summary
Product Name: Instant Cash Solution
Founder: Rich Meyer
Product Type: Affiliate Marketing System
Price: $100 to $500, depending on membership tier.
Best For: No One
Summary: Instant Cash Solution is marketed as a done-for-you affiliate marketing system that has you copying-and-pasting ads. But in reality, it's just one big recruitment scheme hiding behind a pay-to-win system, which I'll explain in this article. You won't be making any money here at all.
Rating: 1/100
Recommended: No!
More...
What is Instant Cash Solution?
Instant Cash Solution is a done-for-you affiliate marketing system that claims that they could give you a thousand dollars a month using copy-and-paste ads online.
This may sound exciting, and there's some truth to their process, but we'll explain later on in this article as to why this won't be able to make you that much money.
The program was developed by an online marketer named Rich Meyer. Now, I did a quick Google search to find out more about his marketing background. And no surprises here, I found out no other connection to Rich Meyer outside of Instant Cash Solution.
What does this mean? Well, I don't have proof that he doesn't exist. But I find it surprising that his digital footprint is minimal given his claim of being an online marketer.
Inside Instant Cash Solution
Okay, Instant Cash Solution works like this:
Buy one of the four membership levels ($100 to $500)
Follow the steps to place ads on social media and classified sites
Receive $100 to $500 in payments when you refer people
Rinse and repeat
Let's talk about these steps in detail, shall we?
Step 1: Choose a Membership Level
Instant Cash Solution has 4 different membership levels:
Bronze membership: Pay $100 plus a $29 admin fee to qualify for $100 commissions promoting the Bronze membership.
Silver membership: Pay $200 plus a $29 admin fee to qualify for $100 Bronze and $200 Silver membership commissions.
Gold membership: Pay $300 plus a $29 admin fee to qualify for $100 Bronze, $200 Silver and $300 Gold membership commissions.
Platinum membership: Pay $500 plus a $79 admin fee to qualify for $100 Bronze, $200 Silver, $300 Gold and $500 Platinum membership commissions.
Each membership level comes with training to help you promote and market the system. It also includes different capture pages, banner ads, and text ads. You'll also get back office access to run everything.
Why different membership levels, you ask?
Well, as expected, the higher your membership level, the more money you can make from commissions for recruiting people into the program.
I'm Jerry!
I Created My Own 4-Figure Monthly Passive Income at just 21 Years Old!​
Step 2: Copy and Paste Pre-Written Ads
The main selling point of Instant Cash Solution is its done-for-you system that allows you to copy and paste ads to promote the system.
You'll be posting these ads on sites such as Craigslist, Facebook, and Instagram.
You can make money by posting ads, but never in the way that Instant Cash Solution has you doing.
And guess what you're promoting?
That's right: Instant Cash Solution.
You're basically funneling people into the program with your unique referral link and hope that they sign up for a membership. This is your means of making money online.
Step 3: Earn Commissions Recruiting People
As mentioned earlier, you make money by recruiting people into the program. The more ads you place, the more chances of getting people to join the program.
But here's the problem.
Affiliate marketing programs, or at least the legit ones, are free to join. You can promote real products to people who buy them and you'll be able to earn commissions based on the value of the product.
A good example is ClickBank, which is an affiliate marketing marketplace that allows you to sign up and get various affiliate links for products.
In contrast with Instant Cash Solution, you have to pay between $100 and $500 to qualify for the commissions ($100 to $500) when you recruit people.
Basically, you're just recruiting people into the system with a product that's just there to make it look legitimate.
Who's Instant Cash Solution For?
I wouldn't recommend this program to anyone because of the several issues listed below. There are better and more legitimate affiliate marketing programs out there that could get you to where you want to be in terms of making money online.
Instant Cash Solution Ugly Truths Revealed!
#1 Pay to Win Model
One of my gripes about this program is that you have to spend money to make more money.
You have to pay for the higher membership tiers if you want to make more money. You're also limited to the amount of money you make based on the people you recruit.
For example, if you're Bronze and the recruit signs up for Platinum, you only get the maximum commission for Bronze tier.
This is a red flag because you're pressured to spend more to get the most out of the program.
#2 Copying and Pasting Ads is Spammy!
The significant feature of this program is that it's easy to use and set up. You're only required to copy and paste ads on social media sites like Instagram and Facebook to make money right away.
However, the ads may look like spam because you're not the only one to use the ads. If there are 100 of you at any given time, expect to see 100 of these ads that look exactly the same.
It's also worth noting that these sites may not take kindly on self-promoting ads, so don't expect these ads to stay for too long on these sites.
#3 Recruit People Into The Program? Sounds Fishy
Their system is fishy because you're just recruiting people. The products are an afterthought to make it look legitimate and to take away the recruitment from the spotlight.
This is another red flag because it's kind of like a MLM system that takes away the value of the product and transforms it into a numbers game.
What I Like About Instant Cash Solution?
There's just nothing that I like about Instant Cash Solution because of the red flags listed above.
Is Instant Cash Solution a Scam?
Instant Cash Solution appears to be a legitimate platform for affiliate marketing, but it's not something that I would recommend to anyone at this time for the following reasons:
Copy and pasting ads is spammy in nature, and a lot of sites may not take you seriously because of the self-promoting nature of these ads.
The system requires you to pay more to earn more, which is something that financial regulation companies such as the FTC (Federal Trade Commission) doesn't take lightly.
There's just too much focus on recruitment when you take away the products aspect of it all, so it's nothing more than a recruitment-based incentive program.
If you want to learn more about affiliate marketing, then there are better programs out there that can do more than just mark you as a spammer.
How I Make a Living Online?
I've personally created a 4-Figure Monthly Passive Income Stream and become financially independent at just 21 years old without any College degree or working experience!
Through my own hard work, I went from a broke restaurant waiter to living my dream laptop lifestyle in less than a year's time...
If you want to discover the secrets of how I did it at such a young age, click here!