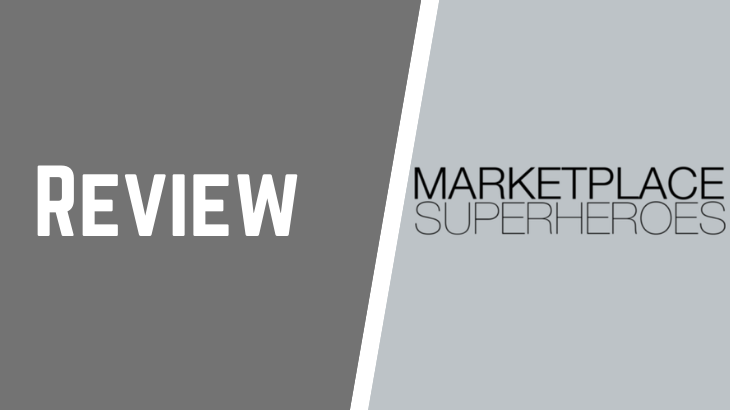 Is Marketplace Superheroes a Scam? An FBA Course We Recommend!
Welcome to my Marketplace Superheroes review!
This has been on our radar over the past few months now, but we haven't gotten around to reviewing it.
This product has also been mentioned in one of our reviews and we're excited to review this product once and for all.
This is Marketplace Superheroes.
First of all, I must Congratulate you for taking your time to do your own research before buying into any "seemingly good" product.
That's the way to avoid scams and find the legitimate way to make money online!
Let me be completely transparent with you, I'm not associated with Marketplace Superheroes in any form.
So, rest assured that I'm not here to pitch or sell anything to you.
Instead, I'm here to reveal why this is worth the investment if you're serious about your online business.
Marketplace Superheroes Review Summary
Product Name: Marketplace Superheroes
Founder: Stephen Somers and Robert Rickey
Product Type: Amazon FBA Course
Price: $997 or $97 per month for 1-year installment
Best For: People who are interested in taking their FBA business to the next level!
Summary: Marketplace Superheroes is a FBA training course created by Stephen Somers and Robert Rickey, both experienced online entrepreneurs who brought their own expertise to the table. The content of the training modules is of high-quality, and is designed by Somers and Rickey themselves.
Rating: 90/100
Recommended: Yes!
More...
What is Marketplace Superheroes?
Marketplace Superheroes or MPSH is a FBA or Fulfillment By Amazon training course created by Stephen Somers and Robert Rickey.
They revamped the course system in 2017 and now it's called Marketplace Superheroes 2.0, which includes some improvements on site UI and enhanced content.
Who Are Stephen Somers and Robert Rickey?
Stephen Somers is the man behind the promotions and the marketing material. He handles all of the sales aspects of the product, but he also brings a lot to the table as a successful entrepreneur.
Robert Rickey has had over 20 years of experience in different online marketplaces and is the one in charge of this method, it seems. Together, they form a strong team that launched Marketplace Superheroes to where it is currently now.
Just a heads-up, they're both Irish so they will be speaking with an accent on their training videos.
As far as I'm concerned, they don't have any other trainers on their videos other than them.
Inside Marketplace Superheroes
Marketplace Superheroes has 2 phases, each with 6 modules and them some bonus resources.
All of their training modules have videos, PDF files, MP3 files, and audio transcripts for you to print out.
Marketplace Superheroes caters to all people's needs in building their Amazon FBA business, and their modules prove it. These are all designed to cater for all backgrounds and experiences.
Here's a list of their training course and what its contents are:
MPSH Core System 2.0 Phase 1
The first phase focuses on which products to go for and how to pick the right opportunities for your business.
Marketplace Mindset – These are 7 videos that cover topics on what you can expect from this course and how to maximize your experience here.
Search Phase – 9 videos on how to do product research and how to use product analysis tools.
Shortlist Phase – 6 videos on how to filter through the best product opportunities from Search Phase.
Select Phase I – 5 videos on how to select the best product opportunities.
Select Phase II – 7 Videos on choosing the best product opportunity and how to start searching for suppliers.
Source Phase – 11 videos that's all about finding suppliers for products, and how to negotiate, place sample orders, packaging, and creating your brand.
I'm Jerry!
I Created My Own 4-Figure Monthly Passive Income at just 21 Years Old!​
MPSH Core System 2.0 Phase 2
Phase 2 is now about importing, analytics, and logistics, as well as how to expand your business internationally. The last part sounds ambitious, but the course builds you up properly to get you to that level.
Business Structure & Seller Central – 8 videos on how to structure your FBA business and how to set up your Amazon Seller Account.
Purchasing & Importing – 7 vidoes on the purchasing and importing process.
Amazon FBA Road Map – 5 Videos on the entire FBA process, which includes navigation on Amazon Seller Central and labeling requirements.
Listing Optimisation – 9 videos on how to create world-class product listings with amazing conversion.
Account Management – 13 videos on how to operate your Amazon business on a day-to-day basis.
International Expansion – 7 videos on how to expand your business internationally.
Marketplace Superheroes Additional Training and Resources
After the 12 videos, you'll have the benefit of enjoying additional resources that come with the Marketplace Superheroes program. These are meant to look into more specific topics on FBA.
$1k Per Day Road Map – This provides guidance on how to generate $1000 in sales daily.
Fuel Your Empire – This is an over-the-shoulder training video done by Robert and Stephen on how to do product research.
Invincible Importing – This is all about how to import products on Amazon.
30 Minute Legendary Listings – How to optimize your product listings.
MPSH Core System – This is the original series of videos before they launched the 2.0 version.
MPSH Euro Expansion System – A 5-module road map on how to expand your FBA business internationally, which supplements one of the main lessons.
Advanced Workgroup #1 and #2 – How to maximize your results. These may be older content, but they're worth watching if you have the time.
Marketplace Superheroes Price
It costs you $997 as one-time payment, or you can sign up for the 12-month installment program for $97 per month.
They also offer a no-questions-asked-money-back guarantee and accept several payment options that include PayPal.
Who's Marketplace Superheroes For?
Marketplace Superheroes is a great training program for those who're interested to start their FBA business, and we'll tell you why this is the program for you in the next section.
What I Like About Marketplace Superheroes?
#1 High-Quality Content
The best thing about Marketplace Superheroes is its quality content about selling on Amazon, not just in the US but also globally. The courses are very detailed and thorough, and are presentable.
The lessons are easy to understand and it doesn't bury you in a lot of technical mumbo-jumbo.
#2 Positive Customer Reviews
Despite having so few reviews about their products, they're nothing but praises about how great the modules are.
You'll find some of their reviews on their official Case Studies page.
#3 Active Community
The community is small but it is highly active. Members and even the founders themselves are interacting on their private Facebook group, which you'll be included if you sign up for the program.
#4 Created by FBA Experts
The courses are handled by known experts, and they bring their experience to the table. The courses are also updated based on updates done to the Amazon FBA itself.
Marketplace Superheroes Ugly Truths Revealed!
#1 Price Can Be Off-Putting!
One of the most common issue that could hinder you from purchasing this program is its price.
The $997 cost may be too overwhelming, and people may just shy away from the program even if there's installment available.
Is Marketplace Superheroes a Scam?
Marketplace Superheroes is a legitimate training module that shows you how to build your FBA business from the ground up.
The training videos and other materials are high-quality, thanks to the program's founders and their experience.
But I'm not selling you this program or anything. Just see for yourself by checking out their customers' feedback.
However, the price can be a little off-putting so if you're committed to building an FBA business, then you'll need to invest in this course.
How I Make a Living Online?
I've personally created a 4-Figure Monthly Passive Income Stream and become financially independent at just 21 years old without any College degree or working experience!
Through my own hard work, I went from a broke restaurant waiter to living my dream laptop lifestyle in less than a year's time...
If you want to discover the secrets of how I did it at such a young age, click here!