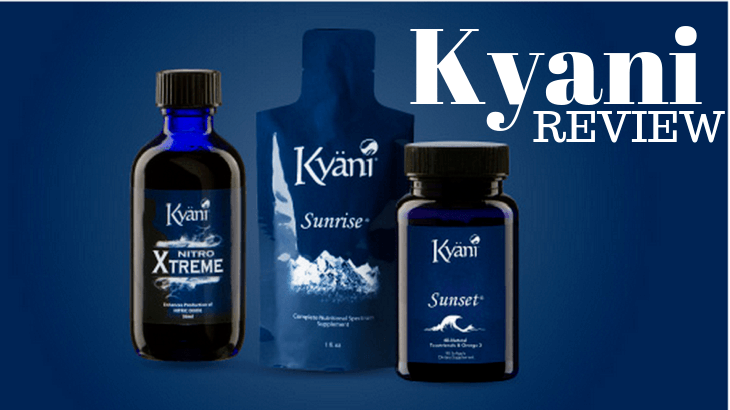 Is Kyani A Scam? (Another Bogus MLM Exposed?!)
Welcome to my Kyani review!
At some point, you may have heard about Kyani and its wonders for the health and its wonders for financial freedom from your friends, classmates, co-workers, or your neighbors.
First of all, I must Congratulate you for taking your time to do your own research before buying into any "seemingly good" product.
That's the way to avoid scams and find the legitimate way to make money online!
Let me be completely transparent with you, I'm not associated with Kyani in any form.
So, rest assured that I'm not here to pitch or sell anything to you.
Instead, I'm here to reveal the truth behind Kyani and what they can really provide for you.
Can this company hold up to the promise of giving you a lavish lifestyle?
Read on and you be the judge.
Kyani Review Summary
Product Name: Kyani
Founder: Kirk Hansen // Dick Powell // Carl Taylor
Product Type: MLM (Health and Wellness)
Price: $89 for the Kyani Welcome Kit + $210 for monthly Auto-Ship. Business packs ($399 to $1299)
Best For: People who are knowledgeable about super-food products and who know how to recruit and build a network.
Summary: Kyani doesn't set itself apart from the other health and wellness MLM companies out there. Their products are decent, but their efficacy is debatable. The products are priced in a way that you can make a profit out of them, but they're quite competitive when pitted against commercial brands and other MLM brands as well. A closer look at their income disclosure statement doesn't also guarantee that you can live off of the passive income that it can generate on the lower levels.
Rating: 40/100
Recommended: No
More...
Kyani is a family-based health and wellness Multi-Level Marketing (MLM) company that was founded back in 2005. While it provides its customers with "business opportunities" by becoming a distributor of their products, Kyani is in essence an MLM program.
Kyani Product Line
They have three products under their belt: Kyani Sunset, Kyani Sunrise, and Kyani Nitro. Their main products all contain unique ingredients from super foods like Alaskan Sockeye Salmon and Alaskan Blueberries.
What's even more impressive is that you can find their products listed and sold on Amazon.
1. Kyani Sunset
Kyani Sunset is a product designed to be taken at night, which is why it's aptly named Sunset. This product is a blend of tocotrienols, Beta Carotene, Vitamin D, and Omega-3. All of which are designed to improve the body's cell health and cardiovascular and immune systems.
It's also said to provide the following benefits:
Reduce inflammation in the body
Boost skin and hair health
Helps maintain healthy cholesterol levels
Helps maintain blood sugar levels
Improves cognitive function
2. Kyani Sunrise
Kyani Sunrise is a product made up of 16 superfoods with red raspberry, pomegranate, Panax ginseng, and amla berry as its main ingredients. Like the Kyani Sunset, it also has wild Alaskan Blueberry, which is said to have 5x more antioxidants than ordinary blueberries.
Kyani Sunrise provides the following benefits:
Helps maintain a healthy heart
Boosts the immune system
Improves digestion
Supports cognitive functions
Increase mental health
Promote joint flexibility
Increase energy levels
3. Kyani Nitro
Kyani Nitro is a liquid-based supplement that's intended to boost nitric oxide production. This metabolic byproduct is linked to benefits like increased endurance and performance, and better sexual performance.
Kyani Nitro FX is a noni-fruit extract supplement, which is a Southeast Asian fruit that contains anti-inflammatory properties.
Kyani Nitro Extreme is another variation of this vitamin supplement and boasts of providing you with 33% of your daily vitamin B1 intake, which affects your body's nitric oxide production.
Do The Products Work?
A lot of people claiming that the products works are debated by those who think that the entire scheme is a scam.
After skimming through the reviews and getting the gist out of both sides, here's what I got:
Kyani does work like it's advertised (e.g. improved energy levels, better moods, etc).
Kyani does not treat any medical condition, so it shouldn't be used as such.
Here's what people have to say about Kyani:
Here's one negative review that I found online:
I'm Jerry!
I Created My Own 4-Figure Monthly Passive Income at just 21 Years Old!​
How To Make Money With Kyani?
At the end of the day, Kyani is an MLM business at heart and the business opportunity that it provides its customers can only have them earning money in two ways:
Selling their products to the customers and earning retail commissions
Recruiting people
And like most MLMs, it relies on two types of marketing:
Word-of-mouth marketing
Social media marketing
That's probably how you may have heard of Kyani in the first place. A friend, family member, or a co-worker may have brought it up at a few social media posts.
How To Get Started With Kyani?
If you're familiar with other MLM companies like Isagenix, Melaleuca, It Works! or Life Vantage, then you'll be familiar with Kyani. Truth be told, there's nothing new or unique about their business opportunities.
If you want to be a distributor of their products, you have to purchase the Kyani Starter Pack, which is $89. This gives you access to their wholesale prices, but if you want to earn commissions and bonuses on the sales you make, you need to auto-ship 150QV, which is roughly $210 a month.
First you have to purchase a Business Builder Pack, and you have to choose between the regular one or the premium pack
1. Kyani Welcome Kit ($89)
Kyani New Distributor Folder
Access to Digital Suite
2. Regular Builder Pack ($499)
What you get in the regular pack is 1 each of,
Kyani Sunrise 30 oz bottle
Kyani Sunset (Packets) 30ct
Kyani Sunset gel caps 90ct
Nitro FX 56ml
Nitro FX (8 pack) 15ml
Nitro Xtreme (8 pack) 15ml
5 trial packs, various brochures, 1-year access to their webtools and finally a registration kit.
3. Premium Builder Pack ($999)
contains 2 of the following:
Kyani Sunrise 30 oz bottle
Kyani Sunset (Packets) 30ct
Kyani Sunset gel caps 90ct
Nitro FX 56ml
Nitro FX (8 pack) 15ml
Nitro Xtreme (8 pack) 15ml
Nitro Xtreme 56ml
15 trial packs, various brochures, 1-year access to their webtools and finally a registration kit.
At that point, you're now going to want to sell their products and recruit people to join the business with you.
From that point, it's all about selling products and recommending the opportunity to others.
Kyani Compensation Plan
Kyani offers a decent compensation plan, but it doesn't actually set itself apart from the other MLM businesses either. They offer additional incentives like prizes, paid retreats, and cars. They even use these to bring in people to the business.
Then you are presented with the option of recruiting people and increasing your rank by purchasing more products every month. Your legs (downlines) will also need to maintain certain requirements as well for your rank, so it's a team effort between you and your downlines.
Your ranks are also represented as gemstones, with Garnet as the first rank you'll achieve after being a Qualified Distributor and it moves on from there.
If you reach the Garnet rank within 30 days, you get a $100 bonus. If you reach the Pearl rank after a calendar month of receiving your first payout, you get a bonus of $200.
Now, it's pretty clear that they don't provide you with anything unique and they're not that special when it comes to their compensation plan.
Here's a comprehensive document of their full compensation plan:
Kyani Ugly Truths Revealed
#1 - It's Still An MLM Company
As I mentioned earlier, Kyani is still an MLM company that provides no unique value to their industry. But the income potential is quite low for this company. Here's a copy of their most recent income disclosure statement made available online:
Let me explain.
In the screenshot, I looked at the Average Monthly Gross Earnings for each rank. To really make Kyani your full-time income-generating machine, you need to be at least at an Emerald rank to earn $7,416 a month or $88,992 per year.
If you're looking at Kyani to be just for supplementary income, you still need to be at least a Sapphire rank to earn $1,561 a month or $18,732 per year.
Another factor that makes me say that the income potential is low is by looking at the Average no. of months to achieve rank.
Reaching Emerald would take you at least 6.4 months, and that's assuming that you're going to be recruiting and selling on a full-time basis. It's going to take longer if you have a 9 to 5 job and other commitments.
Reaching Sapphire would take you at least 3.7 months, and while that's not entirely bad, you have to consider the time that you need to dedicate to make this worth your while.
So did people achieve Emerald or Sapphire rank within a year?
Unlikely.
Active distributors are those that purchase within the last 12 months.
This income disclosure statement shows that only 0.41% of active distributors are currently at the Emerald rank or higher, and 2.83% of active distributors are the Sapphire rank or higher.
What does this mean?
Out of 100 distributors, you only have 3 people who're at least ranked Sapphire or higher.
Out of 100 distributors, you have 1 person who's at least ranked Emerald or higher.
Out of 100 distributors, you're looking at 96 people who're not earning enough to make it worth their time.
The odds are pretty much against any distributor, like in most MLM models. You'll have to look for alternative means to earn passive income and you have to be able to find a more decent program than Kyani.
In my opinion, you're still better off with affiliate marketing.
#2 - Marketing Propaganda
It's one thing for me to review MLM companies and it's another thing when an MLM company like Kyani rely on propaganda to make them appear that they are the solutions to people's financial woes.
But their form of propaganda is not that uncommon either, as it's mostly practiced by other MLM companies as well.
Kyani preys on their customers through dream-building propaganda by presenting them with lavish lifestyles and their members who're earning 6 to 7 figures a year on Kyani alone.
#3 - False Product Claims
This probably raises eyebrows when it comes to the legitimacy of Kyani's business model: the authenticity of their product claims and its efficacy.
It's worth noting that the products claimed that the Alaskan Berries are the star ingredients of their products and it's what makes their products great.
Alaskan Berries are said to be great because of the Tocotrienols that they contain.
This raises eyebrows on this claim because it's difficult to find authentic references on what Tocotrienols really are and what they're supposed to do for the body.
For distributors, this makes it a challenge to explain to their customers what Tocotrienols really are because this is their main selling point for their product.
Can you imagine if someone called them up on their product content?
#4 - Potential Side Effects
On top of "positive" product claims, there is also the issue of potential side effects, which most people have reported after taking Kyani supplements.
These side effects include lightheadedness and fatigue. Keep in mind that any type of supplement or pills will always have side effects.
The fact that Kyani's supplements are not FDA approved says a lot about their products.
#5 - Upfront Costs Are EXPENSIVE!
There's no denying that joining Kyani is going to hurt your wallet.
Let me show you the math:
$89 for the Welcome Kit
$210 for the Monthly Autoship
$399 (at least) for a Business Pack
That brings you to a total of $698 just to get started with Kyani.
But what about maintaining this business?
Even if you don't get a business pack, you are still required to get their $210 monthly autoship if you just want to be a distributor.
From a business' perspective, you need to consistently make at least $210 just to get your money back and earning less than that on a month means you're already losing money.
Kyani is way more expensive than any other MLM companies, and their product prices are very competitive.
If the start-up cost is too much for you, there are better ways to make money online and they're a lot cheaper too.
P.S. This program that has enabled me to generate a 4-Figure Monthly Passive Income at just 21 years old is FREE to get started and only cost $49/month fee to go full-time!
#1 - They Have Decent Products
Now there are still good things about Kyani. For starters, they have a decent product line.
A lot of their customers claim that the products have improved their health, but I'm not entirely sure of the authenticity of these comments. Just take the comments with a grain of salt.
The products are genuine and they contain vitamins and minerals needed to maintain the body's optimal performance.
#2 - You Can Still Make A Profit
Like most MLM business opportunities, you can still earn money through your profits.
Kyani Sunset
There are three price points for Kyani Sunset …
The distributor price which is $35.95.
The retail price $43.95.
Preferred customer price $39.95.
Kyani Sunrise
Like Kyani Sunset, Kyani Sunrise also has three price points all of which are identical to Sunset
The distributor price which is $35.95.
The retail price $43.95.
Preferred customer price $39.95.
So, with Kyani Sunset and Kyani Sunrise, you have a gross profit between $4.00 and $8.00.
Take note that you're also competing against commercial brands and other MLM brands, so you have to consider that as well.
Again, you have to take this with a grain of salt. Note that with their income disclosure statement, you'd need to reach at least a Ruby Rank to be able to pay the household bills.
Is it sustainable? I don't really think so, but that's just my opinion.
Kyani is not a scam because it is still a legitimate company that provides its customers with legitimate business opportunities. Like most MLM companies, they have their own upsides and downsides.
There is real earning potential to be had with Kyani. Their profit margins on the products alone are impressive, but it may not be sustainable if you're looking to replace your day job with Kyani alone.
It may not look like it, but their system clearly financially rewards distributors who're able to purchase products and recruit people at a consistent volume to make it worth their while.
Can Kyani become your cash cow and provide you with the lifestyle that it promises? I wouldn't think so, but that's just my opinion.
There are cheaper (and easier) options out there when it comes to making money online.
How I Make a Living Online...
I'm not a fan of MLM, not because it's illegal or not profitable, but because of all the restrictions and the expensive costs involved.
Instead, Affiliate Marketing is my top recommended business model for anyone to make money online.
The reason is simple...
You don't have to recruit anyone to make money
You have the freedom to promote any products you want and not being restricted to only promote the products from one MLM company
It's Free to get started
In fact, with affiliate marketing...
I've personally created a 4-Figure Monthly Passive Income Stream and become financially independent at just 21 years old without any College degree or working experience!
Through my own hard work, I went from a broke restaurant waiter to living my dream laptop lifestyle in less than a year's time...
If you want to discover the secrets of how I did it at such a young age, click here!