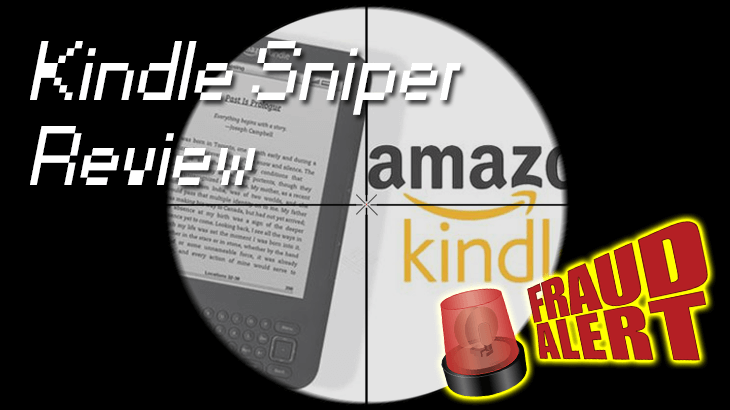 Is Kindle Sniper a Scam? (Amazon Kindle Publishing Done Wrong!)
Welcome to my Kindle Sniper review!
First of all, I must Congratulate you for taking your time to do your own research before buying into any "seemingly good" product.
That's the way to avoid scams and find the legitimate way to make money online!
Let me expose this to you upfront...
The scam artist behind Kindle Sniper has also created other scams including eCom Profit Sniper & Crypto Coin Sniper.
So basically, Kindle Sniper is just an addition to the "Sniper Scam Series"!
Let me prove to you with real evidence...
Kindle Sniper Review Summary
Product Name: Kindle Sniper (KDL Sniper)
Founder: Martin Price Unknown
Product Type: Amazon Kindle Publishing SCAM
Price: $37
Best For: The owner & affiliates promoting it
Summary: Kindle Sniper is just a 71-page PDF giving some very basic information about Amazon Kindle Publishing. No training, no tools, no resources, no support! Kindle Publishing is a legit business but it's simply impossible for you to achieve anything with Kindle Sniper.
Rating: 5/100
Recommended: No (SCAM ALERT!)
Wanna Make Money Online but Tired of Scams?
More...
Martin Price, the self-proclaimed owner of Kindle Sniper, claimed that Kindle Sniper is a revolutionary system for you to make $1K per day with just less than 10 minutes of work.
Oh really?
He even claimed that he has already made almost $500,000 in the past year using the simple technique in this secret product.
Let me tell you...
These are all FAKE! Everything this narrator claimed is just a made up story.
Think about this...
If this product is so powerful that it can help anyone to make half a million in a year with little-to-no work, how much do you think it's going to cost?
Do you really think it will cost only $37? And you can be rich by just investing in a $37 secret weapon?
Come on! Use a little bit of common sense and you'll realize that these scam artists are just trying to play with your emotional/psychological triggers.
So, What exactly is Kindle Sniper?
As its name suggests, Kindle Sniper is teaching you about the business model called Amazon Kindle Publishing.
Basically, it is the business of publishing Ebooks on Amazon Kindle for sale.
The concept is simple. All you need to do is to write the book (or hire someone to do it) and publish it on Amazon for FREE.
Yes, it is simple. But in order for you to make money and run this as a real business giving you passive income, it's not so easy!
Below is a short animation explaining how Amazon Kindle Publishing works:
And if you're really interested in this business, you should also check out this tutorial by Stefan James, a very successful Kindle Publisher:
If you really go and purchase this product, you'll realize that their member's area only consists of 2 things:
A 71-page PDF
More upsells
The only product you're getting is this 71-page PDF. So what exactly is this PDF all about?
Well, this PDF is just a very generic Ebook with very basic information about Kindle Publishing.
Everything there can be found online for FREE so you shouldn't be paying $37 for that.
What even worse is that it seems like a Private Label Rights (PLR) type of content.
Since the owner is teaching people how to create Ebooks without writing a single word yourself, he is most likely using the same technique to come up with this PDF.
There's a total of 18 chapters and it covers things like:
Niche research & selection
Choosing a Title
Ebook cover design
Publishing to KDP
Publishing to CreateSpace
Amazon promotion
Getting reviews
I'm Jerry!
I Created My Own 4-Figure Monthly Passive Income at just 21 Years Old!​
Kindle Sniper Ugly Truths Revealed!
Now, here are the proofs to show you that Kindle Sniper is just a SCAM...
1. FAKE Testimonials
Just like many other scams out there, Kindle Sniper is also hiring actors from Fiverr to come up with these fake testimonials in their sales video:
In fact, these actors have appeared in many other scams as well.
This just shows how common this strategy is being used today to scam people's money.
If this product is really that powerful to help people make thousands or even millions of dollars, why do they have to rely on these fake actors?
2. Mysterious Owner
Once again, the real owners of such scams are clever enough to hide themselves behind their computer while taking people's hard earned money.
They all simply hire someone to read out the script they've prepared and record it as the sales pitch.
This is a very common strategy!
3. Duplicated SCAM!
Like I've mentioned in the beginning, although we don't know the exact person behind this product, I can identify all the scams he has created including:
Here's the proof. Just take a look at their salespage:
They all have the same layout, same design, even the same price ($37).
The only difference is that they put in different texts, images and sales video.
The Good Thing About Kindle Sniper...
1. Legit Business Model
I agree that Kindle Publishing is a legit business model that can really make you rich if done right.
That's the good thing about this program. At least it is teaching a legit model.
But the problem is that it's impossible for you to get any results or even get started properly with Kindle Sniper because it's just a generic Ebook!
2. 60-Day Money-Back Guarantee
Also, since this is a ClickBank product, you're at least covered with their 60-day refund policy.
YES, Kindle Sniper is definitely a SCAM for sure!
Some people may say at least you're getting something for your money and there's a refund policy.
But seriously, like what I've exposed to you earlier on, this scam artist has been around for a long time and created many similar products in different niches to make money.
So, please stay away from such programs and be careful of those fake testimonials online!
How I Make a Living Online...
Although Kindle Publishing is a legit business, I'm not into it.
If this is something you're interested in, I would recommend you to check out K Money Mastery. It's a much better training program to help you set everything up for Amazon Kindle Publishing.
For me personally, I'm a full-time internet marketer making a living online via the business model called Affiliate Marketing!
The good thing about Affiliate Marketing is that anyone can do it without any prior experience and it's free to get started.
I've personally created a 4-Figure Monthly Passive Income Stream and become financially independent at just 21 years old without any College degree or working experience!
Through my own hard work, I went from a broke restaurant waiter to living my dream laptop lifestyle in less than a year's time...
If you want to discover the secrets of how I did it at such a young age, click here!