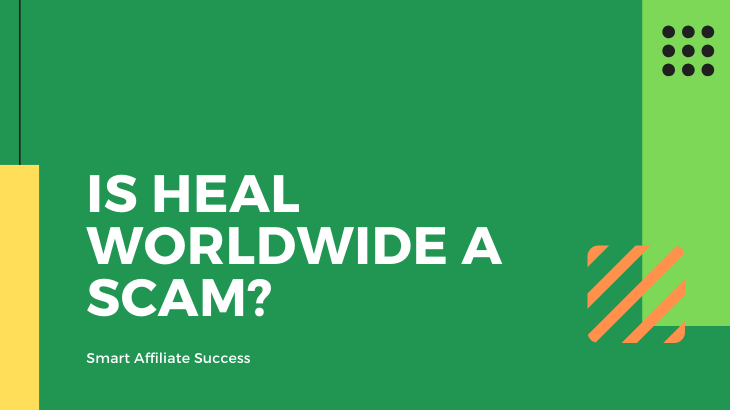 Is Heal Worldwide a Scam? What You Don't Know About This MLM…
Welcome to my Heal Worldwide review!
The company name might sound a little bit too optimistic, but that's just actually a normal name for some MLM companies.
You might have heard of this company mentioned once or twice by friends and family members because it's a relatively new company.
This is Heal Worldwide…
First of all, I must Congratulate you for taking your time to do your own research before buying into any "seemingly good" product.
That's the way to avoid scams and find the legitimate way to make money online!
Let me be completely transparent with you, I'm not associated with Heal Worldwide in any form.
So, rest assured that I'm not here to pitch or sell anything to you.
Instead, I'm here to reveal what you don't know about this company and why it's not a good idea to invest in this program...
Heal Worldwide Review Summary
Product Name: Heal Worldwide
Founder: Stephon Munson, Vincent Webb, Eric Sharpp
Product Type: Health and Wellness MLM
Price: $9.97 per month or $99.97 per month for VIP
Best For: No one
Summary: Heal Worldwide is a legitimate MLM company that markets immune-boosting products. However, there's nothing about their program that indicates people are making money. There's no income disclosure statement that proves otherwise, and I'll go into a little more detail in this article below as to why that's important.
Rating: 50/100
Recommended: No!
More...
Heal Worldwide is a MLM or multi-level marketing company based in Florida, USA. The company was founded by Stephen Munson, Vincent Webb, and Eric Sharpp.
Munson is the face of the company and is who you see on their marketing material. He credits his brother and mother for helping to start the company and even mentioned them as founders.
Back in 2014, he was going through hard times and his health and finances were taking a turn for the worse. Since then, he's motivated to improve his immunity and overall health and finances through research and hard work.
And thus, Heal Worldwide was born.
Before Heal Worldwide, Stephon Munson promoted Empower Network and then moved on to DS Domination. There's not a lot of information available on Munson or any other founders, but at least we know these are real people.
Heal Worldwide Product Line
The main product line is an immunity boosting product that's packed with ingredients such as:
Mangosteen
Black Sesame
White guava
Isolated Soy Protein
Centella Asiatica
Along that, they have these other nutritional products that are offered under APCO America brand. APCO is Asian Phytoceuticals Public Co. and is based out of Thailand.
There are many nutritional products that are offered under the APCO America brand.
APCO simply means Asian Phytoceuticals Public CO., and the APCO company is based out of Thailand.
APCO Products (Tangible Products)
Here's what they have to offer:
BIM.A – Costs about $69.99 for 60 capsules and is intended help deal with autoimmune issues and arthritis.
TH Plus – Costs $69.99 for 60 capsules and is marketed as a product that will balance out your immune system (whatever this means).
BIM.E – $69.99 for 60 capsules and is meant for alleviating symptoms of cataracts and other ocular manifestations of autoimmune diseases, uveitis, diabetic retinopathy, glaucoma, and others.
BIM.D – $69.99 for 60 capsules and is meant to alleviate symptoms of Type 1 and Type 2 Diabetes.
Digital Products
They also have digital products that come in the form of online marketing training that focuses on social media marketing and their 21-day business building challenge.
Their online marketing training for social media marketing is called Big Profile Profits and the other is called The 21 Day Challenge.
Here's a breakdown of how much they cost:
Big Profile Profits – $199
The 21 Day Challenge – $397
Does The Product Work?
For their products, I couldn't find any positive or negative feedback from any of their members.
I would also be diligent enough to mention that there were no scientific journals about the efficacy of their products, and let me explain why this is important.
Their products deal with some serious health issues such as diabetes, autoimmune issues, and even arthritis. These issues aren't something products can casually claim that they're able to treat or alleviate their symptoms, either.
Having scientific proof that their products work would be an immense marketing boost. People would be immediately drawn to it because there's documentation from governing agencies stating that the products work.
Now on the upside, they never made claims (at least, to my knowledge) that their products are effective at relieving the symptoms of these illnesses mentioned. If they do want to make the claim, they would have to get approval from the FDA or Food and Drug Administration. And to get that, the FDA would have to independently test the products they want to get approval for.
How To Make Money with Heal Worldwide?
Heal Worldwide offers two different ways to earn money from their program:
Retail commissions – members get 15% discounted price for wholesale
Recruitment commissions – commissions based on recruitment
Residual commissions – commissions based on sales made by your team
How To Get Started with Heal Worldwide?
Heal Worldwide membership costs $9.97 per month or $99.97 annually. You can also opt for the VIP option, which is $99.97 per month. The VIP Option gets you additional access to marketing tools.
Heal Worldwide Compensation Plan
Physical Product Commission Rates
You get physical product commissions based on a 2-level unilevel compensation plan. Here's a breakdown of how it works:
Produce $1 to $1000 in sales and earn 20% on level 1 (Retail customers and personally sponsored affiliates)
Produce $1001 to $3000 in sales and earn 25% on level 1 and 5% on level 2
Produce $3001 or more in sales and earn 30% on level 1 and 10% on level 2
Digital Product Commission Rates
Selling their digital products also has a different compensation plan, and commissions are as follows:
50% on level 1
10% on level 2
They have other bonuses for rank-based and team-based sales, but I couldn't find any information about them.
Here's their marketing video that talks about their compensation plan:
Heal Worldwide Ugly Truths Revealed!
#1 Expensive Products
For their products, I can understand the price tag but it's still well above the retail pricing of their commercial counterparts
For example, I went on to Amazon and looked up a product that dealt with Cataracts, similar to their BIM.E product. These eye drops cost about $19.99 on average.
Another example is their Diabetes product, BIM.D. I found diabetes-support products on Amazon that cost $25.99 and all the way up to $39.99. These are roughly half of the price of their products.
#2 Income Disclosure Statement Is Missing
They're an established MLM company, so I'm kind of disappointed that there's no income disclosure statement to be found. I wanted to see if people are making money from their program.
It's clear that the absence of this document means that people are less likely to earn a full-time income (at the very least, those at the very bottom of the rankings).
What I Like About Heal Worldwide?
#1 Compensation Plan Isn't Complicated
Their compensation plan isn't complicated, and that's something positive for the company. It's easy enough to understand, and so people will know how to maximize their program.
#2 Decent Commissions
For an MLM company, the commissions are quite decent and are above average compared to their competitors. Unfortunately, I think people aren't making money from their program, so there's that.
Is Heal Worldwide a Scam?
Heal Worldwide is a legitimate MLM company that markets immune-boosting products. Unfortunately, it's not something that I would recommend if you're looking for a source of full-time income.
There's no income disclosure statement that proves people are making money from their program, even though they have decent commissions in place.
Their products are also expensive with no proof that they may or may not work, so there's no motivation to sell these products.
How I Make a Living Online?
I'm not a fan of MLM, not because it's illegal or not profitable, but because of all the restrictions and the expensive costs involved.
Instead, Affiliate Marketing is my top recommended business model for anyone to make money online.
The reason is simple...
You don't have to recruit anyone to make money
You have the freedom to promote any products you want and not being restricted to only promote the products from one MLM company
It's Free to get started
In fact, with affiliate marketing...
I've personally created a 4-Figure Monthly Passive Income Stream and become financially independent at just 21 years old without any College degree or working experience!
Through my own hard work, I went from a broke restaurant waiter to living my dream laptop lifestyle in less than a year's time...
If you want to discover the secrets of how I did it at such a young age, click here!