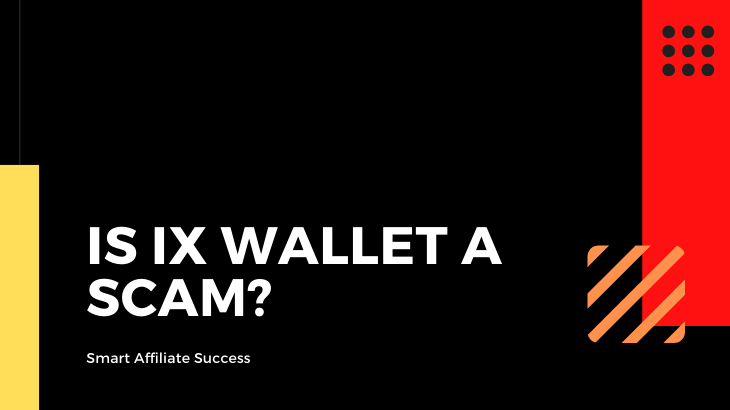 Is IX Wallet a Scam? Don't Invest Till You Read This Review!
Welcome to my IX Wallet review!
As far as programs that have anything to do with cryptocurrencies go, only a handful of them will ever be legitimate. Here in Smart Affiliate Success, we managed to uncover more cryptocurrency scams than legitimate cryptocurrency programs (excluding trading programs).
The reasons why cryptocurrency scams proliferate is that no one knows how cryptocurrency works to begin with. We're given the usual spiel on this being the future of currency, but we're not entirely sure just how we're going to get our money back.
Today, we're taking a look at a scam that doesn't even try its hardest to not look like a scam: IX Wallet.
First of all, I must Congratulate you for taking your time to do your own research before buying into any "seemingly good" product.
That's the way to avoid scams and find the legitimate way to make money online!
Let me be completely transparent with you, I'm not associated with IX Wallet in any form.
So, rest assured that I'm not here to pitch or sell anything to you.
Instead, I'm here to reveal why you shouldn't invest in this program... EVER...
IX Wallet Review Summary
Product Name: IX Wallet
Founder: Yang Li, Sergey Storojuk, William Clark
Product Type: Cryptocurrency Investment MLM
Price: Minimum investment of $87 to $1,000 (depending on cryptocurrency conversion)
Best For: No one
Summary: IX Wallet is a cryptocurrency investment MLM company that has all the red flags of a pyramid scheme. The main source of income is through recruitment, and they're not trying that hard to hide this fact at all. You'll find out the other red flags about this program once we're done with this article.
Rating: 1/100
Recommended: No!
More...
IX Wallet is a MLM or multi-level marketing company that operates within the cryptocurrency niche, more importantly, cryptocurrency trading and investment.
The company claims that it has teams working from US, China, and Israel, but their website is as vague as it can be.
The company is headed by Yang Li, Sergey Storojuk, and William Clark. But here's where things start to unravel.
Yang Li and William Clark's names are too generic, and researching them in Google is too difficult to pinpoint any MLM history. In short, there's no named Yang Li or William Clark with enough reputation in the MLM industry.
Sergey Storojuk, on the other hand, is completely invisible. He doesn't exist outside of IX Wallet, which is already suspicious enough as it is.
IX Wallet Product Line
IX Wallet doesn't have a lot to show for in terms of products or services. What you are getting into is an affiliate membership program on top of investing money into cryptocurrency trading.
You're going to have to invest a lot of money and recruit a lot of people to take advantage of their program.
And this brings me to my next point…
I'm Jerry!
I Created My Own 4-Figure Monthly Passive Income at just 21 Years Old!​
Does The Product Work?
Because this is an investment program, the way to gauge if their program works is by determining whether or not people got their money back from the program.
The short answer is NO…
And I'll give you three reasons why no one's made their money back:
This is obviously a pyramid scheme, so you're not making any money outside of recruiting.
Their trading bot is probably non-existent. Any money that's supposed to come in isn't from trading, but from recruiting.
If there was someone making money, there would be reviews all over the Internet and he or she would be getting people into this program.
How To Make Money with IX Wallet?
To make money with IX Wallet, you're going to have to:
Invest money to get your ROI within a specific time frame
Recruit people to earn their residual commissions
How To Get Started with IX Wallet?
The membership is free, but you need to invest money to get into the program.
To enjoy their MLM opportunity, you'll need to invest a minimum of:
0.15 BTC = $1,395.35
0.25 BCH = $96.09
0.5 ETH = $87.66
Writer's note: This is the cryptocurrency conversion rate to US Dollars at this time of writing: Jan 30 2020.
IX Wallet Compensation Plan
According to their website, members can invest in Bitcoin, Bitcoin Cash, or Ethereum and enjoy these advertised returns:
Cat 1 – invest 0.15 to 0.1 BTC, 0.25 to 1.75 BCH or 0.5 to 3 ETH and receive a 9% monthly ROI
Cat 2 – invest 0.1 to 0.5 BTC, 1.75 to 8.5 BCH or 3 to 15 ETH and receive a 12% monthly ROI
Cat 3 – invest 0.5 to 1.85 BTC, 8.5 to 33.5 BCH or 15 to 60 ETH and receive a 15% monthly ROI
Cat 4 – invest at least 1.85 BTC, 33.5 BCH or 60 ETH and receive an 18% monthly ROI
Furthermore, the IX Wallet investments are converted into IX tokens, which the company sells to its members at an arbitrary internal value. Your returns are also paid out in IX tokens.
Referral Commissions
This is the only MLM aspect of their entire program. When you recruit people into your team, IX Wallet follows a unilevel compensation structure, as such:
Unfortunately, there's no mention of how much you make through this structure.
IX Wallet Ugly Truths Revealed!
#1 The Bot Doesn't Exist
Their trading bot does not exist, and it's completely made up. The revenue supposedly coming into your account isn't from your investments, but from your recruitments. This is why it's a pyramid scheme.
If there was a bot that could promise 240% returns, I promise you that it's going to cost a lot of money and it's not going to be open to the public. The owners of that bot are going to be using it for themselves.
#2 Mysterious Owners
Another red flag that we uncovered is that the owners are totally mysterious, and they're more than likely to be non-existent at this point.
You see, any cryptocurrency trading program that's been successful will brag about its owners, and vice versa. These owners will also have some reputation or background in trading, so it won't be difficult to uncover any digital footprints about them.
Unfortunately for the owners of IX Wallet, you won't find any information about their background or reputation outside of IX Wallet.
#3 Expensive Investment
Cryptocurrency investment is always going to be expensive, and it's not something for novice traders to dabble in.
Even expert traders aren't even confident in investing in cryptocurrency simply because it's expensive and they don't know how it works (up to a certain extent) yet.
Bottom line, you're better off with doing Forex or Stock trading if you want to get your feet wet.
What I Like About IX Wallet?
There's nothing that I like about this program because it's a scam and it's got all the red flags of a pyramid scheme. You're not going to get your money back from this program at all.
IX Wallet doesn't even try so hard to mask itself as a legitimate program. It's got all the red flags of a pyramid scheme, and that's the reason why it's going to shut down in the future.
The owners are non-existent at this point, and it would be a waste of time to prove that they do exist.
Their trading bot doesn't also exist, which is supposed to be the one in charge of generating your income. Rather, your income comes from recruiting people. It would also be a waste of time to prove that their trading bot works, let alone exists.
How I Make a Living Online?
I'm not a fan of MLM, not because it's illegal or not profitable, but because of all the restrictions and the expensive costs involved.
Instead, Affiliate Marketing is my top recommended business model for anyone to make money online.
The reason is simple...
You don't have to recruit anyone to make money
You have the freedom to promote any products you want and not being restricted to only promote the products from one MLM company
It's Free to get started
In fact, with affiliate marketing...
I've personally created a 4-Figure Monthly Passive Income Stream and become financially independent at just 21 years old without any College degree or working experience!
Through my own hard work, I went from a broke restaurant waiter to living my dream laptop lifestyle in less than a year's time...
If you want to discover the secrets of how I did it at such a young age, click here!