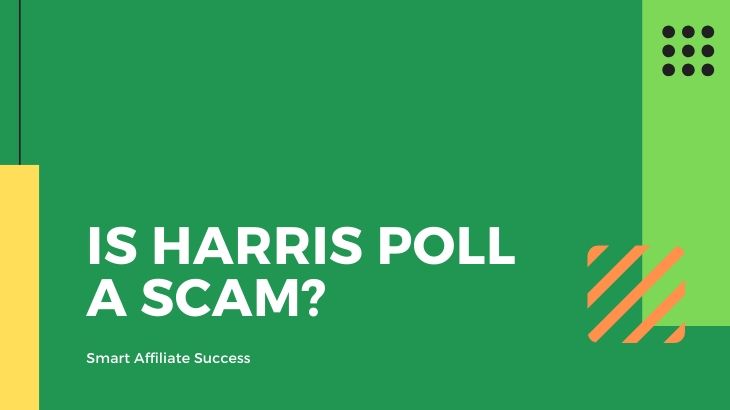 Is Harris Poll a Scam? It's The Oldest Survey Site We Reviewed!
Welcome to my Harris Poll review!
Survey sites are a dime a dozen, yet there are only a few of those survey sites that we consider to be decent. Decent in terms of quality, in terms of income potential, and in overall reputation. We even have one or two on our Recommended Page.
Today, we're taking a look at one of the oldest survey sites called Harris Poll.
First of all, I must Congratulate you for taking your time to do your own research before buying into any "seemingly good" product.
That's the way to avoid scams and find the legitimate way to make money online!
Let me be completely transparent with you, I'm not associated with Harris Poll in any form.
So, rest assured that I'm not here to pitch or sell anything to you.
Instead, I'm here to reveal what this oldest survey site is all about.
Harris Poll Review Summary
Product Name: Harris Poll
Founder: Harris Interactive Group
Product Type: Paid Survey Program
Price: Free to join
Best For: No one.
Summary: Harris Poll is a paid survey program that's been around for more than 50 years. It's the oldest survey site we ever reviewed here. But despite its age, we can't recommend this to anyone because it doesn't give out a cash payout. You only get certificates and gift checks but that doesn't mean it's not worth your time. If you're a frequent shopper with their partner sites, this might be for you.
Rating: 50/100
Recommended: No!
More...
Harris Poll or HarrisPollOnline.com is a web-based survey site and GPT rewards system that's been operating since 1963. That's almost 57 years of service right there. This is a free-to-join survey site with a minimum age requirement of 13 years old.
The site is run and owned by the Harris Interactive Group. They have various poll rewards system, along with a decent survey program with both cash and gift cards rewards in place.
Getting Started with Harris Poll
You just need to be at least 13 years old and be a resident of Canada or USA. You'll need to provide your personal information such as name, contact number, and other demographic info that they need to fit you in the surveys they have.
Once sign up is complete, you'll have full access to their surveys and polls.
Different Ways to Earn Points with Harris Poll
Harris Poll offers online surveys, polls, and focus groups to help you get points, or what they call HIPoints.
Harris Poll Surveys
These are standard surveys which you can complete between 5 and 30 minutes. Topics include shopping habits, consumer products, music, movies, fashion, and others.
There are also surveys that tackle demographics such as ethics, politics, and religion.
Focus Groups
You can earn HIPoints by joining in on Focus Groups that discuss topics in great detail. This one takes a lot of your time and demands more effort from you. But the pay is significantly better than doing surveys.
Focus groups usually discuss products that haven't been released to the market yet.
Telephone Surveys
It's exactly as it sounds. Someone will call your number that you provided on your questionnaire upon sign up. Instead of checking boxes, you have to voice out your opinion and personal thoughts.
I'm Jerry!
I Created My Own 4-Figure Monthly Passive Income at just 21 Years Old!​
How to Redeem Your HIpoints?
So Harris Poll pays out via gift cards and vouchers. They're not like Survey Junkie or Swagbucks where you get paid in cash.
Members earn about 1250 HIPoints after completing 9 to 12 surveys (which takes about 2 to 3 months). Then they qualify to get the following e-cards, gift certificates, and vouchers from:
Amazon
ESPN
Home Depot
iTunes
Magazines
Starbucks
Walmart
You can also redeem your HIPoints for merchandise or to donate to some charities. Physical merchandise take up to 15 business days to process and ship via USPS. The shipping expenses are taken care of by Harris Poll.
How Much Money Can You Make?
Honestly, not a lot. Harris Poll uses a points-based system to make you think you're earning a lot, but in reality, it's a lot of work.
A $5 Amazon gift card is 625 points, so $1 is technically $125 points. I would say that you would be able to cash in on this gift cards and certificates in about a month.
Harris Poll is intended for people who like to shop online, since the rewards are geared for online shopping and for some online subscriptions. They are also meant for people who frequently visit the Harris Poll partners.
Harris Poll Ugly Truths Revealed!
#1 Where's My Rewards?
A lot of people complained about not getting their rewards, but this is because the site requires you to verify your identification first before you get the rewards.
A slight mismatch will get you disqualified, so there's that too. You also have to jump through hoops to get your $20 Amazon Gift Card if you screw up your identification.
#2 Low Income Potential
As mentioned in the review, you're not exactly making any real money here. You exchange HIPoints for gift cards and certificates. If you were expecting to turn this into a side hustle, well this is a deal-breaker.
What I Like About Harris Poll?
#1 Earn Points Even When Disqualified
You get disqualified if you mismatch surveys, i.e. you're participating in a survey but you're not the demographic they require. Most companies wouldn't pay you if you get disqualified halfway. But Harris Poll still pays you for your time.
If you get disqualified, you earn 15 HIPoints and an entry into this monthly draw, so you're not exactly wasting your time.
#2 Business Reputation
They've been around for more than 50 years, and that's pretty impressive even by our standards. This is a good online platform if you just your opinion to be heard and if you don't mind not earning real money.
Harris Poll is definitely not a scam. It's a legitimate survey site, and probably the oldest one we reviewed here. But despite that, they're not exactly the go-to site for making big bucks. In fact, you're not making any real money here.
The income potential is close to 0 because there's no money to be made here. You're working for points to exchange for gift cards. If you were expecting to do this for a side hustle, then you may want to go some place else.
There are issues with disqualifications for rewards if you can't verify your identification properly.
So again, if you're looking for real cash, go look someplace else. But if you just want some gift certificates or gift checks to go with your online shopping, then this might be worth checking out.
How I Make a Living Online?
I've personally created a 4-Figure Monthly Passive Income Stream and become financially independent at just 21 years old without any College degree or working experience!
Through my own hard work, I went from a broke restaurant waiter to living my dream laptop lifestyle in less than a year's time...
If you want to discover the secrets of how I did it at such a young age, click here!