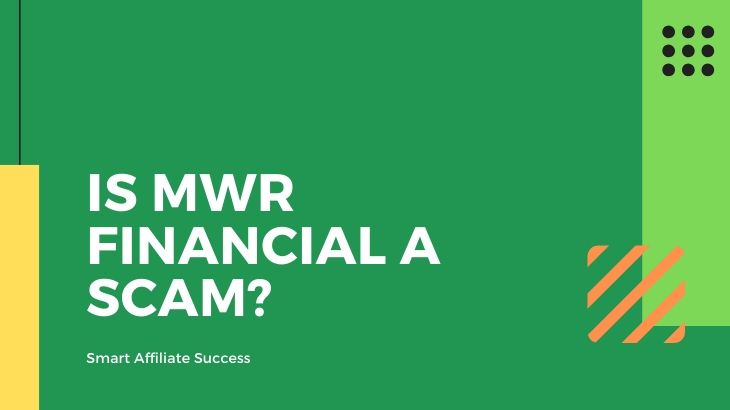 Is MWR Financial a Scam? It's a Financial Service MLM Reviewed!
Welcome to my MWR Financial review!
Within the MLM industry, there lies a niche that aims to provide service. Some deal with travel bookings, while there are others that are related to finances. A few of them cover both travel and finances along with other products.
But not a lot of them are able to give you that full-time income. Sometimes, they end up being scams.
Today, we're reviewing MWR Financial and we're going to find out what this company has to offer.
First of all, I must Congratulate you for taking your time to do your own research before buying into any "seemingly good" product.
That's the way to avoid scams and find the legitimate way to make money online!
Let me be completely transparent with you, I'm not associated with MWR Financial in any form.
So, rest assured that I'm not here to pitch or sell anything to you.
Instead, I'm here to reveal what their financial services cover and why this isn't going to be worth your time...
MWR Financial Review Summary
Product Name: MWR Financial
Founder: Jay Tuerk and Yoni Ashurov
Product Type: Finance Related Service MLM
Price: $99 to $499 plus various costs
Best For: No one!
Summary: MWR Financial is a finance service MLM that markets various different programs through a subscription. There's not that much to talk about except that their income potential is low. I am going to show you the math behind their income opportunity and why it's not worth your time.
Rating: 50/100
Recommended: No!
More...
MWR Financial is a MLM or multi-level marketing company belonging under the MWR umbrella of companies. This started out as My Warranty Rewards in 2013 and was founded by Jay Tuerk and Yoni Ashurov.
In 2015, they rebranded as MWR Life, adding phone-based services on top of their original warranty plan products.
Now I thought that MWR Financial was a reboot of MWR Life, but apparently they're still operating under Yoni Ashurov. MWR Life also transitioned to sell travel services too as of this writing.
Here's the kicker though. Neither Ashurov or Tuerk are mentioned on the MWR Financial website, and to think that MWR Life and MWR Financial both carry the same name. Both companies listed Florida as their business address and can be confirmed on their websites. This proves that Ashurov and Tuerk own the MWR brand.
However we also found out that a man named Brian House is listed as the CEO of the company. We found this through his LinkedIn profile where he credits himself as the CEO. The ownership of MWR Financial is unclear, but it's clear that both Ashurov and Tuerk are the unnamed founders.
MWR Financial Product Line
MWR Financial main product is Financial Edge, which is a $79.95 monthly subscription to these financial services:
CreditMax – credit correction and consulting
EquityMax – debt management software
MoneyMax – access to the top rated CPA and CFP, as well as access to TaxBot
WealthMax – financial literacy, education, and mentorship program
Debt Resolution Center – dubbed as providing "the most comprehensive solutions for your financial problems"
MWR Financial claims that their services are offered through Diversified Financial Services LLC.
I'm Jerry!
I Created My Own 4-Figure Monthly Passive Income at just 21 Years Old!​
Does The Product Work?
As of this writing, it's pretty hard to determine if these financial services work or not. I've tried to look for third-party user feedback about these services, but couldn't find any. I am inclined to believe either of the following:
People bought into the subscription and found nothing of tremendous value. It just meets their needs and thus, nothing else needs to be talked about.
No one really bought into the services.
Either way, financial services and anything related to it being sold within the MLM industry are difficult to gauge in terms of how well they work.
How To Make Money with MWR Financial?
MWR Financial provides you with two options to make money from:
Retail commissions from selling the membership
Residual commission from building a team
Team sales bonuses and other incentives
How To Get Started with MWR Financial?
There are various packages that you can choose from when you're signing up to become a seller for MWR Financial. It's unclear as to what product you're actually getting from these packages but it's only clear that you're paying your way to get into more of the compensation plan.
A lot of their bonuses and incentives only apply to gold and platinum members. You also need to stay active, which requires an active membership with their replicated website known as Biz Center. This costs you $30 a month and you have to maintain 5 CP (Customer Points) every month.
Customer Points are associated with each product package, amounting up to 2 CP's at most. To put it simply, you'll have to pay for the services to maintain your business.
MWR Financial Compensation Plan
Their compensation plan talks about 11 different ways to earn from their company, but I am going to list down only the important ones below.
Customer Commissions
You earn a $25 bonus for every customer you personally enroll, regardless of the package they bought. You also get a monthly residual of $0.50 for customers you personally enroll after the first month.
As you go through different ranks, you earn anywhere between $0.50 to $8 per month throughout your organization at unlimited levels deep.
Team Commissions
These are your residual commissions based on your qualified resellers (your members who you personally signed up, and the members they signed up, and so on).
Bonuses
You get different bonuses based on how well you build a team, how consistent your team sales are, and of course, as you get promoted to higher ranks.
MWR Financial Ugly Truths Revealed!
#1 Low Income Potential
Earning about $25 per sign-up with a few bucks every month on residual is pretty low to me, and here's why.
The annual minimum wage in the USA is $15,080, or roughly $1,257 per month. $8 is the highest amount you earn for the residuals, so I'm assuming that this is something the higher ranks enjoy.
If you are earning $8 per month per user for residuals, you need to get 158 members under you and to be continuously active every month. To be honest, securing this kind of passive income takes too much work and may even take up more of your time as opposed to any day job.
#2 Benefits May Not Be Worth It
The discounts you get from their platform might not even be worth it to sign up for their income opportunity. Most of the travel and finance-related niches within the MLM offer member discounts to help incentivize their members to use the platform.
But with MWR Financial, there's no real incentive to using the platform unless you travel a lot or you use financial services most of the time to make the sub worthwhile.
#3 Requirements To Maintain
I don't like that they have these certain requirements to maintain your active membership. The requirements also have you spending more money on top of the initial investment you shelled out.
On top of the passive income that you need to get to hopefully get close to minimum wage, you'll need to recoup your losses from these active subscriptions.
What I Like About MWR Financial?
There's just too much going on with MWR Financial that I don't really have anything positive to say about it.
There are better MLM companies that are under the same niche as MWR Financial.
MWR Financial is a legitimate company as far as I'm concerned, but it's not something that I would recommend for people looking for a source of full-time income or even passive income.
The income potential is low, and you have to recruit a lot of people to make a decent income every month.
You have to maintain different subscriptions to keep active, so you're losing money every month if you're not going to recruit new people into the program.
The benefits aren't that appealing at all to use, so there's no incentive to keep the subscription apart from just maintaining your active membership.
There are better programs out there if you insist on selling products under this niche.
How I Make a Living Online?
I'm not a fan of MLM, not because it's illegal or not profitable, but because of all the restrictions and the expensive costs involved.
Instead, Affiliate Marketing is my top recommended business model for anyone to make money online.
The reason is simple...
You don't have to recruit anyone to make money
You have the freedom to promote any products you want and not being restricted to only promote the products from one MLM company
It's Free to get started
In fact, with affiliate marketing...
I've personally created a 4-Figure Monthly Passive Income Stream and become financially independent at just 21 years old without any College degree or working experience!
Through my own hard work, I went from a broke restaurant waiter to living my dream laptop lifestyle in less than a year's time...
If you want to discover the secrets of how I did it at such a young age, click here!