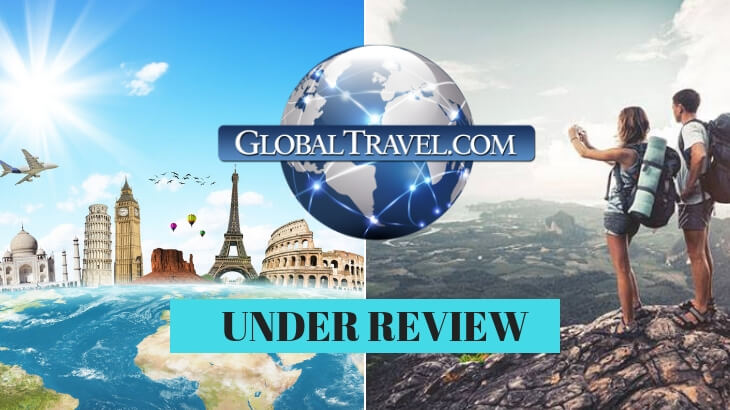 Is Global Travel International A Scam? Why It's Not Worth Your Time
Welcome to my Global Travel International review!
If you're reading this, chances are someone told you that you could have your very own travel agency.
It sounds a little bit farfetched, but there is such a program that does just that. I am talking about Global Travel International.
First of all, I must Congratulate you for taking your time to do your own research before buying into any "seemingly good" product.
That's the way to avoid scams and find the legitimate way to make money online!
Let me be completely transparent with you, I'm not associated with Global Travel International in any form.
So, rest assured that I'm not here to pitch or sell anything to you.
Instead, I'm here to reveal what separates Global Travel International from the rest of the other travel-based opportunities.
Is Global Travel International a scam?
You're about to find out...
Global Travel International Review Summary
Product Name: Global Travel International
Founder: Randall J. Warren and Michael A. Gross
Product Type: Home-Based Travel Agency Business Opportunity
Price: Annual Membership Subscription from $299 (Silver Level) to $499 (Platinum Level)
Best For: No One.
Summary: Global Travel International is a company that provides a home-based travel agency business opportunity to its members. By paying an annual membership subscription, members can take advantage of their travel network, packages and discounts, and training programs. However, there are several reasons why this program is not worth anyone's time, and I'll tell you why in this article. My biggest issue with their program is that they don't know how to treat their customers and travel agents properly (and I can prove it). A company that promises to give you a business but won't take care of you and your customers is just not worth the trouble. Your money is better off elsewhere.
Rating: 10/100
Recommended: No
More...
What is Global Travel International?
Global Travel International, which will be referred to as GTI for the rest of the article, helps you set up your own business as an independent travel agent.
The company looks and sounds like a MLM or multi-level marketing company that's focused on travel packages like InteleTravel, Traverus, and World Ventures, but it actually isn't.
The company was founded in 1994 by Randall J. Warren, Chairman, and Michael A. Gross, President.
They paved the way for developing the Home-Based Travel Agent Business Model. It's privately owned and located in Orlando, Florida.
They are also accredited with many organizations like HEDNA, CLIA, ARC, and IATAN.
This is important because once you become a member, you get discounts on airfare, hotels, and car rentals.
But a lot of travel sites like Expedia claim these things, but nobody knows these memberships, and the customers get actually NOTHING.
Inside Global Travel International
GTI provides you with your very own home business of running an independent travel agency.
Once you join the company, you'll be granted access to training and tools needed to succeed in the industry.
You'll also be able to earn commissions (which I'll get to another section) as well.
As a member, you'll have access to travel providers, suppliers, and their travel network. This network includes:
Cruise operators such as Holland America Line and Carnival
National tour operators like Trafalgar Tours and Apple Vacations.
Specialty Tours
Car rentals
Transportation
Travel Insurance
This massive network of agents and customers allows you to negotiate amazing deals and custom vacation packages, so it's easier to sell these products because you have access to exclusive deals.
You can also use these deals for your own personal travels as well.
In a nutshell, GTI provides you a business without needing an actual brick-and-mortar shop, making it perfect for new entrepreneurs and who've worked previously in the travel industry.
They essentially let you build a travel sales business without incurring the costs of running a traditional brick and mortar shop.
They cater to both newbies and those who have previously worked in the industry.
Members also receive support and training materials like webinars, teleconferences, and other marketing materials from different vendors and industry leaders.
Global Travel International Benefits:
Global Travel International members enjoy the following benefits:
Hotel discounts up to 70%
Upgraded Rooms
Access to Hotels Worldwide
Commissions on Hotel, Cruise Bookings, and More
Cruise and Luxury Cruise Discounts
24/7 Booking Engine
Exclusive Discounts & Benefits
Last-Minute Deals and Upgrades
Travel Industry Discounts and Perks
Earn Free and Discounted Travel
Rebates on Airline Tickets
Unlimited Rental Car Upgrades
Photo ID
Marriott Hotels Paradise Elite Membership
How Are Members Compensated?
Global Travel International offers two ways to compensate its members: Direct Sales and Recruitment.
1. Direct Sales
This is your primary means of earning money with Global Travel International. By selling vacation and travel packages, you earn a commission for each sale.
Commission rates vary at different membership tiers:
Silver earns 5% commission
Gold earns 7% commission
Platinum earns 9% commissions
But regardless of level of membership, you already have access to GTI's travel platform to accept sales and bookings.
2. Recruitment
Now I know what you're thinking. This is another MLM-type of recruitment compensation scheme.
But it isn't.
Whenever you recruit a new agent into the program, you earn $100. That's it.
There is no passive income when you recruit people into their program. You don't earn commissions from your recruited agent's sale either.
If you're looking for passive income, I would invite you to check out my step-by-step guide on affiliate marketing.
How To Get Started With Global Travel International?
Global Travel International offers three annual membership subscriptions:
Silver Membership - $299 Per Year
Gold Membership - $399 Per Year
Platinum Membership - $499 Per Year
The company also offers a 14-day Trial Period where if you are not satisfied with their services, you can cancel the plan and your credit card any time.
Full details of their membership can be found on their website.
I'm Jerry!
I Created My Own 4-Figure Monthly Passive Income at just 21 Years Old!​
Who's Global Travel International For?
For reasons that will be listed below, I don't think this business opportunity is even worth looking into.
There are better alternatives to home-based businesses, and Global Travel International is not one of them.
Global Travel International Ugly Truths Revealed!
#1 - Complaints About Service
Travel companies like Global Travel International are prone to receiving complaints about their services. In fact, the travel industry is always riddled with complaints.
People not getting the hotel room rates at the price they were quoted for.
People not getting the service that they need
And so on.
But with GTI, they seem to have it far worse.
According to their Better Business Bureau Profile, they've closed around 90 complaints in the last 3 years, with 36 of it within the last 12 months.
That's an average of 3 complaints every month for the last year.
But what were these customers complaining about?
First, there are issues with booking a vacation package with them and not getting the package at all.
Or in this case, they were supposed to paid for a hotel room booking, but never got the room.
There are even issues with these customers getting their refunds back, and then more.
I don't want to list them all down, but you can just check their BBB Profile for all the complaints.
#2- Low Earning Potential
Another downside to working with this company is its low earning potential. Let's be honest, 8% is not that great of a commission rate.
I mean InteleTravel, another MLM-based travel service, offers their agents a 70% commission rate.
That's nearly ten times the commission rate offered by Global Travel International.
Let me even illustrate their earning potential further:
Supposing you were able to book a $1,800 vacation package for a customer.
You earn around $144.
That's not bad for a one-time commission, but you also have to consider how long it took you to close that sale.
If it took you 3 days of 5 hours a day each to get that booking, your rate per hour was $9.6.
It's still not bad, given that the federal minimum wage is at $7.25 per hour.
But how much did you pay for your membership?
Let's assume you paid $299 because you're working with 8% commission. That $144 you earned barely covers your annual subscription.
You need to make two more sales of the same amount, or higher, to earn a profit. Until your earnings haven't paid off the yearly membership, you have not earned anything.
On top of those commissions, you're not even earning passive income from your recruitments, so if you want to recoup your losses faster, you need to recruit at least 3 people.
#3 - They Are Not Treating Their Agents Right
It's not only their customers that are complaining about Global Travel International.
It's also their members.
They are even pointing out that the company they are representing are the ones screwing up their bookings and not giving them the right commission fees.
With their commission rates so low, the company is taking out a whole lot more than 8%!
That's phenomenally absurd, even for a supposedly world-class company.
#4 - Almost Everyone Books Their Own Travel And Vacation Packages Nowadays
Honestly, what's stopping people from just doing their own vacation and travel packages?
You can practically just go on to sites like Expedia for your plane tickets, car rentals, and hotel accommodations and book them yourself.
Why bother going with a middleman, or in this case, with an unreliable travel agency?
What I Like About Global Travel International?
#1 - It's An Actual Business, Not An MLM Opportunity
The way that GTI works is that it provides members with an actual business, and not just some MLM opportunity.
So you're not paying for products or anything. The capital that you spend (your annual membership) is more on towards paying for the network and the discounts that you've access to.
If the commission rates were only decent enough, this would be a very interesting way to make money.
Is Global Travel International A Scam?
Global Travel International is not a scam, but they sure do provide services like one.
And by that, I mean you have people not getting the services that they paid for - and this goes for both customers and their travel agents.
With that kind of unreliability from the company itself, I can't recommend their business opportunity to anyone.
The fact that they can't take care of their customers and their travel agents means that they are not worth wasting your time on.
If a company can't provide a decent service, then what's the point of even working with them? Your earning potential is already low enough as it is, and you still have to deal with other problems that aren't even supposed to be your problems.
Global Travel International looks good on paper, and they can entice people with wanderlust all day long, but for me, that's just not worth it at all.
How I Make A Living Online?
I've personally created a 4-Figure Monthly Passive Income Stream and become financially independent at just 21 years old without any College degree or working experience!
To follow my footstep and find out how I managed to create such passive income stream at such a young age, please click on the button below. I've prepared a Special Video to explain to you 🙂