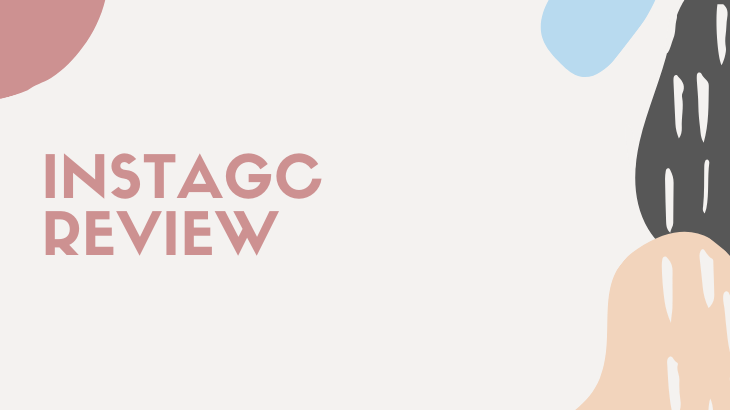 InstaGC Review – Another GPT Site Worth Joining?
Welcome to my InstaGC review!
GPT or Get Paid To sites are a dime a dozen, meaning you'll find a lot of them just by doing a quick Google search.
But not of all of them are created equal. In fact, we've only found a few GPT sites that are proven to get you some solid cash (albeit, not enough to quit your full-time job).
Today, we got another GPT program called InstaGC and we're going to find out if this will pass our standards or not…
First of all, I must Congratulate you for taking your time to do your own research before buying into any "seemingly good" product.
That's the way to avoid scams and find the legitimate way to make money online!
Let me be completely transparent with you, I'm not associated with InstaGC in any form.
So, rest assured that I'm not here to pitch or sell anything to you.
Instead, I'm here to reveal what this GPT is all about...
InstaGC Review Summary
Product Name: InstaGC
Founder: Day Online Solutions LLC
Product Type: Get Paid To Program
Price: Free to join
Best For: People who want to earn a few bucks online.
Summary: InstaGC is a Get Paid To program that has you doing a few tasks for a few bucks. However, the income potential is low so it's not enough to get a full-time income out of. But if you're just looking for something to do online that gets you a dollar or two every day, this might be worth checking out.
Rating: 50/100
Recommended: Yes and No!
More...
InstaGC is a GPT or Get Paid To program that offers you rewards for doing various tasks ranging from reading emails to listening to online radio to testing apps.
InstaGC also has one of the largest offer walls compared to other GPT sites that we've reviewed.
InstaGC is a program that offers rewards for reading emails, completing offers, listening to online radio and testing apps. InstaGC has one of the largest offer walls compared to other GTP sites like Swagbucks or Saybucks.
They even have an album with rewards redeemed on their Facebook page. It's one of the best rewards sites out there and people are using it to earn real money every month.
The company started in 2011 and is currently located in Sellersburg, Indiana. They're owned by Day Online Solutions, LLC, which is a company that operates 78 other websites within different industries.
It's awarded more than 500,000 GC since 2011, which comes to about roughly 55,000 GC's every year since their inception.
They also have a good standing with the BBB or Better Business Bureau, securing an A+ review from their customers.
The first thing that you need to do when you login to the site is to create an account. Simply create a profile and you'll be good to go.
You'll have to be at least 18 years of age and you must have at least a parental consent if you're below 18 to join their program.
Like most GPT sites, InstaGC has a point system which you can use to redeem online gift cards and cash. This might be confusing because you have to convert the points into their monetary value, as seen below:
InstaGC Point System:
1 point = $ 0.01
10 points = $ 0.10
100 points = $ 1.00
1,000 points = $ 10.00
10,000 points = $ 100.00
I'm Jerry!
I Created My Own 4-Figure Monthly Passive Income at just 21 Years Old!​
How To Earn Points on InstaGC?
These are the tasks that will allow you to earn points from InstaGC.
Visit Websites – You get 2 to 10 points for every website you visit. Then you'll have to complete requirements such as viewing the slideshow or entering the captcha at the end to redeem the points.
Take Offers – Like most GPT sites, you have to complete these offers, from downloading apps to filling out surveys. You get paid anywhere between 2 and 100 points for these offers.
Surveys – You'll have to complete surveys to get points. These earn you anywhere between 50 and 300 points.
Shop Online – They may not earn you points, but you do get up to 7% cashback when you shop from any affiliated shopping portals with InstaGC.
Sign up for Trials – Signing up for trials can get you up to 5000 points just by accomplishing various tasks. You may be asked to fill in surveys or you may be asked to sign up for something with your credit card.
Watch Videos – Watching videos will take a lot of time, given that you have to watch 5 of them to earn 1 point. These videos will last anywhere between 30 seconds to 2 minutes.
Contests – You can take part in their contests to earn points. There are daily, weekly, and monthly contests to choose from.
Gain Referrals – When you invite someone to join the program using your link, you earn 10 points when they sign up and 10% of their earnings.
How Much Money Can You Make on InstaGC?
Honestly, not a lot.
You're not going to be able to make a lot of money through their system. At most, you're looking at anywhere between $5 to $20 a month, depending on how much time you spend on their program.
How to Get Paid by InstaGC?
You can cash out through PayPal, check, or direct deposit to your bank account for a minimum of 500 points or $5. However, direct bank payment is only available to US residents.
You can also take in gift cards as an alternative. These gift cards can come from big named brands such as Amazon and Starbucks.
InstaGC is a great program for someone who has enough spare time to do these tedious tasks on the Internet.
However there are better alternatives to these GPT sites, and that is through affiliate marketing. Find out how I am earning a 4-figure monthly income.
InstaGC Ugly Truths Revealed!
#1 Time Consuming Rewards
It's going to take quite some time to get through all of the rewards. You need at least 100 points to get to $1, and not a lot of these tasks will you enough to get to that amount in a short period of time.
At best, you're looking at a couple of hours each day to earn a dollar, and that's about it.
#2 Low Income Potential
On to my next point, there's no reason for you to quit your day job by doing this full-time. The math doesn't check out. To barely make it at minimum wage, you need to earn 700 points per hour or $7 for the next 8 hours.
If it takes you a couple of days to get to 100, I don't really see how it's possible to get to 700 in just one hour consistently.
What I Like About InstaGC?
#1 Good BBB Rating
Their parent company, Day Online Solutions LLC is an accredited BBB business and maintains an A+ rating at this time of review. Now, BBB ratings should be taken with a grain of salt but it's more than enough to tell you that a company is legit and does their best to keep their customers happy.
#2 Low Minimum Payout
You only need $5 to cash out and you don't need to wait a month or two to get your money. All cash and GC redemptions are awarded to you within 24 hours after withdrawal.
InstaGC is a legitimate GPT program that's been around for 9 years and counting. However, there's no reason to get into this program if you're looking for a source of full-time income.
The income potential is low, and it's not enough for you to quit your day job over. The tasks can also be time-consuming, so it's going to have you sitting down for a few hours to get a few bucks.
However, if you just want to make a few bucks here and there, then this program is worth checking out.
How I Make a Living Online?
I've personally created a 4-Figure Monthly Passive Income Stream and become financially independent at just 21 years old without any College degree or working experience!
Through my own hard work, I went from a broke restaurant waiter to living my dream laptop lifestyle in less than a year's time...
If you want to discover the secrets of how I did it at such a young age, click here!