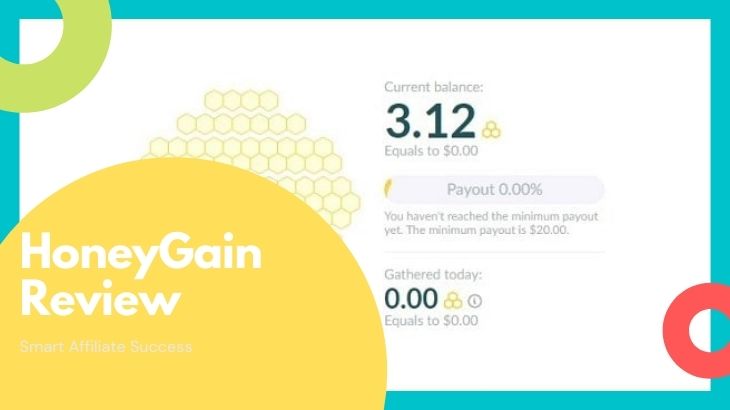 HoneyGain Review – Make Money To Rent Out Your Internet?
Welcome to my HoneyGain review!
This is probably the most unique attempt at passive income that we've ever seen here at Smart Affiliate Success. The best part is that it's perfectly safe to use and it's free. On top of that, they're legitimate.
This is HoneyGain.
First of all, I must Congratulate you for taking your time to do your own research before buying into any "seemingly good" product.
That's the way to avoid scams and find the legitimate way to make money online!
Let me be completely transparent with you, I'm not associated with HoneyGain in any form.
So, rest assured that I'm not here to pitch or sell anything to you.
Instead, I'm here to reveal what this app is all about...
HoneyGain Review Summary
Product Name: HoneyGain
Founder: HoneyGain
Product Type: Get Paid To Rent Out Your Internet Data
Price: Free to join
Best For: People who have unlimited Internet data
Summary: HoneyGain is an interesting app because you can make money by renting out your Internet data to their clients. They guarantee that your personal privacy will be observed. They do pay for using your data, but the income potential is low. You're looking at about $20 per 10 days or so, depending on the usage.
Rating: 60/100
Recommended: No!
More...
HoneyGain is a crowdsourcing platform that utilizes your Internet connection to collect data for their clients.
I know what you're thinking. Isn't that considered spying though?
Well, HoneyGain doesn't track your browsing behavior or habits, like most passive income apps. It uses your Internet connection to conduct relevant web searches for their clients and gives them the information they need.
In other words, it uses your Internet connection to power their market research side without having to acquire personal data, yours or anyone else's.
HoneyGain is clear about how their app works on their website. Your Internet connection is rented out to their tiered partner companies and use this to generate data.
These companies then use the data to plan out SEO campaigns, generate brand campaigns, and even just as crowdsourcing information. It's a win-win situation for you and their clients (and for HoneyGain too).
How to Sign Up for Honeygain
HoneyGain is not concerned with location, so you can use the app anywhere in the world. As long as you have a steady Internet connection, this app will work for you.
The sign-up and registration process is easy. You just need to fill up their registration form and then confirm your account. You'll then receive an email once you complete the signup process.
HoneyGain also requires you to be at least 18 years old and have a PayPal account.
As of this writing, they only pay out through PayPal. No other payment option is provided.
I'm Jerry!
I Created My Own 4-Figure Monthly Passive Income at just 21 Years Old!​
How Do You Get Paid On Honeygain?
HoneyGain pays you through PayPal and will pay you with cash.
The money you see on your dashboard is your withdrawable amount. The minimum payout threshold is $20. Once you reach that amount, you can withdraw via PayPal.
How much you get paid depends on the MB or megabytes you share on the platform. Each MB will earn you some credits.
You start to earn credit once you've shared 10MB from your connection. At 10GB, you'll reach $1.
Depending on the bandwidth, the app will use anywhere between 2 to 10MB per day. Advanced users can go as high as 15MB.
How to Make Money With Honeygain?
If you're happy with what you've read so far, here's the part where we discuss how you can make money from their app.
Install the App
It may sound easy but all you really got to do is to install the app. It even offers an installation bonus so that you can start earning as soon as the download completes.
The app is compatible with iOS and Android devices, and you can even install it on your Windows desktop or Mac.
You can install HoneyGain on up to 6 devices. The more devices you sign up with, the more money you make.
Referral Bonuses
They also have referral bonuses if you can get other people to install the program. Once you download the app, you'll be given a unique invite link that will let you sign other people up and get credit for it.
You can even post this unique invite link on your social media feed to get signups.
You get 10% of their daily earnings if they sign up through your referral link.
HoneyGain is meant for people who want to make use of their Internet connection to make a few bucks here and there.
HoneyGain Ugly Truths Revealed!
#1 Consumes Data Usage Faster
If you're running a limited data plan, HoneyGain may not be for you. Once you download the app, it immediately starts working and may deplete your data in no time.
This app is only ideal for people running with unlimited data, or have a high data allocation.
#2 Consumes A Lot of Battery Life
HoneyGain runs in the background 24/7 so your battery life may be shorter than anticipated every day. If you use this on an old phone, it may consume up to 10% of the daily battery life.
#3 Doesn't Work on Inactive Devices
They probably have this safeguard in place so people don't farm a lot of money through their app. HoneyGain doesn't work on multiple devices if you're not going to use the devices. You'll have to be active in the devices you signed up for in order to earn credits.
#4 High Minimum Payout Threshold With Low Income Potential
HoneyGain pays you $2 a day at most, so the $20 payout is very high. It'll take you 10 days or more to get to that payout, which isn't that ideal if you're looking for a full-time income.
But if you just want to score a few bucks here and there, then this isn't a bad idea too.
What I Like About HoneyGain?
#1 Easy Installation
The installation is fairly easy and you can use it on multiple devices. Just be sure to be active on these devices that you installed to continue earning credits.
This is a side hustle that doesn't have you doing a lot of things, nor does it add to your daily activities. It simply monetizes your mobile Internet usage.
#2 Safe To Use
HoneyGain promises to make sure that your data privacy is observed and that you're never going to have to worry about your personal information being leaked out through their app.
It doesn't intrude into the other devices that it wasn't installed on, so you don't have to worry about it going through a shared network connection as well.
It will only monitor and rent out the Internet from the device it was installed on.
HoneyGain is far from being a scam and it's in fact one of the most unique ways to make passive income online. Granted, it's not a lot of money but still, it's a few bucks here and there without having to do a lot.
Our gripes with HoneyGain is that it could go through your Internet data allocation faster, so you may end up running out of data on your mobile phone. This is only ideal for people with high monthly data allocation or with unlimited data.
It may also drain your device's battery life faster so be sure to turn it off if you're leaving the house so you don't have to deal with a dead phone while doing errands.
All in all, their income potential may be low but it does give you money for little to no work. It's quite safe to check this program out and see if it's worth the time for you.
How I Make a Living Online?
I've personally created a 4-Figure Monthly Passive Income Stream and become financially independent at just 21 years old without any College degree or working experience!
Through my own hard work, I went from a broke restaurant waiter to living my dream laptop lifestyle in less than a year's time...
If you want to discover the secrets of how I did it at such a young age, click here!