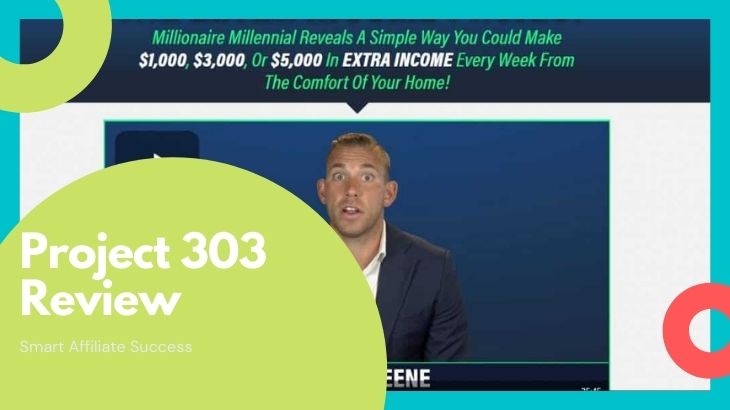 Project 303 Review – It's A Newsletter That Uses Fake Testimonials?!
Welcome to my Project 303 review!
We've reviewed quite a few publications from Money Map Press and they were impressive. But they weren't exactly made to help you make money online automatically. These were designed to help you make informed decisions about your trading and investments.
Today, we're reviewing another publication of theirs and it's called Project 303. We uncovered a few weird facts about them, but we'll get to that in this review.
First of all, I must Congratulate you for taking your time to do your own research before buying into any "seemingly good" product.
That's the way to avoid scams and find the legitimate way to make money online!
Let me be completely transparent with you, I'm not associated with Project 303 in any form.
So, rest assured that I'm not here to pitch or sell anything to you.
Instead, I'm here to reveal what this newsletter really has to offer...
Project 303 Review Summary
Product Name: Project 303
Founder: Andrew Keene / Money Map Press
Product Type: Investment Newsletter
Price: $129 a year
Best For: No one.
Summary: Project 303 is an investment letter made by Andrew Keene, a renowned trader, and published by Money Map Press. But unlike its sister programs, Project 303 leaves a lot to be desired. It has a lot of negative user feedback, which is probably why it hid behind fake testimonials.
Rating: 50/100
Recommended: No!
More...
Project 303 is a comprehensive educational program/newsletter created by Andrew Keene and published by Money Map Press.
Keene teaches you how to use his step-by-step process on how to carry out trades as well as give you access to his training materials that showcase his signature trade system.
You also get access to Keene's private Live Trading Room where you can see his system in action.
Who Is Andrew Keene?
Project 303 is headed by Andrew Keene, a renowned trading expert and millionaire who's appeared on Bloomberg and Fox Business.
He started his career as a clerk for CBOE and made a name for himself. He took a quick break and developed a new strategy that allowed him to make over $5 million before he turned 30.
Project 303's picks will involve options rather than stocks or bonds. Options generate higher returns but also have greater risks involved.
Keene tackles the best options strategies that allow you to minimize these risks without sacrificing too much profit.
What is the SCAN System?
Project 303's SCAN is Keene's trading strategy and signature system. This allows you to scan the market to identify emerging trade opportunities. It also makes use of fundamental and technical indicators that will help you identify potential trades.
SCAN can also analyze over 6 million trades and patterns in a single day. Once the system spots a trade, Andrew Keene develops a strategy meant for the opportunity.
I'm Jerry!
I Created My Own 4-Figure Monthly Passive Income at just 21 Years Old!​
What Do You Get With Project 303?
On top of using the SCAN system, you also get access to the following perks:
Access To Live Trading Room
This is probably the program's best selling point. You're granted access into Andrew's Live Trading Room, which is a livestream of Andrew making trades.
The livestream runs every Monday, Wednesday, and Thursday from 9:00AM to 9:30AM. You'll also get to see the SCAN system in action.
This stream will also include Andrew discussing his trades and analysis of the markets. At most, you're getting 90 minutes of his time per week so you'll know more about why he does the trades he does.
Project 303 Weekly Wrap Up
You also get a newsletter delivered to your inbox every week, specifically every Friday.
This contains a summary of where the trades currently stand and what you will be doing next week.
A Weekly Watchlist
You get this list once a week. This shows you all of the potential trades that Andrew considers to make in the future.
24/7 Access To Members Only Website
This site gets you access to different educational materials, research, and a forum where you can interact with other members.
Fast Track To Financial Freedom Course
This is a training course on SCAN, how it works, and how you can use it to help you make money.
How Much is Project 303?
The price tag isn't so bad on this program. You're clocked in at $129 per year on one of their sales page, but if you decline that offer, you get to $599 per year.
It might be a ploy to get you to sign up for the first offer. You can probably just reload the page or open it in a new browser to get the same offer.
Project 303 is also the cheapest amongst Keene's training courses. His 1450 Club costs $5,000 per year, and his other courses are also in the thousands of dollars per year.
But just because it's cheap doesn't mean it's worth getting.
Is Andrew Keene legit?
Andrew Keene is legitimate as far as we're concerned. He knows what he's talking about, and he definitely has the portfolio to show that what he's doing is making him lots of money.
He is also making a lot of money teaching people his ways, so there's that too.
Project 303 is meant for people who want to get into options trading and who have the capital to gamble it on. It's not meant for novice investors because he doesn't really go into explaining some of the technical stuff he shows.
Project 303 Ugly Truths Revealed!
#1 Customer Reviews Aren't Great
Unfortunately for Project 303, their customer feedback isn't that great. You'll find several of these reviews on a Reddit post.
There are several complaints about the program, saying that it didn't meet their expectations and the quality was lackluster.
This batch of negative reviews actually go against the testimonials on their landing page, which we'll talk about next.
#2 Fake Testimonials!
We were kind of disappointed to know that Project 303 uses fake testimonials. We don't know the reason behind this, but it's probably because to counter the negative reviews they got from actual users.
These are the testimonials from their landing page and at a glance, it does look weird.
First, you're telling me that these people actually have professional headshots of themselves? Highly unlikely.
And then we find out that the professional headshots are actually either stock photos or photos used by another site, as you'll see below:
I know what you're thinking. Maybe these are the original persons and the other sites are using them to fake it. But come on, you have two testimonials using stock photos.
What I Like About Project 303?
#1 Good Refund Policy
Their refund policy is a 60-day money back guarantee with no conditions attached to it. This is good because you have people who aren't too happy with what they're getting from Project 303.
Project 303 isn't a scam at all. Andrew Keene and Money Map Press are both legitimate in the financial industry. But it doesn't really perform compare to the other programs published by the latter.
Project 303 is riddled with complaints from its users and we have big issues with them using fake testimonials. We have not seen any of the other programs use fake testimonials so there should've been no reason why they even used it.
Are we saying the program is bad because of it? We're not. We're just saying that you should consider investing in the other programs made by Money Map Press because this isn't really their best one.
How I Make a Living Online?
I've personally created a 4-Figure Monthly Passive Income Stream and become financially independent at just 21 years old without any College degree or working experience!
Through my own hard work, I went from a broke restaurant waiter to living my dream laptop lifestyle in less than a year's time...
If you want to discover the secrets of how I did it at such a young age, click here!