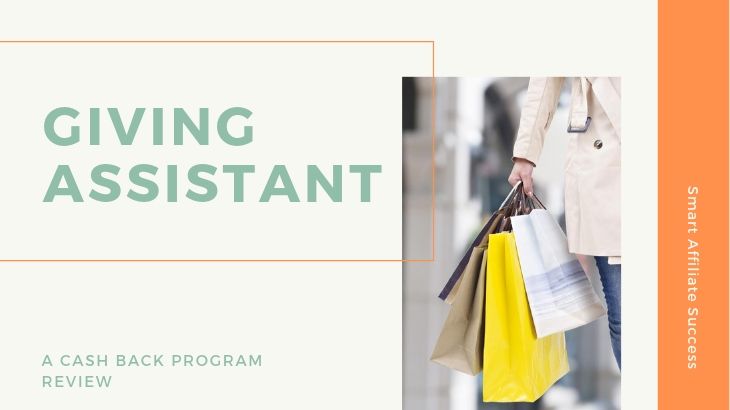 Giving Assistant Review – A Cash Back Site Reviewed!
Welcome to my Giving Assistant review!
We all love to shop online, and while we enjoy getting discounts, there's nothing better than getting cash back for your purchases.
And you can do this by using cash back programs that can be found online.
One of them is Giving Assistant.
First of all, I must Congratulate you for taking your time to do your own research before buying into any "seemingly good" product.
That's the way to avoid scams and find the legitimate way to make money online!
Let me be completely transparent with you, I'm not associated with Giving Assistant in any form.
So, rest assured that I'm not here to pitch or sell anything to you.
Instead, I'm here to reveal what makes this cash back site different from all the other programs out there.
Giving Assistant Review Summary
Product Name: Giving Assistant
Founder: James Grey
Product Type: Cash Back Platform
Price: Free to join!
Best For: People who love to shop frequently online.
Summary: Giving Assistant is a cash back platform that's partnered with 3,000 merchants. With that much partners, there's a chance that the shop you frequently shop at is there. There's a small minimum cash payout of $5 before it gets credited to your debit or credit card account, so you don't have to wait that long. However, it's not a source for full-time income so if that's something you're looking for, Giving Assistant is not one of them. However, if you just want to increase your savings while you shop, you can use Giving Assistant.
Rating: 50/100
Recommended: Yes and No!
More...
What is Giving Assistant?
Giving Assistant is a company that provides cash back services and coupon codes for their members when they shop through their online portal.
Whenever a product is bought from their platform, the merchant pays a commission to Giving Assistant.
Part of this commission is then paid out back to the customer as incentive.
This is how their business model works.
And one good thing about Giving Assistant is that while it's a for-profit organization, part of their mission is to encourage charitable actions and raise $17 million for charities across the USA by the yhear 2020.
This is done by making it easy for shoppers to donate their cash back earnings. When you purchase a product, you not only have the option to redeem cash rewards, but you can donate it to your non-profit organization of choice.
To sign up for Giving Assistant, all you need is a Facebook account or email address.
Once that's done, you can start shopping on their platform and access to more than 3,000 well-known shopping partners such as Amazon and Walmart.
Now there are also different coupons and cash back conditions for each site, so you'll have to browse every now and then to maximize your cash back services.
I'm Jerry!
I Created My Own 4-Figure Monthly Passive Income at just 21 Years Old!​
Install the Giving Assistant Extension
Giving Assistant also provides you with a browser extension available for Chrome and Safari.
All you have to do is click on the menu and then "Button".
Even if you're not shopping on their main portal, the extension will notify you in case the store is offering cash backs or coupons.
Another cool thing about the extension is that it even sends out a notification when you search for products online via Google, Yahoo!, or Bing.
The extension adds a logo right next to the site to identify a cash back opportunity.
Now, isn't that cool?
Upgrade
If you find yourself shopping online a lot, then you might as well invest in upgrading your account.
For an initial payment of $5.99 of your annual cash back earnings, you'll enjoy the following benefits:
Double the cash back
Faster payment
Customizable payment options
First-in-line customer service
Benefits of Earning Cash Back with Giving Assistant
Even if you don't upgrade your account, you're going to enjoy the following benefits:
Low minimum cash back amount – get your cash back for purchases above $1 if you pay via debit card or $5 if credit card.
5% cash back for Amazon Purchases – this is actually more than enough to convince you to join this site. If you buy $200, you'll get $10 back!
Referral Program
Giving Assistant has a referral program that gives you $5 for each people that signs up your affiliate link.
You only get this flat amount ONCE they get their cash back.
Donate or Get Paid
If you want to donate your earnings, you can select any non-profit organization from their menu and the percentage of the cash back you want to donate.
You can choose to donate between 0% and 100% of your cash back earnings.
If not, you can cash out via PayPal or eCheck when you reach a minimum balance of $5.99.
How Much Can You Save With Giving Assistant?
Giving Assistant is more of a savings site than earning online.
The amount of cash back you get depends on how much and how frequently you shop.
If you are a regular shopper, you'll get the most out of this platform.
However, there's a way for you to generate income by referring people to the site. You get the flat amount of $5 when they sign up and get a cash back.
There's no limit to referrals, so you can invite as many people as you like.
Who's Giving Assistant For?
As mentioned earlier, Giving Assistant is great for people who love to shop online.
It does have a great referral system but it can't be a source of full-time income.
If you do want full-time income, I would advise you to check out my step-by-step guide on affiliate marketing.
It's free and doesn't require you to sign up for anything!
What I Like About Giving Assistant?
#1 – Many Partnered Stores!
Giving Assistant is partnered with 3,000 merchants online, and some of them are very popular too.
You have access to shopping sites such as Amazon and Walmart, so there's a big chance that the store you frequently shop in is partnered with their cash back program.
#2 – They Donate To Charity!
One of the options for cashing out is to donate to charity, which is great for any business. This one's completely voluntary so you can choose to donate whenever and how much you want.
#3 – Free And Easy To Join!
Giving Assistant does not make you jump through hoops to become a member.
While there's a paid membership, it's not required to avail all of the services of Giving Assistant.
Giving Assistant Ugly Truths Revealed!
#1 – Certain Delays With Getting Your Cash Back!
Granted this isn't a frequent complaint, but I would still like to point out that there are certain issues with getting your cash back credited to your account.
While I understand that the company has to verify the purchase and they're at the mercy of these merchants, it would be great if the process was a little quicker.
Is Giving Assistant a Scam?
Giving Assistant is a legitimate shopping portal that allows you to get your cash back every time you shop with one of their many partners.
Having 3,000 merchant partners at hand and growing, there's a chance that the store you frequently shop at is their partner.
It's easy to join this program and you can even donate your earnings to their partnered charity.
Now, if you're looking for a source of full-time income, this program is not worth your time. But if you are a frequent shopper, then you might enjoy using this platform.
How I Make a Living Online?
I've personally created a 4-Figure Monthly Passive Income Stream and become financially independent at just 21 years old without any College degree or working experience!
Through my own hard work, I went from a broke restaurant waiter to living my dream laptop lifestyle in less than a year's time...
If you want to discover the secrets of how I did it at such a young age, click here!