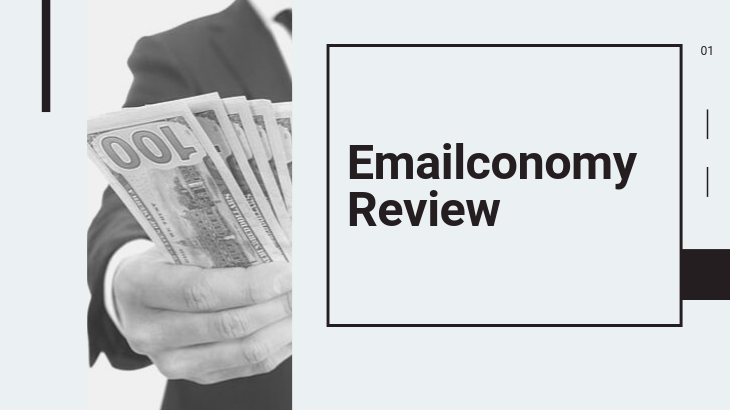 Emailconomy Review – A Possible Ponzi Scheme Exposed!?
Welcome to my Emailconomy review!
This review was somewhat humorous as I was doing my research because I just couldn't believe what I was reading into.
People would have to be extremely gullible to buy into this program, and I'll explain everything in the article below.
This is Emailconomy.
First of all, I must Congratulate you for taking your time to do your own research before buying into any "seemingly good" product.
That's the way to avoid scams and find the legitimate way to make money online!
Let me be completely transparent with you, I'm not associated with Emailconomy in any form.
So, rest assured that I'm not here to pitch or sell anything to you.
Instead, I'm here to reveal why I think this is a Ponzi scheme and why this isn't worth your time at all...
Emailconomy Review Summary
Product Name: Emailconomy
Founder: Angel Michaelangelo Lopez
Product Type: Email Marketing and Newsletter MLM
Price: $500 to $2500
Best For: No One
Summary: Emailconomy is a MLM company that has a unique product and system, but unfortunately it's not as attractive as one might think. In fact, it's very suspect and has the makings of a Ponzi scheme, which I'll explain in the article below.
Rating: 1/100
Recommended: No
More...
Emailconomy is a MLM or multi-level marketing company that has you monetizing emails and letters.
You read that right. It's what it says on its landing page.
The program's founder is Angel Michaelangelo Lopez, or simply website. He's listed as the company owner on the website and is currently based out in Florida according to Emailconomy's footer.
He's made a name for himself in his association with another MLM company called Empower Network in 2014. The company then collapsed in 2017. He's marketed himself as an Internet Marketing coach during his stint over at Empower Network.
Apart from Emailconomy, he's also promoting another MLM company called Valentus.
Emailconomy Product Line
There are no products or services that will be sold to other members when you sign up for Emailconomy.
You are simply paying to market Emailconomy and to get into their income opportunity.
You also get digital marketing materials to help you market Emailconomy. There's no mention of what these training materials are, but I would assume that these are just generic training about digital marketing that you could get for free with a quick search on Google.
Does The Product Work?
Again, you're buying into an income opportunity that allows you to market the program. The compensation plan will be explained in the next section below.
However, there are certain feedback about Angel Lopez that might reflect the quality of this product.
How To Make Money With Emailconomy?
Unlike most MLM companies, Emailconomy works on a structure similar to affiliate marketing models where you only earn via commissions from the recruits you get.
Bonuses are applied with your team sales, which will be explained in detail below.
How To Get Started With Emailconomy?
You'll have to buy one of three memberships outlined below:
Inner Circle – $500
Diamond - $1000
Master - $2500
There's no difference in terms of products or materials you access for each tier, but instead, you are paying your way towards how much money you could make from the program.
Emailconomy Compensation Plan
When you become a member for Emailconomy, you pay a certain fee for membership, and then recruit people to do the same:
Inner Circle — Pay $500 to join and earn $200 per affiliate that also buys into Inner Circle
Diamond — Pay $1000 to join and earn $400 per affiliate that also buys into Diamond
Master — Pay $2500 to join and earn $1000 per affiliate that also buys into Master
From the looks of this structure, this follows a similar process to other high-ticket programs such as Digital Altitude and MOBE.
You're only credited for members who sign up for the program at your tier, so if you're at the Inner Circle and they sign up for Diamond, you won't get the commission. They'd have to sign up at your level.
If you're Diamond and your member signs up for Inner Circle, you won't get a commission either.
On top of the commissions, you also earn residual commissions from your team sales.
Inner Circle team sales pay a $100 commission
Diamond team sales pay a $200 commission
Master team sales pay a $500 commission
Emailconomy Ugly Truths Revealed!
#1 - Useless Training
There's no information as to what training is available to members on how to market the program, but I would assume that it's not going to be of decent quality.
For the price you're paying for that digital marketing training, I could point you towards more legitimate programs that could help you build your business online:
#2 - Incredibly Expensive Memberships and Letter Costs
The higher your rank, the more you potentially earn from personal and team sales. The idea behind their opportunity is to invest a lot of money initially so you can reap the rewards later.
But even so, $500 is worth a lot of money to invest on and that's investing blindly frankly speaking.
Lopez claims that their system is self-sufficient, so you can acquire and close leads that will be handled by the system. No more hard work on your end.
All you have to do is send out the mails and emails.
Speaking of mails, did you know that for the basic 500 letter package, you're going to have to pay an additional $557? Check out their price schedule right here.
Choosing the lowest rank and buying the letters will cost you $1000 right out of the bat! And there's no guarantee that you're getting that money back in income, as says so by Mr. Lopez.
I mean, check out their earnings disclaimer:
You be the judge.
#3 - Basically A Pyramid Scheme
So while they haven't been flagged yet by the FTC or any governing body as a pyramid scheme, there are already red flags that it might be.
These red flags are guidelines set forth by the FTC on how to determine if a program is a Pyramid scheme or not. These red flags are:
Too much focus on recruitment
No physical product or service to market
Income opportunity is reliant on recruitment, and not sales
Again, this website doesn't conclude that Emailconomy is a pyramid scheme, but based on experience, it very well might be.
#4 - Owner Has A Bad Reputation And History For Scamming Others
As I mentioned above, Angel Lopez has had quite a reputation for scamming other people.
In one of his latest adventures, he was hired to do a course for a college in the USA. He told the instructor that he'd pool the money with others so they could study and implement the course.
When they followed up, he came up with ridiculous excuses such as his mother-in-law dying.
Check out the full story right here, and what others have had to say about this guy.
#5 - Terrible Refund Policy
If you want to get a refund, then good luck. You have 3 days to return everything, but here's the catch.
If you get a refund, you're not allowed to rejoin ever again.
That is of course if you get a hold of Mr. Lopez. As seen in other reviews about him, it can be quite a challenge to get him.
What I Like About Emailconomy?
Honestly speaking, there's nothing about Angel Lopez and Emailconomy that I like. I've read too many reviews and feedback about him and his programs that I find it hard to trust everything he does.
Without a doubt, there's something fraudulent about Emailconomy so I can't recommend this program to anyone.
But the biggest reason why I can't recommend this program is that it might be a pyramid scheme, and I say this because of the red flags that it raised throughout the review. I don't need the FTC to tell me what a pyramid scheme is.
On top of that, it doesn't make sense to do business with a person such as Angel Lopez who's made a reputation of scamming other people and making them jump through hoops to get their money back.
His stellar reputation in the MLM industry and outside is more than enough for me to turn away from any of his programs as long as he's associated with it.
How I Make a Living Online?
I'm not a fan of MLM, not because it's illegal or not profitable, but because of all the restrictions and the expensive costs involved.
Instead, Affiliate Marketing is my top recommended business model for anyone to make money online.
The reason is simple...
You don't have to recruit anyone to make money
You have the freedom to promote any products you want and not being restricted to only promote the products from one MLM company
It's Free to get started
In fact, with affiliate marketing...
I've personally created a 4-Figure Monthly Passive Income Stream and become financially independent at just 21 years old without any College degree or working experience!
Through my own hard work, I went from a broke restaurant waiter to living my dream laptop lifestyle in less than a year's time...
If you want to discover the secrets of how I did it at such a young age, click here!