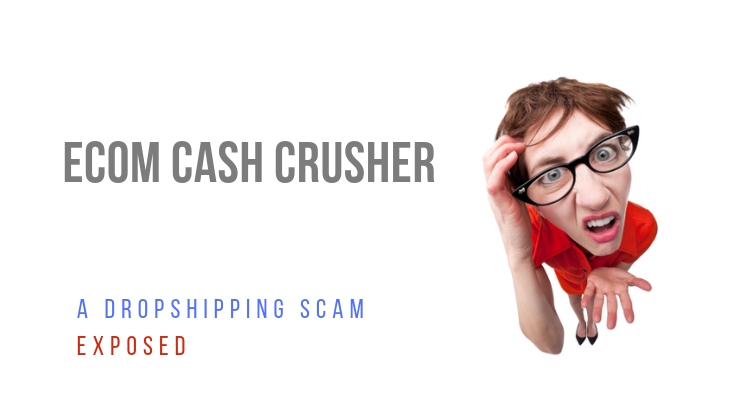 Ecom Cash Crusher Review – Not Another Dropshipping Scam!
Welcome to my Ecom Cash Crusher review!
Let me tell you a short story. A couple of weeks ago, I created a dummy email so I can sign up for programs like these.
The reason why I did that is so I can lure programs like these into my inbox.
And sure enough, one program sent me an email last night and now it got its own review.
This is Ecom Cash Crusher!
First of all, I must Congratulate you for taking your time to do your own research before buying into any "seemingly good" product.
That's the way to avoid scams and find the legitimate way to make money online!
Let me be completely transparent with you, I'm not associated with Ecom Cash Crusher in any form.
So, rest assured that I'm not here to pitch or sell anything to you.
Instead, I'm here to reveal why this program has nothing to do with E-commerce, or crushing it. But there is cash involved.
Ecom Cash Crusher Review Summary
Product Name: Ecom Cash Crusher
Founder: David Anderson (Most likely not real)
Product Type: E-Commerce/Dropshipping Training Platform
Price: $37 one-time fee
Best For: No one.
Summary: Ecom Cash Crusher is a money-making method that focuses on dropshipping, a legitimate business model. But the program is far from being legitimate as I've uncovered a few things that make me want to say that this is probably a scam. On top of having to use fake testimonials and hiding behind a fake owner, you are also putting yourself at risk by allowing them to sell your personal information once you sign up with them (and I have the proof!). All in all, this program is 100% bad news and not worth anyone's time.
Rating: 1/100
Recommended: No
More...
What is Ecom Cash Crusher?
Ecom Cash Crusher is another one of those ClickBank products that promises you that you can make up to $2,000 per day.
Whether or not you believe that claim is completely up to you, but allow me to help you see the light.
When you visit their landing page, you'll be greeted by a video presentation, followed by some testimonials of the members.
The sales video is handled by David Anderson, apparently the spokesperson for the entire program and he will introduce to you the "system that will change your life".
What about "David Anderson"?
I don't know if David Anderson is the owner, or if he's a real person, but he then proceeds to tell you more about how you can make $40,000 a month without any special qualifications or skills.
He just makes it sound too good to be true.
In the entire video, he doesn't mention his online store, his social media profiles, or any traces of him online.
It's probably safe to assume that David is not a real person, or probably just a pseudonym to hide the information of the real people running the program.
And this is nothing out of the ordinary as well.
I've reviewed other products like this one where owners don't reveal who they are, so the marketing is done by a non-existent person.
Ecom Cash Crusher is not to be confused with another program of an almost similar name, Ecom Crusher.
I don't if both programs are even related at this point without researching the latter, so I'll just leave it a tthat.
Now, Ecom Cash Crusher is supposedly a money-making method through dropshipping.
This is a business model where you sell products online through your e-commerce store without stocking any inventory.
You're partnered with wholesalers who will fulfill the order once someone purchases a product from your store.
This is a legitimate business model and it may sound simple in theory, but there's a catch.
It takes time to learn this business model, and it takes a significant amount of money to make this model profitable.
Ecom Cash Crusher conveniently leaves that part out of the sales video and then just proceeds to tell you that you can start earning thousands of dollars through this business model.
There's Training?
Ecom Cash Crusher provides you with training on how to build a dropshipping store, but the program leaves a huge part of how dropshipping works and just focuses on the "money-making" part.
But again, there's not enough information on the contents of the training and I am not surprised at all.
You see, for scams like these to work, they'll dangle the money-making method first and then once you're hooked, they'll tell you that you need to learn their system first.
What they'll probably give you is nothing more than rehashed resources of dropshipping that you can learn for free online, or if you join the right programs.
I'm Jerry!
I Created My Own 4-Figure Monthly Passive Income at just 21 Years Old!​
Is There Another Way To Learn Dropshipping?
Yes, there is.
Dropshipping is a legitimate business model, and a lot of people found success through this venture. If you want to learn more about dropshipping, you can take a look at these programs:
Mind you, these programs are a little bit expensive, but they are very legitimate and handled by the top dropshippers in the industry.
How Much Does It Cost To Join The Program?
It will only cost you $37 to gain access into their program that will help you build a $2,000-a-day business.
We all know that you're going to have to spend more than $37 to do that.
Shopify stores cost at least $29 a month, and then you have to factor in a lot of the plugins that you need to purchase. You're more likely to spend $300 a month to get everything.
But Ecom Cash Crusher once again conveniently forgets to tell you that important piece of information.
Who's Ecom Cash Crusher For?
There's absolutely no one that I would recommend this program to, and for the very reason that there's nothing beneficial that anyone can get out of it.
It's already looking to be like a scam, and even if it isn't, there's nothing valuable from this program.
Ecom Cash Crusher Ugly Truths Revealed!
#1 – Fake Testimonials!
Now why do these programs make use of fake testimonials, you ask?
It's simple really. There's nothing more credible than having your ordinary Joe's and Jane's say that they changed their lives through this system.
But for Ecom Cash Crusher and other programs, the testimonials are far from being sincere.
So, remember the two people you see on the sales video?
Both are actually paid actors from a site called Fiverr, a freelance content provider where you can hire people to do this.
Now that's a perfect side-by-side if I may say so myself.
But the point here is this.
If the people behind Ecom Cash Crusher are paying people to lie for them, is there an end to their deceptive ways?
The answer is probably NO.
#2 – They Will Sell Your Email Address To Other Parties
There's also something that I want to point out with these sites.
They'll share your personal details with third parties, a.k.a. other scammers or people selling BS money-making programs.
And you can find that on their privacy policy:
So if you share your personal information like email address or phone number, you'll receive sales calls and spam emails from other marketers in the hopes of trying to get more money from you.
#3 – They Make Dropshipping Look Bad
Dropshipping is a legitimate business model, and programs like Ecom Cash Crusher are making it look bad.
Dropshipping requires a lot of time, money, and effort in order to be successful, and it's almost as similar as running and establishing a brick-and-mortar store.
You need a lot of capital, a lot of work, and a lot of patience to grow your brand.
Ecom Cash Crusher and other programs of similar nature try to make you just focus on the "money-making" aspect of dropshipping without revealing the hard work behind it.
And believe me, I wouldn't even consider them to the role models for hard work.
What I Like About Ecom Cash Crusher?
Nothing. The program is a complete BS from start to finish, and there's nothing good about programs like Ecom Cash Crusher.
Is Ecom Cash Crusher a Scam?
Ecom Cash Crusher is a scam, and I can confidently assume that it is because of the factors that I've listed above.
The constant use of fake testimonials on top of false lavish claims are designed to draw in people who've no idea on how e-commerce, affiliate marketing, and dropshipping work.
Programs like Ecom Cash Crusher are only meant to do one thing, and that is to fool as many people as they can into giving them their hard-earned cash before they pull the plug, rebrand, and do the same thing over.
It's a vicious cycle for programs like these, and as long as there are people that are willing to be fooled, then these programs will continue to exist.
How I Make a Living Online?
I've personally created a 4-Figure Monthly Passive Income Stream and become financially independent at just 21 years old without any College degree or working experience!
Through my own hard work, I went from a broke restaurant waiter to living my dream laptop lifestyle in less than a year's time...
If you want to discover the secrets of how I did it at such a young age, click here!