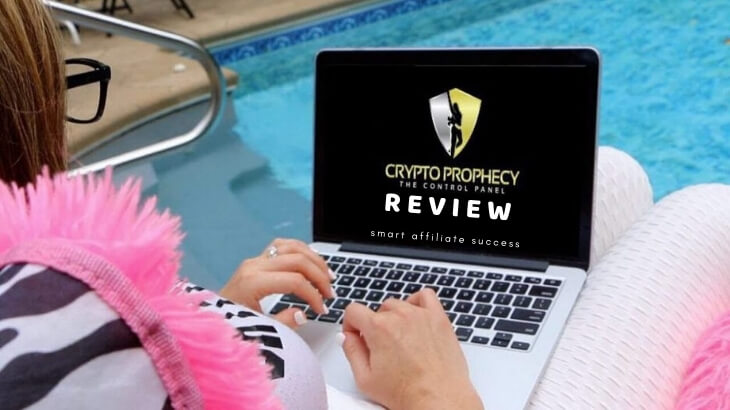 Crypto Prophecy Review – Another Crypto Trading Scheme?
Welcome to my Crypto Prophecy Review!
A couple of weeks ago, I received an email about an opportunity to get into cryptocurrency trading, and in it was a program called Crypto Prophecy.
I was curious enough to see what it was, so I decided to take a closer look since cryptocurrency remains to be one of the hottest topics this year.
And sure enough, the website does not fail to disappoint in terms of delivering the hype.
The hype of grabbing a slice of the $300 billion dollar industry, that is.
First of all, I must Congratulate you for taking your time to do your own research before buying into any "seemingly good" product.
That's the way to avoid scams and find the legitimate way to make money online!
Let me be completely transparent with you, I'm not associated with Crypto Prophecy in any form.
So, rest assured that I'm not here to pitch or sell anything to you.
Instead, I'm here to reveal what makes this program questionable and why this is probably another crypto trading scheme.
Crypto Prophecy Review Summary
Product Name: Crypto Prophecy
Founder: Crypto Girl (No other information disclosed)
Product Type: Cryptocurrency Trading and Training Platform
Price: $37 one-time fee
Best For: No one!
Summary: Crypto Prophecy is a cryptocurrency training program with its own trading app designed by an unknown company. However, the only real person representing the program hides under the pseudonym Crypto Girl. Unfortunately, the program appears to be a complete waste of time because it's tagged by professional traders as a Guru Scam (explained below), and they don't have the necessary license or authority to provide investment advice, especially when you're in a billion-dollar industry. Your money is better off elsewhere.
Rating: 10/100
Recommended: No
More...
Crypto Prophecy is a ClickBank product, and I've recently exposed a long list of ClickBank scams such as Amazon Cash Websites and Copy Paste Income.
This is a training program that's designed to help you understand the world of cryptocurrency through the use of formulas and webinars.
The program is delivered by someone called Crypto Girl, and she appears to be the only spokesperson for Crypto Prophecy.
There's also no information as to the company running the program or who its founders are. This is already a red flag for me because how am I supposed to do business with an entity that I don't know about?
Who Is The Cryptogirl?
She sounds just like a superhero and this is how she actually introduces herself in the sales video.
Apparently, she publishes her videos on her YouTube channel where she promotes Crypto Prophecy.
But apart from that, there's no other information about who she is and which company she's affiliated with.
Crypto Prophecy advertises itself as a successful crypto trading training platform with its own trading system that taps into the billion-dollar industry of crypto trading.
This same custom-built control panel is geared towards increasing your profits daily and provides tips on how you can make $700 per day easily.
Features Of Crypto Prophecy
Webinars and training videos to help you understand how cryptocurrency trading works
Tips and techniques to help you analyze current market conditions
A powerful trading system that's designed to help you get started with crypto trading the right way.
A trading system that minimizes risk factors and optimizes transactions to ensure consistent profits and returns.
CryptoProphecy Trading App – How Does It Work?
Crypto Prophecy's trading app is the second highlight of their program, and it does not appear to work as it's supposedly advertised.
Crypto Girl mentions that the training program comes with a so-called Control Panel that's used for cryptocurrency trading.
Apparently, the software is a fully automated trading app that can help you rake in thousands of dollars per day without any difficulty.
According to Crypto Girl, we just go through the training videos, run the app, and with minimal effort, earn thousands of dollars per day.
You know how ridiculous that sounds, right?
The app boasts of turning your $50 into tens of thousands of dollars in a couple of days, but there are a couple of problems to their claims.
First, there's no mention of how the trading is actually done in the first place. We're not even sure if the trading charts you see on their sales videos are actually theirs (most likely, not!)
Secondly, I did my own research of cryptocurrency trading and it's not as close as to what Crypto Prophecy is advertising.
I'm Jerry!
I Created My Own 4-Figure Monthly Passive Income at just 21 Years Old!​
How Much Does It Cost?
Like most of the ClickBank products, this one has a 60-day Money-Back Guarantee and has upsells too.
You'll start off with a $37 one-time fee, which is their first offer. But if you exit the page, you'll encounter a downsell. They'll offer you $1 for the first 7 days and then $24.95 per month.
The upsells are unclear in terms of what they are, but these would probably be worth of hundreds of dollars to "enhance your member experience".
Who's Crypto Prophecy For?
No one.
Legitimate trading platforms such as 24Option and IQ Option already delved into cryptocurrency trading, and these platforms don't even come close to Crypto Prophecy's trading app.
Crypto Prophecy Ugly Truths Revealed!
#1 – Crypto Prophecy Is A Guru Scam!
Crypto Prophecy is what's referred to by other people as a crypto hindsight guru scam.
Allow me to explain.
A couple of years ago, cryptocurrencies made massive gains and they also made big losses the year after.
That's the very nature of cryptocurrency.
But hindsight gurus often omit this year's losses and will only show you charts from the previous year (when cryptocurrencies were at its highest).
Crypto Prophecy is commenting on historical charts and claims that they can make the right calls in the future.
That's not true.
If these people know how to become millionaires in a few months, I'm pretty sure they'd be selling their program for more than $37.
Commenting on charts from Coinmarketapp.com, as seen on their video, is a useless exercise that can be done by anyone.
They're only showing you fake trades to make you see that the app is working and is going to do nothing but help you become profitable.
#2 – Illegal Investment Advice
The Crypto Prophecy Control Panel is an app that advises you on what cryptocurrency you should buy. This is clear investment advice that the seller (Crypto Prophecy) needs a license for.
The control panel is a product sold by a company called Champ Entertainment, and I haven't found any trading license associated with the company.
It's safe to assume that there's no authorization or license that gives them the right to provide legitimate investment advice.
#3 – The Program Itself Does Not Make Any Sense At All
When you have programs that involve training in trading (Forex, Cryptocurrencies, Stocks, etc.), you go through holistic curricula that allows you to understand the world of trading at the bare minimum.
These training programs will often go hand-in-hand with their proprietary trading platform.
Crypto Prophecy just stops at the training program and goes off a complete direction with its app by providing automation.
Granted, Crypto Girl does appear to know what she's talking about in her videos, but what's stopping me to assume that she's probably reading off a script written by someone else?
What I Like About Crypto Prophecy?
In all of my reviews, I am very honest and objective, and I will not hesitate to call out BS.
But if there's something good worth mentioning about a program, then it's included in this review.
But in the case of Crypto Prophecy, there's just nothing positive worth mentioning about the program, and there's just no appeal for me to try and salvage this review either.
Is Crypto Prophecy a Scam?
I wouldn't categorize Crypto Prophecy as a scam because I don't have any proof that it is, but there are some issues that make question their legitimacy.
Crypto Prophecy is referred as a Guru Scam by other traders because it just shows off the gains of the previous year without showcasing the losses.
This is one way of just hyping up the product and to ensure their customers that the program is 100% profitable, which is not true.
There are no actual trading videos or photos done by Crypto Prophecy either.
On top of that, the investment advice provided by its software seems to be questionable at best because they don't have a license to provide investment advice.
I would be completely wary of anyone or any company that offers advice without the necessary authorization from governing bodies.
How I Make a Living Online?
I've personally created a 4-Figure Monthly Passive Income Stream and become financially independent at just 21 years old without any College degree or working experience!
Through my own hard work, I went from a broke restaurant waiter to living my dream laptop lifestyle in less than a year's time...
If you want to discover the secrets of how I did it at such a young age, click here!