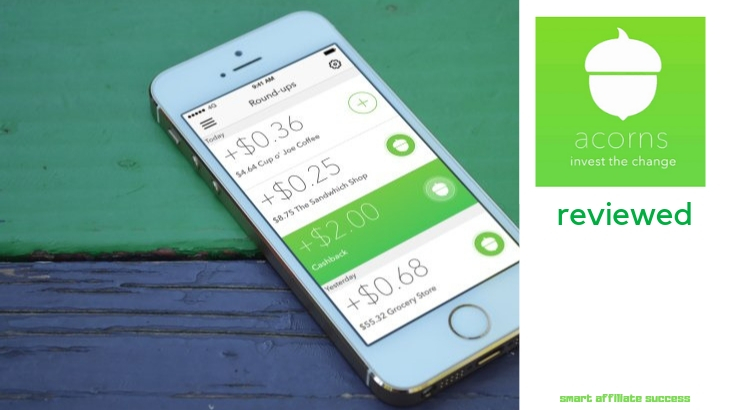 Acorns App Review – Make Money With Your Spare Change!
Welcome to my Acorns App review!
An app that lets you make money with your spare change?
Heck yeah, I'm all for it!
But first, allow me to introduce to you Acorns.
First of all, I must Congratulate you for taking your time to do your own research before buying into any "seemingly good" product.
That's the way to avoid scams and find the legitimate way to make money online!
Let me be completely transparent with you, I'm not associated with Acorns App in any form.
So, rest assured that I'm not here to pitch or sell anything to you.
Instead, I'm here to reveal how this micro-investment trading platform can help you do wonders with your spare change!
Acorns App Review Summary
Product Name: Acorns
Founder: Walter and Jeff Cruttenden
Product Type: Micro-investment Trading Platform
Price: Monthly fees - $1 to $3 a month
Best For: People who want to get started with investments but don't need to worry about giving up a lot of money.
Summary: Acorns App is a micro-investment trading platform that turns your spare change into investments. It's a fully-automated app, so you just have to create your account, link your bank account, and let the app take care of all the investments. With its full automation, all the intimidating aspects of investments go out the window, making this app very novice-friendly. There's also no minimum amount required for investment, so you don't have to worry about setting aside a lot of cash, again another reason why this app is for beginners.
Rating: 90/100
Recommended: Yes!
More...
Acorns is a financial app that helps you build your savings via micro-investing.
Acorns was launched on Aug 26 of 2014 and was founded by Walter and Jeff Cruttenden.
Their goal? To give everyone access to investing.
The company is backed by world-class investors, board members, advisors, and even major companies.
Acorns aims to stand out from the crowded app market by providing you with a 100% automatic system.
Acorns is only for residents in the USA. For those living in the UK, you can look at MoneyBox, which is quite similar to how Acorns works.
With Acorns, you have two methods of investing.
You have Acorns Core and Acorns Later.
What Is Acorns Core?
Acorns Core is a micro-investing account that lets you start investing with spare change and is the only one of its type.
Account creation takes less than 5 minutes and you can start adding money to the diversified portfolio that Acorns created for you. This portfolio also happens to be created with assistance from a Nobel laureate.
People have invested over $1 billion through Acorns Core alone.
What Is Acorns Later?
Acorns Later is a different type of investment where you get to save for retirement.
This involves setting up an IRA or Individual Retirement Account from Acorns. Through Acorns Later, the platform consistently updates your IRA so that it matches your goal.
Much like Acorns Core, account creation takes less than 5 minutes and you can start investing.
So far, there are more than 250,000 investors signed up for Acorns Later.
I'm Jerry!
I Created My Own 4-Figure Monthly Passive Income at just 21 Years Old!​
What Is Acorns Spend?
Acorns Spend is like a checking account with added features that are unique to the platform.
This is a new addition on top of their current offerings from Acorns.
The first 100,000 Acorns Spend sold out in less than 4 days after it was launched. These cards are made of tungsten, which is among heaviest and rarest non-radioactive elements.
The cards are also engraved with your signature, which means that there's a limited supply of the cards.
You can also use Acorns Spend to automatically save by rounding up purchases and also take advantage of their Spend strategies, which are free and also smart.
The process is easy and includes unlimited free or fee-reimbursed ATM's nationwide, digital direct deposits, free bank-to-bank transfers, and mobile check deposits and sending.
What Is Acorns Found Money?
Acorns Found Money is also one of the recently added features in the app on top of Core and Later.
This is a unique feature that allows brands to invest in you.
You read that right.
When you shop with a Found Money partner, the partner will automatically invest in your Acorns Core account.
Think of it as a modern variation of cash back for your purchases, which further increase your investments.
Here are some of the Found Money partners that are currently listed,
Acorns will also be adding more brands in the upcoming months.
To use Found Money, you just have to link a card (not necessarily the Acorns Spend card) to your Core account.
Once that's done, the program will start to run automatically. It appears in your account within 60 to 120 days after your purchase.
You can also view your Found Money status on the history screen of the app.
What Type of Portfolios Does Acorns Offer?
On to the serious stuff. There are different portfolios being offered by Acorns for you to invest in.
These vary based on the level of risk that you want.
The Conservative Portfolio
12 percent large company stocks
2 percent small company stocks
2 percent real estate stocks
40 percent government bonds
40 percent corporate bonds
4 percent international large company stocks
The Moderately Conservative Portfolio
24 percent large company stocks
4 percent small company stocks
4 percent real estate stocks
30 percent government bonds
30 percent corporate bonds
8 percent international large company stocks
The Moderate Portfolio
29 percent large company stocks
10 percent small company stocks
3 percent emerging market stocks
6 percent real estate stocks
20 percent government bonds
20 percent corporate bonds
12 percent international large company stocks
The Moderately Aggressive Portfolio
38 percent large company stocks
14 percent small company stocks
4 percent emerging market stocks
8 percent real estate stocks
10 percent government bonds
10 percent corporate bonds
16 percent international large company stocks
The Aggressive Portfolio
40 percent large company stocks
20 percent small company stocks
10 percent emerging market stocks
10 percent real estate stocks
20 percent international large company stocks
These portfolios were designed and developed by Dr Harry Markowitz, who's an economist and recipient of the Noble Prize.
The ETF's or Exchange Traded Funds ran by Acorn are also structured by known investment management companies such as Black Rock and Vanguard.
How Much Does It Cost To Join Acorns?
You can choose from three different account types with Acorns, all of which are priced low and straightforward.
Acorns Core - $1 per month: Includes the Acorns Core, the investment application.
Acorns Core + Acorns Later - $2 per month: Includes the app and Acorns Later
Acorns Core + Acorns Later + Acorns Spend - $3 per month: Includes the app, Later, and Acorns Spend, which is a checking account that lets you do more.
The $3 account is also fully protected by the FDIC or Federal Deposit Insurance Corporation for up to $250,000 as well as an all-digital card lock, fraud protection, and 256-data encryption.
Withdrawing Money from Acorns Investment Accounts
Once you've invested some money on Acorns, you can also withdraw some of it at any time.
Withdrawal of money happens as an electronic deposit into the same checking account where your deposits come from.
Think of it as something IN and OUT of your bank account.
This takes anywhere between 5 and 7 business days for the cash to be available in your account.
Also, this delay is from the banking systems' function and not something caused by Acorns (unless stated otherwise).
There are no withdrawal limits and there are no fees or penalties associated as well.
Acorns App was designed for those who're really new into the world of investing, or those who want to get started with investing but don't know where to start.
Due to the full automation provided by the app, all the user has to do is link their bank account, set their preferences, and they're good to go.
However, this app doesn't seem too appealing for the experienced traders as the portfolios are already pre-built.
If you're looking for a more robust trading platform with more control, then I would suggest 24Option or IQOption.
What I Like About Acorns App?
#1 – There's No Minimum Investment To Open An Account
One of the biggest barriers to entry is how much money you have to invest just to get started.
Some trading platforms require a minimum amount of $250 to get started, and some people just don't feel comfortable having a platform hold on that money for too long.
Acorns is different because you don't need to invest that much in the beginning. You can start investing in the app for as little as $5 in spare change saved up.
This makes it enticing for new traders who want to gauge how well they'll do in investing before going to the big leagues.
#2 – Their Full
Automation Takes The Complexity Out Of Investing

Thanks to their fully automated system, investors don't have to worry about overcomplicating their investments.

With their tools, you're basically using a hands-off investment practice and it's easy for you to start investing even if you don't a lot about ETF's, stocks or bonds.
#3 – Automated Savings Helps Your Investment Further
The hardest part of saving money is doing it, and you always find ways for you to do something with your money other than saving or investing it.
The automation of Acorns is advantageous to people who have trouble with saving their money.
Once you have funds in your account, your app's preferences will immediately put away money based on your settings for investing.
It's kind of like payroll deductions to add to your 401K. The money is already out of sight and out of mind, so you're quite comfortable knowing that you've already saved up after a payroll.
You can also consistently do this by setting up recurring investments, which is relatively simple with the Acorns apps. You can choose weekly or monthly deposits that will automatically enhance your investment experience.
Acorns App Ugly Truths Revealed!
#1 – Higher Fees For Smaller Balance
While $12 a year for an investment app doesn't sound a lot, it does look different when you consider it as a percentage of your investment.
If you're sticking with a minimum deposit every month, like $5, it will cost you $20 to use Acorns.
Compare that to WealthFront, which is another robo-advisor similar to Acorns, they only charge 0.25% of the assets under management.
And from that POV alone, Acorns looks to be very expensive.
However, that's the price you pay for full automation.
#2 – No Tax Benefits? Sorry!
Acorns does not offer tax loss harvesting or any type of tax assistance.
The only tax assistance you'll receive from them is the 1099 they send you in the mail during tax time, if your account warranted a 1099.
Far from it.
Acorns is a legitimate micro-investing app that lets you turn your spare change into investments.
While it's far from making you tons of money in the immediate future, it does help you put aside a few bucks every now and then for the long-term.
I would recommend this app to anyone who wants to start investing without worrying about the amount of money to put in.
There's no minimum amount to invest, so it does settle the jitters that most novice traders have when setting aside a large amount of money that can't be touched.
The full automation the system completely removes all complexity of investment practices, and makes it really beginner-friendly.
Of course, it would be the users' due-diligence to constantly enhance their knowledge about investments, bonds, stocks, and ETF's.
How I Make a Living Online?
I've personally created a 4-Figure Monthly Passive Income Stream and become financially independent at just 21 years old without any College degree or working experience!
Through my own hard work, I went from a broke restaurant waiter to living my dream laptop lifestyle in less than a year's time...
If you want to discover the secrets of how I did it at such a young age, click here!