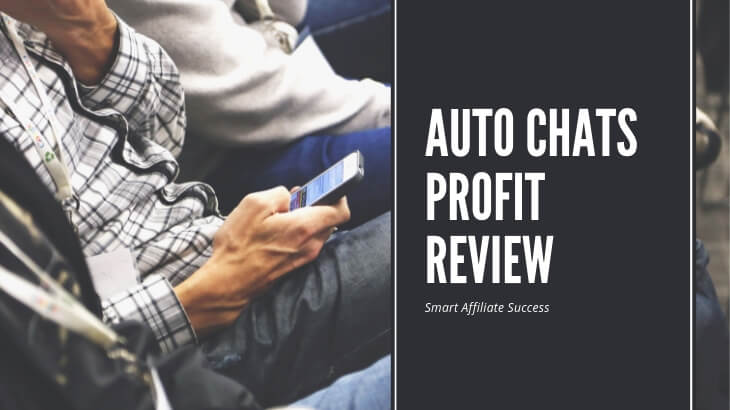 Auto Chat Profits Review – Bots That Don't Make You Money!
Welcome to my Auto Chat Profits review!
So this system apparently sends out a message that promotes affiliate marketing products to your site's visitors.
That may sound very appealing, especially to affiliate marketers, but don't get your hopes up.
Here's Auto Chat Profits.
First of all, I must Congratulate you for taking your time to do your own research before buying into any "seemingly good" product.
That's the way to avoid scams and find the legitimate way to make money online!
Let me be completely transparent with you, I'm not associated with Auto Chat Profits in any form.
So, rest assured that I'm not here to pitch or sell anything to you.
Instead, I'm here to reveal what Auto Chat Profits is all about, and why it doesn't do what it's claimed to do.
Auto Chat Profits Review Summary
Product Name: Auto Chat Profits
Founder: Not disclosed
Product Type: Affiliate Marketing Bot System
Price: $37 plus upsells
Best For: No one.
Summary: Auto Chat Profits is a chat bot that promotes affiliate marketing products from Clickbank. Every time a visitor visits your landing page, the bot sends out a message with one of the products. As enticing as the features may sound, there are a few reasons why I can't recommend this to anyone. One of the biggest reasons is that there's just no form of control over your website domain name and your product promotion, so once the system goes out, your business goes out too. It's like placing all of your eggs in one basket and still knowing that the basket is going to fall.
Rating: 10/100
Recommended: No
More...
What is Auto Chat Profits?
Auto Chat Profits is a Clickbank product that offers you access into a "Secret System" that can help you make tons of money in as little as 6 minutes and 14 clicks.
This program is right up there with Five Minute Profit Sites and Profits With Alex, and you know how those reviews went if you're an avid reader of our site.
Now on to the owners.
There's no information on the owners, nor the company behind this product. We're only met with someone named Samantha Smith.
There's also no other information about her on any other page as well. She's only a voice on the sales page.
With a few words, the presentation goes on with screenshots, apparently from Samantha, on how much you can earn with Auto Chats Profit.
To the inexperienced, they will never be able to tell that there's nothing sincere or real about the video that they saw.
Okay, now we see how this system works.
Create Clickbank Account or simply link to existing account)
Register YOUR Website Domain (this is a sub domain, not an actual website with hosting)
Register with EMAIL Service
There are two short videos that you can watch for steps 2 and 3, but here's a warning.
The software is now working on the background, creating account, and setting up some sort of webpage or two.
It also sets up an autoresponder system for your future email campaigns to (hopefully) drive traffic to your landing page.
Again, there's emphases on the words DOMAIN and LANDING PAGE because you're not getting a fully functional website. You're only assembling one page and getting a name.
The main website that you're working on is not yours. You're only registering a subdomain and an email service as long as you're using this set-up.
As the setup continues, the video presentation will go on and on about how this system can turn your life around by giving you as much as $400 in profits in a day.
I'm Jerry!
I Created My Own 4-Figure Monthly Passive Income at just 21 Years Old!​
How Does The Auto Chat Profits System Work?
Once a visitor arrives at your landing page, the Auto Chat Profits system starts to engage them in an automated chat that leads your visitor to look at other Clickbank products they may be interested in.
If they make a purchase, you get a 75% commission out of it.
That's all there is to it.
How Much Does Auto Chat Profits Cost?
In the sales video, Samantha will mention that their system is "FREE", but it ain't.
Rather, you'll have to fork out $37 for the system, supposedly for the domain purchase and use of their email system.
Now, it won't hurt that much, considering that there are other systems out there that are pricey and still fraudulent.
But as soon as you pay the $37, they're not done with you yet.
Are There Upsells With Auto Chat Profits?
Yes, Auto Chat Profits will hit you with upsells as soon you pay $37.
Now these are three other Clickbank products that're going to be integrated into your chat system. When visitors click on any of your upsells, you get paid a 75% commission too.
Who's Auto Chat Profits For?
At this point in the review, it's safe to assume that this program is not meant for anyone.
And the reasons for that will be listed in the next section.
Auto Chat Profits Ugly Truths Revealed!
#1 – You're Not Owning A Website
This done-for-you website provided by Auto Chat Profits is not good for the long-term because it has limitations.
First, you don't own the main website, so you don't have control over it. The moment they shut down, your website and the others are gone too.
The same goes for the domain name. Remember, you're paying for a sub-domain, so you're hooked on to the domain dependently.
If the domain goes, your subdomain goes too.
My advice for you here is to do away with these done-for-you websites and make your own from scratch.
I have everything you need to know about affiliate marketing the right way, and I included how you can make your own website (that's right, YOUR OWN .com). Just click on this link right here.
#2 – Not All Clickbank Products Are Good
The products that you're affiliated with thanks to Auto Chat Profits all come from Clickbank, which is a known marketplace for products of all niches.
Now, you'll see some decent products on their site, and some products that are not worth the time and money at all.
Guess what they're going to be feeding your visitors?
That's right, the products that are not worth anyone's time and money.
Now I am not saying that they're going to recommend fraudulent products, but they are not going to be very enjoyable either.
That's why the system's automation is just too much in this case, and I don't think you have any control over what products you want to sell either.
#3 – Their Traffic Generation System Is Not That Ideal
Auto Chat Profits does provide you trainings on how to do solo ads to drive traffic to your website.
Solo ads, in a nutshell, is paying someone to promote your affiliate offers to their subscribers.
Think of it as doing paid ads for Google or Facebook, except that there's no guarantee of the quality from the site traffic that you're buying.
You could spend $200 on 250 clicks and get little to no sales at all because people who click on it may not buy the recommended product.
Again, refer to #2 for why people don't really want Clickbank products.
Auto Chat Profits has some training on solo ads to drive traffic to the done-for-you website.
#4 – Their System Just Doesn't Work
Their system is basically a automated version of a cold-calling salesman or saleswoman.
Imagine this.
Someone happens upon your website, much like dialing a number, and then not a few minutes pass, the system kicks in and introduces your visitor to the Clickbank products.
One or two things might happen.
Either they buy or they don't.
Most of the time people don't buy because they don't know what to do with it. Sometimes, people buy because they feel something's amiss with the product being featured.
And sometimes, they just feel that the product just doesn't work for them.
This is what's wrong with Auto Chat Profits' system. It just doesn't give you that much of a control for what you want to introduce to your visitors that it just floods them with nonsense products.
And that's why this system doesn't work.
What I Like About Auto Chat Profits?
There's just nothing to like about Auto Chat Profits.
Don't get me wrong. If there was something worth positive mentioning about any program, I would do so, even if it's the littlest things like money-back guarantee or X-Day trial.
But Auto Chat Profits and all their features just doesn't sit well with me.
Is Auto Chat Profits a Scam?
Auto Chat Profits is far from being a scam, but it doesn't work like a legitimate way to make money as well.
And I say legitimate because there's just a lot of uncontrollable factors involved that doesn't give you the independence that you need to run a passive income stream.
The fact that you're not owning the website or the main domain name means that once the system's gone, your money-making system disappears too.
And this is the biggest disadvantage that I could think of that makes me not want to recommend this to anyone.
There are better affiliate marketing platforms out there that can give you more bang for your buck.
How I Make a Living Online?
I've personally created a 4-Figure Monthly Passive Income Stream and become financially independent at just 21 years old without any College degree or working experience!
Through my own hard work, I went from a broke restaurant waiter to living my dream laptop lifestyle in less than a year's time...
If you want to discover the secrets of how I did it at such a young age, click here!