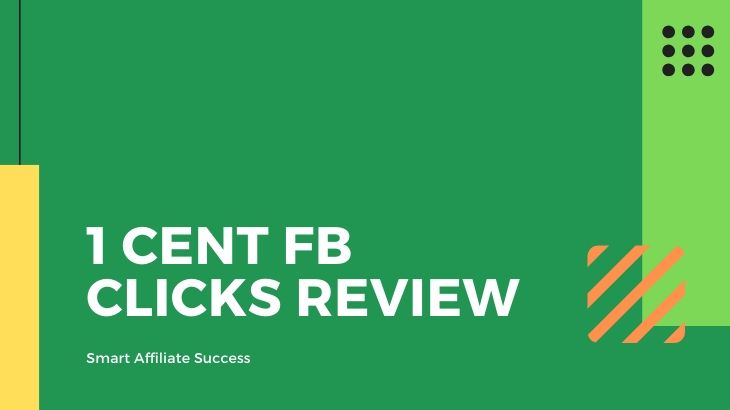 1 Cent FB Clicks Review – How To Make Money Using FB Ads?
Welcome to my 1 Cent FB Clicks review!
There are tons of programs out there that can teach you how to become an affiliate marketer. Majority of them are decent, a few of them are above the rest, and a small portion of these programs turn out to be nothing but scams.
Today, we're reviewing 1 Cent FB Clicks. Is it going to be like the vast majority, or will it be part of the small group of elite training programs?
First of all, I must Congratulate you for taking your time to do your own research before buying into any "seemingly good" product.
That's the way to avoid scams and find the legitimate way to make money online!
Let me be completely transparent with you, I'm not associated with 1 Cent FB Clicks in any form.
So, rest assured that I'm not here to pitch or sell anything to you.
Instead, I'm here to reveal if you can really make money using their program.
1 Cent FB Clicks Review Summary
Product Name: 1 Cent FB Clicks
Founder: Aaron Darko and Jani G
Product Type: Affiliate Marketing Training Program
Price: $47 plus upsells
Best For: Experienced marketers
Summary: 1 Cent FB Clicks is an affiliate marketing training program that has you posting affiliate links on your Facebook fan pages and using PPC. It's a whole new concept, but it's not something that we recommend for beginners. There's just a lot of advanced concepts that's not discussed properly, so beginners may end up confused. The upsells are also disappointing too since the program is aimed towards beginners.
Rating: 50/100
Recommended: No!
More...
What is 1 Cent FB Clicks?
1 Cent FB Clicks is a program marketed to teach you how to be an affiliate marketer by getting cheap clicks from Facebook ads or PPC (Pay per Click). Think of it this way: you're going to be getting affiliate marketing products from ClickBank and then posting them as ads on Facebook via their PPC program. Every time someone clicks on it, you'd get a penny each. Hence the name 1 Cent FB Clicks.
But the big question here is that will it deliver as it promises?
The program was developed by known affiliate marketers Aaron Darko and Jani G. They've made millions online and they're revealing their latest project through 1 Cent FB Clicks. This program claims that it's newbie-friendly and easy to learn.
Right off the bat, you're greeted with this Welcome Page the moment you try to join the program. But this is actually a trap of sorts because these are upsells and are completely unrelated to the program.
These are meant to take advantage of novices so they'll be misled into thinking that they need the program.
All in all, 1 Cent FB Clicks covers 3 learning modules within the program and 5-steps from the welcome. Out of these 5 steps, you have to keep an 1 out for Steps 1, 2, and 3.
The Welcome Page
Step 1 – Claim your free HTC Blueprint
The first step that 1 Cent FB Clicks recommends is that you sign up for another product called Fast Income Pro, which is a trading software that helps you make money online through trading.
Well, if this program is about affiliate marketing, why is it throwing in a trading program? This recommendation just doesn't make any sense at all. Online trading and affiliate marketing don't even correlate with one another.
Step 2 – Register for Training Webinar
This steps recommend that you get coached by Brittany Lynch, an affiliate marketer. You'll need to pay $997 to be coached on how to make $2,000 in 3 days. This program provides you with a "look-over-the-shoulder" vantage point of a marketer and see how they make money.
But this is a steep price to pay for an "over-the-shoulder' opportunity" that doesn't even guarantee your success. It doesn't justify the value of the $997.
Step 3 – Claim your FREE Mobile Commission Site
This step directs you to Cloud Pro Hosting, which is a web hosting company that's supposedly going to help you build a free website. But don't be fooled. The website may be free, but the hosting isn't. you're still going to pay $89.70 for 6 months of web hosting service.
Now, why is this odd? First, the program teaches you about marketing on Facebook and you're just making use of the fan pages. There's no need for you to make a website. You're directly placing products on Facebook Ads, not on any landing page.
Much like the 2 upsells, the third one does not add any value to the experience generated by 1 Cent FB Clicks. These are probably products that the admins or creators are affiliated with, so signing up means they make money (not you, sorry).
And now we move on to the actual modules of the training program.
I'm Jerry!
I Created My Own 4-Figure Monthly Passive Income at just 21 Years Old!​
Module 1 – The idea of 1 Cent FB Clicks
1 Cent FB Clicks tells you that you have to keep your traffic within Facebook to get those cheap clicks.
What this basically means is that if someone clicks on the Facebook Ad, you direct the person to your Facebook Fan Page instead of to the third-party website (i.e. landing pages, your own website, or even the website of the product you're promoting).
So how do you generate income from not directing people to sales pages? The goal here is to get someone to buy something, and the trick here is to design an appealing Fan Page to entice people.
As part of the 1 Cent FB Clicks's module, you should not appear as someone who's trying to sell something but rather someone who has valuable information to share.
This module also covers how to select profitable products from JV Zoo and ClickBank, both well-known affiliate marketing websites with huge commissions. The module also teaches you how to target people who are likely to buy from you if you promote it to them.
Module 2 – Make Money with Facebook Fan Pages
This module teaches you how to create your Fan Page in Facebook and shares various Do's and Don'ts for creating one.
It also teaches you how to create landing and squeeze pages within Facebook. You'll also be required to sign up for two products called "LeadPages" and "Aweber" if you want to enjoy the full benefits of the program.
LeadPages is a system that allows you to generate landing pages and squeeze pages within minutes, and is a great tool to have in your affiliate marketing arsenal. Awebebr is an email autoresponder that allows you to send out mass emails through people who signed up through your landing page.
Through 1 Cent FB Clicks, LeadPages, and Aweber, you'll have a powerful system that allows you to streamline your marketing efforts. But it comes with a cost.
Module 3 – Your Target Market
This module is focused on the specifics, such as showing you how to target people within the niche you're interested in and creating profitable Facebook advertisements.
How To Get Started with 1 Cent FB Clicks?
The program costs you $47, one-time fee. But you'll be presented with upsells and other requirements for running the program. So you might be spending hundreds more.
Who's 1 Cent FB Clicks For?
1 Cent FB Clicks is intended for people who're already familiar with affiliate marketing. People with little to no background may have trouble adjusting to the curriculum, as we'll explain below.
1 Cent FB Clicks Ugly Truths Revealed!
#1 Not As Easy As Advertised
There are hours of modules and training to go through before you start to make the cheap ads, and even then that doesn't really happen right away. It will take you some time to get to those 1-cent costs and these vary from one ad to the other.
On the upside, they never really said that this is a shortcut to getting rich online so there's that.
#2 Upsells? Really?
The upsells were something that I'd never expected from a program like this, given that they already provide so much value. As I mentioned above, it's meant to take advantage of people who have little to no background on these programs.
Remember, they're included in the landing pages so it's going to make you purchase these programs on impulse because they were designed to make it look like they're a part of the modules.
#3 Not Meant For Novices
Okay, the program doesn't really appeal to novices because it covers advanced topics such as list building, PPC, and email marketing. But I believe that the novices who buy this program may end up getting confused with what to do in terms of putting it together.
It would've been amazing if they included more modules that covers these topics, and if they did, this review would've gone the other way.
What I Like About 1 Cent FB Clicks?
There's nothing that I like about the program given that there are better affiliate marketing training programs out there. The only compliment that I could ever give this product is that they have an innovative approach to marketing on Facebook.
Is 1 Cent FB Clicks a Scam?
1 Cent FB Clicks is legitimate as far as I'm concerned, but if we're talking about if this is worth the time and money, you're better off with other programs.
The program isn't really designed for beginners given that it discusses advanced topics without giving them an intro to these concepts. Novices might end up with information overload.
The upsells are a huge turn-off for me. The moment you see upsells, you're more than likely to purchase on impulse just because someone told you to buy them.
There are better affiliate marketing training programs out there, and they'll do a lot more to build your foundation on affiliate marketing and building your business online.
How I Make a Living Online?
I've personally created a 4-Figure Monthly Passive Income Stream and become financially independent at just 21 years old without any College degree or working experience!
Through my own hard work, I went from a broke restaurant waiter to living my dream laptop lifestyle in less than a year's time...
If you want to discover the secrets of how I did it at such a young age, click here!