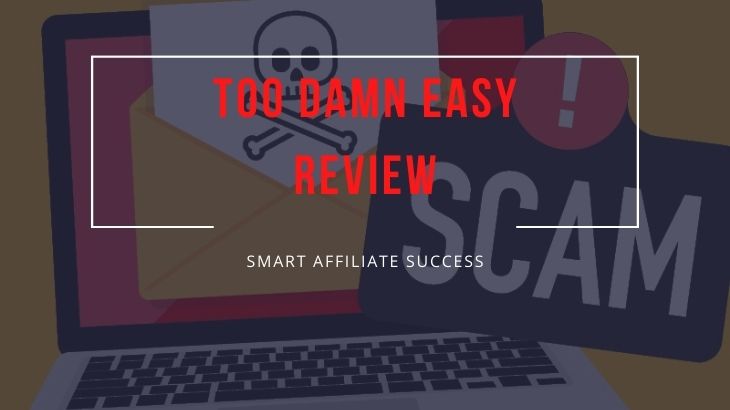 What Is Too Damn Easy? A Stupid Cash Gifting Scheme!
Welcome to my Too Damn Easy review!
If you want to talk about ambiguous online opportunities, look no further because we're about to review one right now.
At the heart of the program, the business model is based on cash gifting. Let us tell you right now that the business model is illegal in most parts of the world. I am inclined to think that some countries are just too lenient when it comes to cash gifting so that's why it's prolific.
Today, we're reviewing Too Damn Easy.
First of all, I must Congratulate you for taking your time to do your own research before buying into any "seemingly good" product.
That's the way to avoid scams and find the legitimate way to make money online!
Let me be completely transparent with you, I'm not associated with Too Damn Easy in any form.
So, rest assured that I'm not here to pitch or sell anything to you.
Instead, I'm here to reveal the ins and outs of this cash gifting scheme...
Too Damn Easy Review Summary
Product Name: Too Damn Easy
Founder: Q
Product Type: Cash Gifting Scheme
Price: $2000 to $18,000
Best For: No one!
Summary: Too Damn Easy is a cash gifting scheme, there's no other way around it. They don't even try so hard to hide the fact that they are one. Q presents the opportunity as a life-changing system and they just tell you all the hype in their sales video.
Rating: 1/100
Recommended: No!
More...
Too Damn Easy is an online income opportunity that has you guessing what it really is about.
They will only give you the details of the program once you fork over your contact and financial information.
Only then will you know that this is a pyramid scheme/cash gifting scheme that's borderline illegal in several, if not all, countries around the world.
If you go over to their website, you'll see an outdated landing page with clickbait headings and sleazy videos that contain pictures of Q's, the founder, fat stacks of cash. But it will never tell you what you need to do to start earning money.
The videos will continue to claim that a lot of people are already making mad dough over his cash gifting scheme. He's mentioned that people are already earning $100,000 a year thanks to the program.
Note that he actually uses "cash gifting scheme" in his videos, so if that's not an admission of a scam, I don't know what is.
Q Doesn't Show Us Who He Or She Is
The sales video do not impress us as far as we're concerned. Q is no more than an anonymous guy hiding behind a camera while counting wads of money and telling you that you can get the same results as him if you sign up for Too Damn Easy.
Obviously, Q is a fake person hiding behind a nonsense name so we won't figure out who the brains of the operation are. This should be more than enough to convince you not to trust this program.
Too Damn Easy invites you to subscribe to their email newsletter, which you'll find at the bottom of their sales page. You'll need to fill out the details and you'll get an email that contains a link to two PDF files called the Dream Tube System, which is a 25-page e-Book, and Q Box, which is nothing more than added hype to the program on how much money you can earn along with the step-by-step instructions on how to get started.
We signed up with our dummy email and sure enough, both PDF files don't tell you anything about the system. Too Damn Easy is literally a system with no products or services to sell or offer. There's no value in signing up to become a member of Too Damn Easy.
The PDFs will only tell you that you can make money by asking people to sign up for the same scam you fell for.
And the way to do that is to order hundreds or thousands of postcards identical to the one you received and send it to people.
The PDF and videos will tell you that this is a fully automated system and that you only need to just order postcards. That's it.
I'm Jerry!
I Created My Own 4-Figure Monthly Passive Income at just 21 Years Old!​
The Expensive Costs Of Too Damn Easy!
When you get a postcard in the mail from Too Damn Easy, you're asked to call a number that will lead you to a pre-record voice message. This message will tell you how great this opportunity is and that you have to buy into the system.
There are three levels of membership in Too Damn Easy. The cheapest one is $2000, while the most expensive one is $18,000.
We are not joking here.
The compensation plan is designed to convince you that you should get the $18,000 membership level. How?
Well, if you signed up for the cheapest package, you're limited to the commission you earn. If your recruit signs up for the most expensive package, you'll only get the maximum commission allowed on your level. The excess commission goes to the other members up your tier. Simply put, this is a pay-to-win kind of business model.
Too Damn Easy is not meant for anyone. This is a cash-gifting scheme!
Too Damn Easy Ugly Truths Revealed!
#1 No Refund Policy
Too Damn Easy has no refund policy. Why should it? It's a cash gifting scheme. The money you invest into the program is taken by the members up on the higher levels, or those who recruited you and upwards.
The money does not go into a product or service, nor is it being used for anything other than compensation. It's just going from one pocket to the other.
#2 Cash Gifting Is Illegal
Cash gifting can make you money, that's true, but it doesn't mean that it's a legal way to do so.
In fact, government regulatory agencies such as the FTC and SEC issue several warnings against companies like Too Damn Easy.
Their common warning is that when income opportunities rely on recruitment for more than half of their compensation plan, that's usually an indicator that it's a pyramid scheme or cash gifting scheme.
There's no proof here that Too Damn Easy makes you money outside of recruiting people.
Save yourself the thousands of dollars and go look somewhere else.
#3 Q Does Not Exist!
It doesn't add confidence in the company's trustworthiness when we say that Q does not exist in real life. I mean, we know there's a real person behind the persona, but we don't know who that is.
Do you really want to hand over thousands of dollars of your hard-earned money to someone who doesn't even trust you with their identity?
What I Like About Too Damn Easy?
There's nothing to like about Too Damn Easy.
Too Damn Easy is a cash gifting scheme, or a pyramid scheme, or whatever you want to call it. It's a scam and you shouldn't trust this program at all.
There's no proof here that you're going to make any money through their system. Even if you could make money, their business model is illegal and you could land some serious jail time when you promote and make money off of people through Too Damn Easy.
How I Make a Living Online?
I've personally created a 4-Figure Monthly Passive Income Stream and become financially independent at just 21 years old without any College degree or working experience!
Through my own hard work, I went from a broke restaurant waiter to living my dream laptop lifestyle in less than a year's time...
If you want to discover the secrets of how I did it at such a young age, click here!