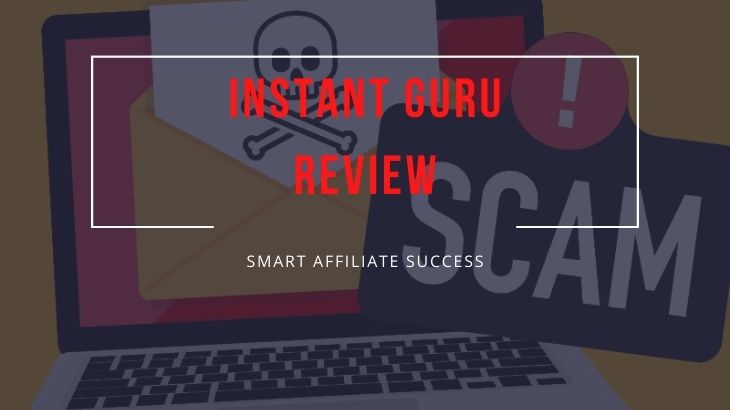 Instant Guru Review – A Rehashed Spun Content DFY System!
Welcome to my Instant Guru review!
We've reviewed a handful of WarriorPlus products. Each one of them turned out to be more terrible than the next. Not because they were scams (some of them were, actually), but the fact that the programs were just pure BS to begin with.
You'll see what we mean when we talk about another WarriorPlus product called Instant Guru.
First of all, I must Congratulate you for taking your time to do your own research before buying into any "seemingly good" product.
That's the way to avoid scams and find the legitimate way to make money online!
Let me be completely transparent with you, I'm not associated with Instant Guru in any form.
So, rest assured that I'm not here to pitch or sell anything to you.
Instead, I'm here to reveal what this system was rehashed out of...
Instant Guru Review Summary
Product Name: Instant Guru
Founder: Dan Green
Product Type: Affiliate Marketing DFY System
Price: $29 plus upsells
Best For: No one!
Summary: Instant Guru is an affiliate marketing DFY system that publishes terrible websites and creates awful duplicate/spun content for its members. Those alone should be more than enough to dissuade you from getting this system...
Rating: 1/100
Recommended: No!
More...
Instant Guru is a WarriorPlus product that creates your own "review website". It's supposedly going to help you generate traffic and conversions on autopilot.
The price is $29, but you get a whopping $1,018 for six upsells. None of these upsells will ever enhance your experience with Instant Guru.
But what we found out during our research was that Instant Guru is a rehash of an older system named Click and Bank. The dashboard of both programs are the same, except for the logo which they conveniently changed.
According to the founder, Dan Green, all you really need to do is make a few clicks to get ranked on Google. His system will make it so that you don't need to work hard.
And you don't need prior experience in working with websites or writing content for that matter because Instant Guru will do everything for you.
In essence, Instant Guru sounds perfect. Execution, however, is a totally different story. The program is just riddled with problems that are not addressed or left out by Dan.
Who Is Dan Green?
Instant Guru was created by Dan Green. No, we're not talking about the renowned YA novelist, Dan Green. This is an entirely different Dan Green.
Dan Green owns a company named Byte Marketer and operates out of England. His company creates programs that allow people to generate automated income. His other programs include:
EdUpay
Brand Marketer
fiverrpal
Instant Guru
Automation Empire
These programs have one thing in common: to generate profits automatically. Dan's experience with marketing is non-existent, meaning we couldn't find a marketing background prior to Instant Guru.
The website for his company mentions that he has a degree in Computer Science but that's about it. What we think is happening here is that Dan is aptly great at creating software that sells the automated income dream, and he just sells his programs by making fake promises and hyped-up claims of income.
Instant Guru is a system that lets you create your website and fill it with product reviews that are supposedly going to get ranked on Google.
You just name the website, add some fancy banner, some background, and a logo, and the website's good to go.
Easy, right?
But it sounds to good to be true. Below, you'll see what your website will actually look like.
The banner placement looks out of place, the content thumbnails are squished, and the photos are not sized properly.
Let's not talk about the barely readable content on there too. The paragraphs look tight together, so much so that you're giving the reader claustrophobia just by reading your page.
Do you really think that people will actually read your content here? No!
Absolutely not! That's just not how websites and content work in general.
I'm Jerry!
I Created My Own 4-Figure Monthly Passive Income at just 21 Years Old!​
Instant Guru Website Content
Okay, we're done with the website setup. Now let's talk about the content.
The sales page of Instant Guru claims that they will supply you with fresh content for your website daily. These reviews are focused on products from JVZoo and WarriorPlus, so expect them to be high-converting, they say. Dan will even claim that the system is more than capable of ranking your site on Google, thus making you an Instant Guru.
What they don't tell you is the kind of content, or the quality thereof, you get. Instant Guru pulls the content for your website from other existing pages already. That makes your website, and others like it, a host for duplicate content.
You know what happens to websites with duplicate content? They don't really last long in the eyes of Google. Before you know it, your website goes down in the 100th or 200th page of the SERPs for duplicating content.
Need we say more?
Another Problem: Spun Content
Duplicate content doesn't mean copying and pasting directly from one website to the other. Sometimes they come in the form of spun content.
You take a software, like a spinning bot, load the article on there, and it will try to create a new version of the article by rewording. The rewording is only done by loading in synonyms of individual words, and it's easy to spot spun content.
With spun content, will your website get ranked? NO.
Will you be able to produce quality content? NO.
Instant Guru is not something that novice marketers should get. If they want to get started with affiliate marketing the right way, they should enrol in Wealthy Affiliate.
Instant Guru Ugly Truths Revealed!
#1 Rehash of Old System!
Instant Guru is a rehash of the same old system that Dan Green made previously. This was running the same MO and the same processes, meaning it gave you duplicate and spun content.
Do you really think that Dan put in the work to improve Instant Guru from the old system? Nah, fam!
#2 Awful Website Design
Expected from a DFY system, you're getting the crappiest website design possible. If your content was terrible to begin with, the website design is just adding insult to injury at this point.
#3 Unethical Duplicate Content
You're getting spun or duplicate content flooding into your website, and that's not the way to do business in affiliate marketing.
I don't really see how it's possible for anyone outside of Instant Guru's management to make any money using their system.
#4 You Could Lose Your Business
Your website is a subdomain of Instant Guru, so it's hosted on the same platform that their system is hosted on.
When Instant Guru closes its doors, guess what it also tries to take with them… That's right, your website. And pretty much, any other website that the Instant Guru hosts are gone too
What I Like About Instant Guru?
Instant Guru is an abomination of an income opportunity. It's not a scam, but it's just terrible in the way it does things.
Instant Guru is not a scam, but it's a terrible way to do business. Dan Green rehashes Click and Bank, so it's just the same old crap with a different topping. DFY systems are almost always bad news, mostly because they promise a lot of things but never fulfill them.
Instant Guru creates a terrible website with awful duplicate content for you, and you don't want to do that ever.
How I Make a Living Online?
I've personally created a 4-Figure Monthly Passive Income Stream and become financially independent at just 21 years old without any College degree or working experience!
Through my own hard work, I went from a broke restaurant waiter to living my dream laptop lifestyle in less than a year's time...
If you want to discover the secrets of how I did it at such a young age, click here!