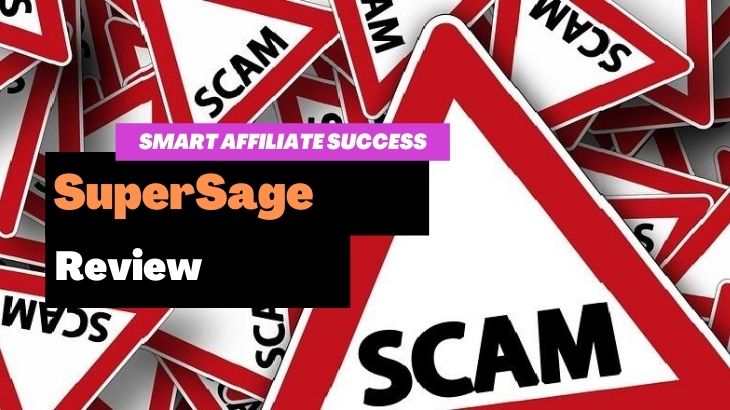 What Is SuperSage? A Possible Forsage MLM Clone!
Welcome to my SuperSage review!
Let's get one thing straight here. You cannot operate a decentralized smart contract and MLM company at the same time. If your MLM company offers a decentralized smart contract service that will allow people to profit, then you need to register with the corresponding agencies and follow their guidelines.
The company that we're about to review does none of that, and people wonder why they still fall victim to Ponzi schemes.
This is SuperSage.
First of all, I must Congratulate you for taking your time to do your own research before buying into any "seemingly good" product.
That's the way to avoid scams and find the legitimate way to make money online!
Let me be completely transparent with you, I'm not associated with SuperSage in any form.
So, rest assured that I'm not here to pitch or sell anything to you.
Instead, I'm here to reveal what this clone has to offer, if ever...
SuperSage Review Summary
Product Name: SuperSage
Founder: Not disclosed
Product Type: Investment MLM Ponzi Scheme
Price: 500TRX (roughly $14) minimum investment
Best For: No one
Summary: SuperSage is a cryptocurrency MLM pyramid scheme that claims to operate in the blockchain. But there's just a lot of things wrong with what they're claiming. We also have enough reason to believe that this is a clone of Forsage, another pyramid scheme that we reviewed.
Rating: 1/100
Recommended: No!
More...
SuperSage claims to be a MLM or multi-level marketing company that operates the "first-ever 100% decentralized web and smart contract". In simpler terms, it's a decentralized crowdfunded matrix project that's automated. This means that there's no third-party involved in handling the funds and all payouts are automatic.
But because they're a MLM company, they would still need to be registered with the agencies that govern MLM activities. You know what we found out? They're not registered with anything.
In fact, we don't know who owns the website.
The domain name, supersage.io, was registered on July 2020 and done through a private registration.
The way their company works is that you invest in cryptocurrency, namely TRX or Trion, then your investment automatically gets put into the blockchain.
The blockchain computes the earnings you're supposed to generate and pays you automatically.
SuperSage Product Line
There's no product being offered by SuperSage here. There's not even a service. All that you're doing is investing in their so-called blockchain and having the smart contracts manage all the payouts.
I'm Jerry!
I Created My Own 4-Figure Monthly Passive Income at just 21 Years Old!​
Does The Product Work?
SuperSage is a Ponzi scheme, as far as we can tell. The only way you're making money off of this program is through recruitment, and you'll see that on their compensation plan.
If you're thinking that blockchain transactions can protect you from going to jail, you've thought wrong. Transactions are done in Tron or Ethereum and are pseudonymous, meaning these are done under a false name or alias. You can still be traced and prosecuted if you commit wrongdoings within the blockchain.
And why would you go to jail, you ask?
Well for starters, it's a Ponzi scheme and that you're making money off of people.SuperSage operates under the assumption of investing, and they need to be registered with the governing agencies to carry out these transactions. They're promising passive income in the guise of these investments, but since they're not registered with the agencies, they're committing securities fraud.
If you make money when you invite people into the program, you're also committing securities fraud. That's how you land some jail time.
How To Make Money with SuperSage?
There's only one way to make money from SuperSage and that's through recruiting people.
How To Get Started with SuperSage?
You need to invest a minimum of 500 TRON (which is valued at $14.45 at this time of writing). There's no mention of how much the maximum investment is.
SuperSage Compensation Plan
Signing up for the project requires a minimum of 500TRX invested.
Once you're invested, you're put at the top of two pyramid structures called S3 and S4.
To make more money, you have to pay more TRX to unlock each "level". To get your investment back at that level, you need to recruit new users into the project.
In the S3 pyramid, you have to recruit 3 people per level. S4 pyramid will have you recruiting 4 people per level.
Once you've recruited 3 or 4 people, you earn TRX. You will then progress to the next level. You'll unlock up to 28 available levels for users - 14 for S3 and 14 for S4. We don't know or why it's 14 for both when they're both split differently.
Here's an image of how the pyramid will look like.
When you sign up for the project, users are required to pay 500 TRX (valued at $12.5 USD). Users then join the Partner Income system. This system puts users into two pyramid structures at once, called 'S3' and 'S4'.
You can see a diagram of S3 and S4 below.
Now I know you have a lot of questions, so we'll pre-emptively answer those in the next section below.
SuperSage Ugly Truths Revealed!
#1 Ponzi Scheme! Duh!
Here's what doesn't make sense for us. Why do they need to have you recruit people to bring money? Wasn't the program supposed to grow your money by investing?
Let's look at some numbers, shall we?
This is a snippet of some stats from their website.
They claim they have about 25,500 participants who've made $1,805,406.25 between them. That's about $70.54 per person. But we all know that's not the way the money's divided.
The majority of that money only goes to the first 1% of the people who joined. They just make money off of people who just joined. That's it.
From that point on, every new investor doesn't earn anything until they recruit people. But even then, there's no proof that they're going to get paid here.
#2 Possible Forsage Reboot
There's no way to tell who owns the program, but we're assuming that SuperSage is a possible reboot of other Ponzi schemes such as Forsage. We recently did a review about Forsage and it works the same way as SuperSage.
Even the language they use on the SuperSage website looks exactly the same as Forsage's.
What I Like About SuperSage?
There's nothing to like about SuperSage. It's an obvious Ponzi scheme and there's no proof that people are making money here.
SuperSage is a pyramid scheme as far as we're concerned. Their compensation plan does not make sense in terms of what they have to offer.
You're only making money here when you bring in people to the program. There's no question here about whether or not people are making money. Only the people who run the program are making money. The $1.8 million they earned were probably split between the 1% of the people in the program and gave out chump changes to the rest.
How I Make a Living Online?
I'm not a fan of MLM, not because it's illegal or not profitable, but because of all the restrictions and the expensive costs involved.
Instead, Affiliate Marketing is my top recommended business model for anyone to make money online.
The reason is simple...
You don't have to recruit anyone to make money
You have the freedom to promote any products you want and not being restricted to only promote the products from one MLM company
It's Free to get started
In fact, with affiliate marketing...
I've personally created a 4-Figure Monthly Passive Income Stream and become financially independent at just 21 years old without any College degree or working experience!
Through my own hard work, I went from a broke restaurant waiter to living my dream laptop lifestyle in less than a year's time...
If you want to discover the secrets of how I did it at such a young age, click here!