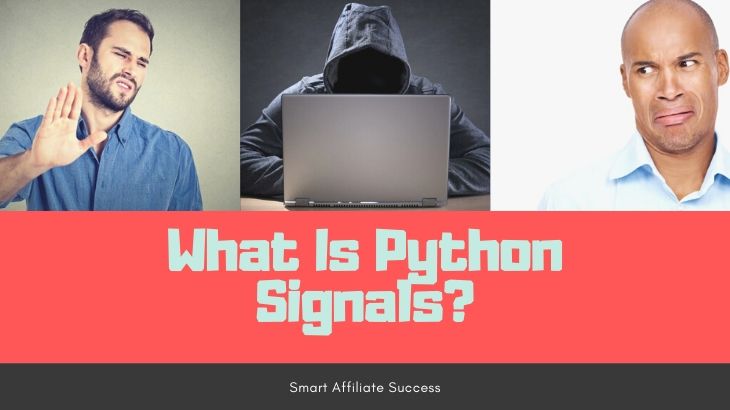 What Is Python Signals? Read All About This Ponzi Scheme!
Welcome to my Python Signals review!
Over the past year, Smart Affiliate Success has uncovered a lot of these cryptocurrency pyramid schemes. It doesn't really take a lot of brain cells to identify whether or not a MLM company is a pyramid scheme too. You just have to look for some of the biggest red flags.
Granted, there were a handful of pyramid schemes that actually did a great job at looking like a legitimate income opportunity.
Today, we're looking at an almost-legitimate MLM company that could've passed anyone's standards. This is Python Signals.
First of all, I must Congratulate you for taking your time to do your own research before buying into any "seemingly good" product.
That's the way to avoid scams and find the legitimate way to make money online!
Let me be completely transparent with you, I'm not associated with Python Signals in any form.
So, rest assured that I'm not here to pitch or sell anything to you.
Instead, I'm here to reveal why we think this is a Ponzi scheme...
Python Signals Review Summary
Product Name: Python Signals
Founder: Marius Landman, Gavin Victor, and Enakirerhi Ejoywoke
Product Type: Cryptocurrency MLM
Price: $150 to $2000 subscriptions
Best For: NO ONE!
Summary: Python Signals is a cryptocurrency MLM program that's marketed by people who've had previous involvement with other pyramid schemes. It's just suspicious when all three of them are involved into this new one because we have reason to believe that this might be their newest pyramid scheme.
Rating: 1/100
Recommended: No!
More...
Python Signals is a MLM or multi-level marketing company that operates in the cryptocurrency niche. The company is owned by Marius Landman, Gavin Victor, and Enakirerhi Ejoywoke.
Let's break down who their leaders or management people are, shall we?
Marius Landman is a ghost, meaning he's not had any significant contributions to the MLM industry or cryptocurrency industry, but he's somehow a self-professed cryptocurrency expert. He's been posting price predictions over at his Twitter account over the past few years.
Gavin Victor revealed in a 2019 Python Signals Webinar that he was a participant in the USI Tech, BitConnect, and Davor Coin Ponzi Schemes. He also said that he worked closely with Ejoywoke on these pyramid schemes, but it's unclear as to whether or not Ejoywoke was involved in these schemes.
Ejoywoke is CEO of RealSearch and Partners, a blockchain development firm. He was also the chief marketing officer of Agrostorm, a collapsed Nigerian Investment Scheme.
The company seems to be registede in Mauritius according to the website, but it appears to have strong ties to Africa thanks to one of its executives. Australia is also mentioned, but it's unclear as to why they have a hold on that country.
Python Signals Product Line
Python Signals offers no retail products or services. Instead, members are only able to purchase membership into the program, which allows them to make money from their compensation plan.
Members also gain access to the "Bitcoin trend forecast and Bitcoin price predictions" section of the program, but it's unclear as to what this is.
However, we assume that it's the same free service that Landman has been promoting on his Twitter for the past few years.
I'm Jerry!
I Created My Own 4-Figure Monthly Passive Income at just 21 Years Old!​
Does The Product Work?
Here's where it gets sketchy for Python Signals.
There's literally no investment being made here, so there are no profits generated other than having to recruit people into the program.
The commissions paid out to members come from the affiliate subscription fees, which defines them first and foremostly a pyramid scheme.
If you don't believe me, check out this guideline on how to spot a pyramid scheme by FTC/SEC:
How To Make Money with Python Signals?
You can only make money from Python Signals by purchasing into their compensation plan and getting people to buy it as well.
We'll go over their compensation plan in the next section.
How To Get Started with Python Signals?
Your membership is tied to a recurring subscription as follows:
Gold – $150 (90 day subscription)
Platinum – $250 (180 day subscription)
Galaxy – $500 (12 months subscription)
Diamond – $950 (24 months subscription)
Lifetime Galaxy – $2000 (one-time subscription)
These also dictate your income potential, so obviously, the higher tier you purchase, the more income you make.
Python Signals Compensation Plan
Contrary to what you think, there are no investments being made here so there's no ROI to expect. You do get commissions from the following:
Recruitment Commissions
You get a commission when you recruit people into the program. The commission rate is determined on the amount that the new member paid, and your subscription:
Gold, Platinum, Galaxy and Diamond affiliates earn 10%
Lifetime Galaxy affiliates earn 15%
Residual Commissions
Python Signals follows a 2x18 matrix for residual commissions. This means that you earn from the team you build under you. Two positions are split under the member and are considered the first level. The first level is split into two more, giving you 4 positions for the 2nd level, and goes on.
How many matrix levels a Python Signals member earns depends on how much they paid for their subscription:
Gold position earns on up to nine matrix levels
Platinum position earns on up to twelve matrix levels
Galaxy and costlier position earns on all eighteen available matrix levels
Rising Star Bonus
You need to buy in at Gold tier and recruit two Gold or higher tier members to qualify for the bonus. Once this bonus is applied, you get an extra $5 or $20 for each time someone you recruit gets the bonus.
Python Signals Ugly Truths Revealed!
#1 Possible Pyramid Scheme
Because they don't have any retail products or service, it's clear that this company is nothing more thana pyramid scheme.
You're buying into a membership to earn from their compensation plan, which is something that the FTC and SEC hate.
Once the recruitment stops, the money will stop flowing too.
#2 Owners' Involvement With Notorious Pyramid Schemes
It's no surprise that we're suspicious about this program being a pyramid scheme because of the owners. Their previous involvement with other pyramid schemes, and notorious ones at that, indicates there's something fishy about this program.
What I Like About Python Signals?
There's nothing to like about the program. It's a pyramid scheme.
Is Python Signals a Scam?
Python Signals is obviously a pyramid scheme, so the only thing we can do is tell people to avoid this program.
There's no income potential here. There's no investment being made with your money. You are simply buying into a recruitment program that will help you make money via their compensation plan.
The owners' previous involvement with notorious pyramid schemes adds more suspicion that there's something wrong about this MLM company. It just doesn't sit well with us given that they made money off of people.
Stay away from this program at all times.
How I Make a Living Online?
I'm not a fan of MLM, not because it's illegal or not profitable, but because of all the restrictions and the expensive costs involved.
Instead, Affiliate Marketing is my top recommended business model for anyone to make money online.
The reason is simple...
You don't have to recruit anyone to make money
You have the freedom to promote any products you want and not being restricted to only promote the products from one MLM company
It's Free to get started
In fact, with affiliate marketing...
I've personally created a 4-Figure Monthly Passive Income Stream and become financially independent at just 21 years old without any College degree or working experience!
Through my own hard work, I went from a broke restaurant waiter to living my dream laptop lifestyle in less than a year's time...
If you want to discover the secrets of how I did it at such a young age, click here!