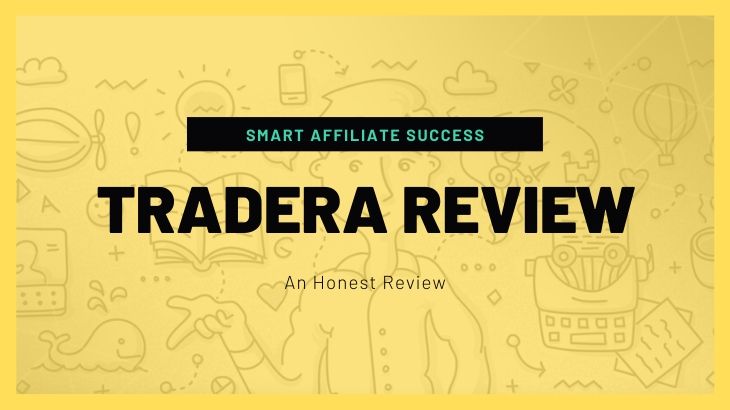 Tradera Review – A Forex Subscription MLM Reviewed!
Welcome to my Tradera review!
In the MLM Industry, you'll rarely find one that serves in the Forex trading niche. It's even rarer to find decent and legitimate ones too. But you might be wondering, how is Forex trading even going to fit the MLM industry?
Well, the legitimate ones we reviewed came in the form of newsletters and investment guides. You're buying and selling a subscription into a resource for Forex trading. If you get word of a MLM company that markets a trading bot, it's probably a scam.
Today, we're reviewing Tradera, a Forex trading subscription service of sorts.
First of all, I must Congratulate you for taking your time to do your own research before buying into any "seemingly good" product.
That's the way to avoid scams and find the legitimate way to make money online!
Let me be completely transparent with you, I'm not associated with Tradera in any form.
So, rest assured that I'm not here to pitch or sell anything to you.
Instead, I'm here to reveal what this program is all about...
Tradera Review Summary
Product Name: Tradera
Founder: Not disclosed
Product Type: Forex Subscription MLM
Price: $15 for 28 days for affiliate members
Best For: No one
Summary: Tradera is a MLM company that provides a Forex education through their membership or subscription. However, we don't want to recommend this program to anyone simply because there's no owner information and no information about where they operate. It's more of a trust issue than anything else that prevents us from recommending this program.
Rating: 50/100
Recommended: No!
More...
Tradera is a MLM or multi-level marketing company that claims it's a Forex education opportunity. It not only teaches you everything you need to know about Forex, but also give you the opportunity to make money selling the program too.
Doing a quick search on Google about Tradera will yield little information about the company background. We weren't able to find information on who owns the website, who runs it, and where they are currently operating.
We do know that the website was launched in 2019, but it's hard to determine if that was the time they started their business or if they've already been around before that.
Tradera Product Line
What you're getting from Tradera is a subscription program that trains people how to do Forex trading.
You'll gain access to the following resources:
Trade alerts

Market forecasts

Live training sessions

Education platform
And more…
I'm Jerry!
I Created My Own 4-Figure Monthly Passive Income at just 21 Years Old!​
Does The Product Work?
Because they're focused on providing you with a training program, the only way to determine if the product is good enough is to identify who their trainers are.
Unfortunately, we weren't able to get any information as to who authored the resources listed above and who carries out the training.
This is not to discredit Tradera or call them out for being a scam. The fact that we don't know who provided these resources simply means that it's hard to verify whether they're delivering legitimate information or not.
How To Make Money with Tradera?
Tradera has a simplistic compensation plan that allows you to make money by selling the program and getting people to join the program.
55% of their compensation plan covers retail sales, so that's out of the SEC/FTC red flags for pyramid schemes.
How To Get Started with Tradera?
Joining as an affiliate will cost you $15 every 28 days. This will allow you to make money from selling the subscription service at $99. As an affiliate, you're not required to get the subscription.
Tradera Compensation Plan
Their compensation plan is very simple, and contains only 6 pages of important information. Here's a breakdown of how you can make money.
Affiliate Ranks
How much you make will depend on your rank, and there's 9 of them. The higher the rank, the more money you make.
To move up in rank, you have to sell and maintain subscriptions for a fixed amount of time.
Founder (sell and maintain 3 client subscriptions)

Knight (sell and maintain 3 client subscriptions and have 10 members in your downline)

Noble (sell and maintain 3 client subscriptions and have 25 members in your downline)

Bishop (sell and maintain 3 client subscriptions and have 75 members in your downline)

Duke/Duchess (sell and maintain 3 client subscriptions and have 200 members in your downline)

Prince/Princess (sell and maintain 3 client subscriptions and have 500 members in your downline)

King/Queen (sell and maintain 3 client subscriptions and have 1000 members in your downline)

Emperor/Empress (sell and maintain 3 client subscriptions and have 2000 members in your downline)

Legend (sell and maintain 3 client subscriptions and have 500 members in your downline)
Residual Commissions
You'll need to build three unilevel legs and have a 4:4:2 split across each leg. This might be confusing, but think of it this way.
To get to Noble rank, you'd need 25 members spread across these three legs following a 10:10:5 split. Two legs will have 10 members and one leg will have 5 members.
You can't place your members in one leg.
On top of that, 55% of all your members have to be retail customers.
Here's how much you can make per rank:
Founder gets $125 per week

Knights get $125 per week

Nobles get $250 per week

Bishops get $500 per week

Dukes/Duchesses get $1,250 per week

Princes/Princesses get $2,500 per week

Kings/Queens get $5,000 per week

Emperors/Empresses get $12,500 per week

Legends get $25,000 per week.
Tradera Ugly Truths Revealed!
#1 Unknown Owner
Their owner's identity is unknown, which is something that we consider as a red flag. Even though they're not a pyramid scheme, hiding owner information makes it look like they're up to something.
Hiding owner information also means that they want to escape liability in case of legal actions. Normally for Forex trading, you want your name plastered all over your courses and products because it adds credibility.
#2 Address Is A PO Box
The address listed on their website is actually a PO Box, which means that they don't have physical headquarters, or that they don't want people to know where they're located.
Much like hiding owner information, this is one way of escaping liability.
What I Like About Tradera?
#1 Affordable Membership
The program's affordable enough to join and you could technically get your money back on your affiliate membership as soon as you make your first sale every 28 days.
Tradera is far from being a scam, and we don't think this is a pyramid scheme. But we don't want to recommend this to anyone as well.
There's no owner information, so it kind of builds suspicions for people who are wary of MLM companies. They also lose credibility as a MLM company because of this.

There's no information about where they're located, or where they operate. Again, they lose credibility because it doesn't sit well with us or with anyone if we don't know where a company is.
There's not enough proof that Tradera is a pyramid scheme, given that their compensation plan is focused on retail sales. However, these two red flags are just wasting Tradera's potential to be something good.
How I Make a Living Online?
I'm not a fan of MLM, not because it's illegal or not profitable, but because of all the restrictions and the expensive costs involved.
Instead, Affiliate Marketing is my top recommended business model for anyone to make money online.
The reason is simple...
You don't have to recruit anyone to make money
You have the freedom to promote any products you want and not being restricted to only promote the products from one MLM company
It's Free to get started
In fact, with affiliate marketing...
I've personally created a 4-Figure Monthly Passive Income Stream and become financially independent at just 21 years old without any College degree or working experience!
Through my own hard work, I went from a broke restaurant waiter to living my dream laptop lifestyle in less than a year's time...
If you want to discover the secrets of how I did it at such a young age, click here!