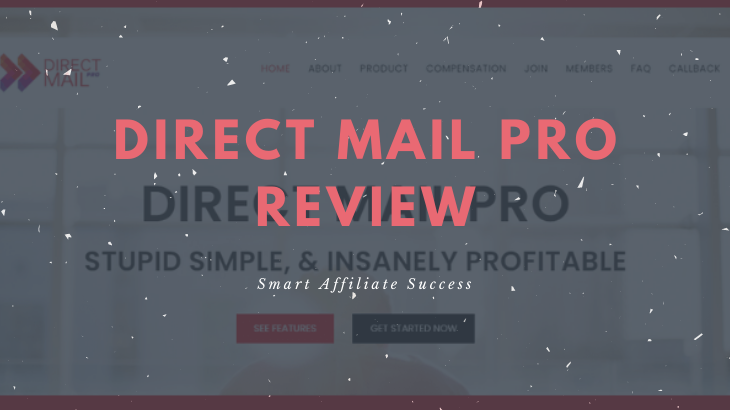 What Is Direct Mail Pro? A Possible Affiliate Marketing Pyramid Scheme
Welcome to my Direct Mail Pro review!
We here at Smart Affiliate Success have reviewed enough programs to identify a few marketers who have been known to create shady programs. And by that we mean we know well enough that if this person made a new program, we're already inclined to think there's something shady going on.
The same thing also applies to Direct Mail Pro because of its owner.
And you'll understand why in this review of Direct Mail Pro.
First of all, I must Congratulate you for taking your time to do your own research before buying into any "seemingly good" product.
That's the way to avoid scams and find the legitimate way to make money online!
Let me be completely transparent with you, I'm not associated with Direct Mail Pro in any form.
So, rest assured that I'm not here to pitch or sell anything to you.
Instead, I'm here to reveal what this affiliate marketing scheme is all about...
Direct Mail Pro Review Summary
Product Name: Direct Mail Pro
Founder: Peter Wolfing
Product Type: Affiliate Marketing Scheme
Price: $250 to $5000 (starter packs)
Best For: No one!
Summary: Direct Mail Pro is an affiliate marketing program with a hint of MLM compensation plan. With that said, we believe it to be a pyramid scheme in disguise simply because of their business model. They're incentivizing people who buy the expensive packages and recruiting more people. This means that if you spend more money, you make more money. If you recruit more people, you also make more.
Rating: 1/100
Recommended: No!
More...
Direct Mail Pro is marketed as an affiliate marketing program that's meant to help you make money only through their system and their income opportunity.
This program has you joining and earning commissions based on what package you've joined in. The more money you spent on the program, the more money you make. This is where it becomes problematic. But we'll explain that in the next few sections.
The company was founded in 2019 by none other than Peter Wolfing. It's based out in the USA.
For those of you who don't know, Peter Wolfing has quite the colorful (shady) reputation in the network marketing industry.
He's been involved in the following programs. At least these are the ones that we know of:
Turbo Cycler ($200-$1000 matrix-based Ponzi scheme)

Turbo Cycler (cash gifting)

Ultimate Cycler (Ponzi cycler)

Business Toolbox(chain-recruitment)

Infinity 100 (cash gifting)

National Wealth Center (cash gifting)

Pay Me Forward (cash gifting)
Now, let's see the rest of the review to learn how you can leverage Direct Mail Pro.
Direct Mail Pro is all about helping you set up a small business that will allow you to promote the program as a way to improve their marketing strategies.
Simply put, you pay for the program, get in the program, earn money by selling the program, and get people to join the program.
When you sell or recruit, you make money through the program.
But here's the kicker.
The program's income opportunity only has you earning through commissions. Your earnings are dependent on the package you purchase. Then you earn a maxed out commission based on the package you sign up for.
Technically, you're just recruiting people into the program and offering them the same thing that you've been offered.
Is this a pyramid scheme?
There are products involved, so it's not exactly tagged as a pyramid scheme if we have to base it on FTC guidelines. But since their compensation plan is on a multi-tier system, they're operating as a MLM scheme (in disguise).
Your main goal here is to upgrade through the different levels, or buy the more expensive packages and promote the opportunity to other people.
I'm Jerry!
I Created My Own 4-Figure Monthly Passive Income at just 21 Years Old!​
What You Get Inside Of Direct Mail Pro?
Now what exactly do you get from signing up for Direct Mail Pro? Well you get their starter kit in a box:
A USB Flash Drive with Training (video and pdf)

A Ticket for a Live Event

Physical Marketing Material

Onboarding Material

Books and Magazines
This kit is basically helping you learn more about the business and get you the different strategies to promote the opportunity.
But if you want more "resources", you'll have to upgrade your kits to get more boxes delivered to you.
Price And Memberships
Here's the list of their packages and the pricing:
Kickstarter Level – $250

Amateur Level – $500

Elite Level – $1,000

Pro Level – $2,500

VIP Level – $5,000
The first level contains all of the products listed above. Upgrading to better packages will get you better paying commissions when you sell them.
Each package comes with more products and training, which means that you'll have to purchase the VIP Level to get all of the products included in the other levels and earn the highest commission percentage possible.
Direct Mail Pro's Compensation Plan
We mentioned earlier that they operated a MLM scheme type of compensation plan.
Commissions are paid out when you recruit others to purchase the program.
Direct Mail Pro members earn 40% recruitment commissions based on the tier they bought in. for example, if you registered at the Kickstarter level and your recruit signs up for Elite level, you can only earn the maximum commission that Kickstarter level gives you. This means that you're missing out on potential earnings from being gimped from the product levels.
When your recruits also get others to join in, you get paid a 20% commission on these recruitments too. However, they were not clear as to how to qualify for the Level 2 commissions.
Who's Direct Mail Pro For?
Direct Mail Pro is not meant for anyone, and we'll explain in the next section. If you want to set up a legitimate business online or get started with affiliate marketing, then Direct Mail Pro is not the best program.
We suggest going over programs such as
Wealthy Affiliate
to help you understand the affiliate marketing industry better.
Direct Mail Pro Ugly Truths Revealed!
#1 Pay To Win!
Direct Mail Pro is a pay to win system that allows you to earn more when you pay more. It's as easy as that. There's no other way to increase your earnings other than through buying the other packages.
If you purchase the $5000 starter kit, you'll be good to go with the entire program and not have to worry about missing out on the earnings.
#2 No Money-Back Guarantee
Normally affiliate marketing programs have money-back guarantees that will allow people to get their money back in case they change their mind or they don't like the program.
Direct Mail Pro doesn't let you do that. Once you're all in, your money is as good as gone. The only way to recoup your expenses is to get other people into the program.
#3 Owner's Reputation With Pyramid Schemes
It doesn't help at all that the owner's reputation and history with pyramid schemes is prevalent here. Just by looking at what Direct Mail Pro has to offer, it's clear this program is just following its predecessors' footsteps.
Is Direct Mail Pro a reboot of Wolfing's other scams? We'll never know.
#4 Not A Legitimate Way To Do Business
Their business model is not a legitimate way to do business. It has several aspects of affiliate marketing on it, but it doesn't mean that this is the way it's supposed to be done.
Direct Mail Pro reeks of being a pyramid scheme but it avoids that by not categorizing itself as a MLM company. But their compensation plan actually dubs them as a MLM company. However, they do a good job at maintaining their pseudo-compliance BS.
What I Like About Direct Mail Pro?
There's nothing to like about Direct Mail Pro. The company is just bad news and will not make you any money.
Is Direct Mail Pro a Scam?
Direct Mail Pro may not be categorized as a pyramid scheme directly, but it has all the makings of one. We don't recommend this type of program to anyone for the following reasons.
Firstly, their business model is a pay-to-win business model. You have to spend more money to make more money.
Second, their compensation plan has you recruiting people just so they can purchase the program and gets you into the 2nd level commissions.
We've already mentioned the other reasons why this program sucks so bad, and for that reason, stay away from it.
How I Make a Living Online?
I've personally created a 4-Figure Monthly Passive Income Stream and become financially independent at just 21 years old without any College degree or working experience!
Through my own hard work, I went from a broke restaurant waiter to living my dream laptop lifestyle in less than a year's time...
If you want to discover the secrets of how I did it at such a young age, click here!