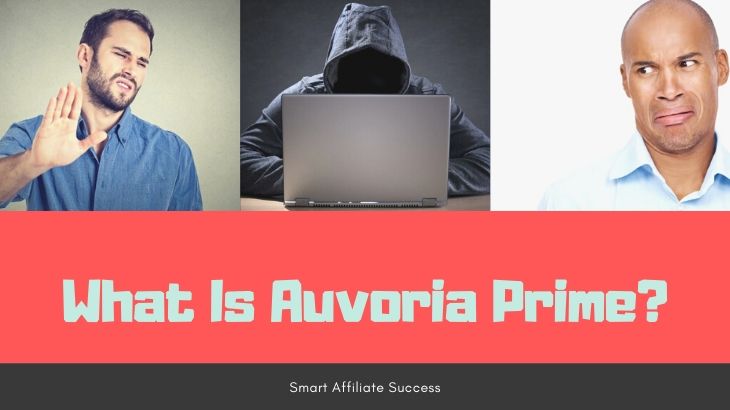 What Is Auvoria Prime? 3rd's Time The Charm For This Ponzi Scheme!
Welcome to my Auvoria Prime review!
This MLM company has been making headlines, but for all the wrong reasons. Apparently, this is the company's third iteration, meaning this is the third time it restructured.
How bad did this company do to get third iterations?
This is Auvoria Prime.
First of all, I must Congratulate you for taking your time to do your own research before buying into any "seemingly good" product.
That's the way to avoid scams and find the legitimate way to make money online!
Let me be completely transparent with you, I'm not associated with Auvoria Prime in any form.
So, rest assured that I'm not here to pitch or sell anything to you.
Instead, I'm here to reveal what this ponzi scheme is all about...
Auvoria Prime Review Summary
Product Name: Auvoria Prime
Founder: Sal Leto
Product Type: Trading Bot MLM
Price: $199 a month + Various product purchases
Best For: No one!
Summary: Auvoria Prime is marketed as a trading bot MLM, but what most people don't know is that this is the third time this Ponzi scheme has been rebooted. The owner's reputation is questionable given his numerous involvements with pyramid schemes in the last 5 years.
Rating: 1/100
Recommended: No!
More...
Auvoria Prime is a MLM or multi-level marketing company that markets finance-related products, more importantly trading bots.
In the MLM industry, MLM companies that market trading bots are somewhat sketchy because no one really knows how these bots work and most of the time they're not what they're advertised as.
Auvoria Prime is one of those sketchy companies. You see, before Auvoria Prime became Auvoria Prime, they were a little company called Eaconomy. They too marketed a trading bot that was launched last year.
This company collapsed from the inside and someone from Eaconomy named Sal Leto rebooted it and turned it into Auvoria Prime.
Sal Leto also promoted a notorious Ponzi scheme called OneCoin, so his history with working with these kinds of company is just off-putting to say the least.
After OneCoin went under, Sal switched to iPro Network which was also sued by the SEC late last year for being a pyramid scheme.
You see, Sal just keeps his hands dirty with all of these Ponzi schemes. And now he's running one.
Auvoria Prime Product Line
Auvoria Prime provides you with automated returns and trading signals using their trading bot. Access to their software comes in two different packages:
Ainstein Package – $267 for access to an automated passive returns platform, then $189 a month
Alexander Package – $267 for access to trading signals
There are also standalone products called Airis which you can buy for $39 a month, and Hailey is listed as the upcoming product.
I'm Jerry!
I Created My Own 4-Figure Monthly Passive Income at just 21 Years Old!​
Does The Product Work?
Auvoria Prime is the company's third attempt to sell a non-profitable trading bot to gullible people. The scheme started out as SilverStar Live, which ended up in a CFTC settlement worth $75,000.
Just like Eaconomy and SilverStar Live, the trading bots provided by Auvoria Prime are sketchy for two reasons:
There's no regulation or accreditation mentioned anywhere on their site.
There's no way that these products actually work based on how they're marketed.
All that's being marketed here is the opportunity to make a lot of money from getting people to join the program with no other incentive.
How To Make Money with Auvoria Prime?
Auvoria Prime only provides you with one way to make money, and that is through recruitment.
Their compensation plan is about 20 pages long and it just focuses on selling the membership.
How To Get Started with Auvoria Prime?
To join Auvoria Prime, you'll just have to subscribe to one of their trading products and maintain a monthly subscription to qualify for the commissions.
Ainstein Package will cost you $267 one-time payment with a monthly payment of $189
Alexander Package costs $267
Airis costs $39 a month for signal-based forex chart analysis
Hailey is listed as coming soon and will cost $129 a month in the compensation plan
Auvoria Prime Compensation Plan
To be eligible for the following commissions, you need to purchase one of the Auvoria Prime products and maintain a $199 monthly subscription. You also need to sell three different packages to customers or recruit 3 people every month.
Retail Commissions
According to their compensation plan spreadsheet, they offer a $40 commission for selling Ainstein or Alexander, and $20 for Hailey package.
Affiliate Ranks
You get bonuses for being promoted to different membership ranks. You get promoted based on the goals you hit (sales goals, recruitment goals, and so on).
Active Affiliate
Visionary
Visionary 600
Visionary 1,500
Icon 3,000
Icon 5,000
Icon 10,000
Auvorian 25K
Auvorian 50K
Auvorian 100K
Auvorian Legend
Residual Commissions
These are commissions you make from your downline's sales. The compensation structure is unilevel and goes on from there. Your rank determines how much you earn per downline and the amount your downline sells.
Momentum Builder Bonus
This is bonus you get from selling products Auvoria Prime, including the sales you make when you sign up a new member. If you hit a certain number of sales per year, you get into the bonus pool where you earn commissions from.
The exact commission isn't made public, but it's anywhere between 1 and 5 shares.
Auvoria Prime Ugly Truths Revealed!
#1 Owner's Questionable Credibility!
Auvoria Prime has a questionable owner, and I'm not going to beat around the bush for that one. He's been involved in numerous pyramid schemes over the last 5 years, and the latest one was just sued by the CFTC and SEC.
This is enough to dissuade me or anyone from getting involved with their scheme because of that. And a quick Google search will verify his background with these programs.
#2 Makings of a Pyramid Scheme!
If the owner doesn't make you hesitate about getting into the program, then the compensation plan should.
Basically, it just requires new members to buy products and incentivizes recruiting too much. Auvoria Prime lied about their returns here because there are no secret algorithms or trading bots to do that. The money comes from people signing up for the program.
Check out this short guideline on how pyramid schemes operate:
#3 Too Expensive!
As if that's not enough, their programs are more expensive than the legitimate trading programs out there. 99% of the people who sign up for this program are sure to lose their money.
The entire thing will cost you $2000 for the entire year, and then you'd have to buy the products separately.
What I Like About Auvoria Prime?
There's nothing to like about Auvoria Prime. Everything about it is riddled with the makings of a Ponzi scheme.
I'm 90% sure that Auvoria Prime isn't a legitimate program at all, and that's because its previous iterations were known pyramid schemes.
The owner's reputation is just too questionable and his involvement with pyramid schemes is more than enough to prove that Auvoria Prime might just be one too.
The compensation plan reeks of a pyramid scheme in the making because it incentivizes too much on recruitment.
Nothing could ever change the direction of this review unless Auvoria Prime is registered with the respective financial institutions and that the compensation plan passes FTC and SEC guidelines.
How I Make a Living Online?
I'm not a fan of MLM, not because it's illegal or not profitable, but because of all the restrictions and the expensive costs involved.
Instead, Affiliate Marketing is my top recommended business model for anyone to make money online.
The reason is simple...
You don't have to recruit anyone to make money
You have the freedom to promote any products you want and not being restricted to only promote the products from one MLM company
It's Free to get started
In fact, with affiliate marketing...
I've personally created a 4-Figure Monthly Passive Income Stream and become financially independent at just 21 years old without any College degree or working experience!
Through my own hard work, I went from a broke restaurant waiter to living my dream laptop lifestyle in less than a year's time...
If you want to discover the secrets of how I did it at such a young age, click here!