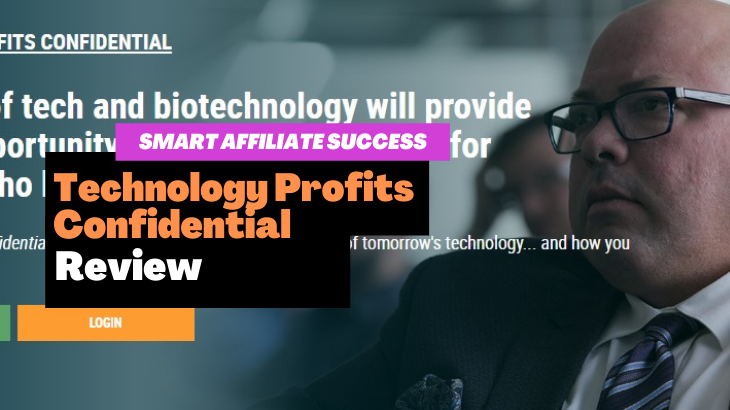 Technology Profits Confidential Review – Learn How To Trade Stocks?
Welcome to my Technnology Profits Confidential review!
It's not uncommon for people to subscribe to newsletters that give them an inside look at the markets. People who subscribe to these newsletters are also capable of making informed decisions when it comes to trading.
But for new traders, is subscribing to these newsletters the right thing to do?
Well, check out one of the newsletters called Technology Profits Confidential, or TPC.
First of all, I must Congratulate you for taking your time to do your own research before buying into any "seemingly good" product.
That's the way to avoid scams and find the legitimate way to make money online!
Let me be completely transparent with you, I'm not associated with Technology Profits Confidential in any form.
So, rest assured that I'm not here to pitch or sell anything to you.
Instead, I'm here to reveal what this newsletter has to offer...
Technology Profits Confidential Review Summary
Product Name: Technology Profits Confidential
Founder: Ray Blanco
Product Type: Financial Newsletter
Price: $199 per year
Best For: Experienced Traders and Investors
Summary: Technology Profits Confidential is a financial newsletter headed by Ray Blanco and Agora Financials. It's a great source of information for people who are experienced in investing and trading, or at least making a full-time income out of it. It's not exactly great for new traders and investors because it doesn't really provide decent training.
Rating: 50/100
Recommended: Yes and No!
More...
What is Technology Profits Confidential?
Technology Profits Confidential is a weekly financial and investment newsletter from Ray Blanco and Agora Financials. The newsletter specifically talks about investing in technology, two of Blanco's expertise.
He claims that investing in technology is about timing, and he'll help you do just that. If you invest too early, you lose a lot of money. If you get in too late, you already missed your chance.
He will teach you everything you need to know about investing in the newsletter and more.
Who Is Ray Blanco?
Ray Blanco is the editor of Technology Profits Confidential and is known to be very enthusiastic about technology as far as anyone is concerned. He is also the current editor at Agora Financial for Breakthrough Technology Alert.
Topics in the newsletter he manages include cloud computing, software, semiconductors, anti-aging science, and more.
Who is Agora Financial?
Agora Financial is a financial publishing company under The Agora. The Agora was founded in 1978 by Bill Bonner and is located in Baltimore, Maryland.
Agora Financial started off with just one publication in 1979 called International Living. Now, it has over 30 companies under its partnership.
They also have a yearly revenue of $500 for all their companies (as of 2015).
Agora Financial also published many companies such as Seven Figure Publishing, Money Map, Press, and Banyan Hill.
These companies are also run by some of the top mentors in the investing world, including Paul Mampilly and Tom Gentile.
Inside Technology Profits Confidential
Subscribing to Technology Profits Confidential will allow you to receive the following:
Monthly Technology Profits Confidential Issues: You get this email on the first week of every month and receive a physical copy in the mail on the third week of the month. These issues contain information about tech, biotech analysis, and specific investments.

Weekly Portfolio Updates: These are updates posted every Friday and give you up-to-date information on portfolios.

Access to Full Report from Technology Profits Confidential: You also get access to the full report archives (or the old reports that were published before you joined) and access to new ones that get published.

A free daily subscription of the America Uncensored, 5-minute Forecast, The Rundown, and Technology Profits Daily.

Startup Profits Daily: You get a free letter from someone named Kevin every Tuesday and Thursday. This letter covers crowdfunding and what to look for when you want to invest in startups.
I'm Jerry!
I Created My Own 4-Figure Monthly Passive Income at just 21 Years Old!​
It's also worth noting that this mysterious Kevin from Startup Profits Daily is actually Kevin Harrington of ABC's Shark Tank.
For the avid viewers of the show, he's one of the original Sharks and is a very successful entrepreneur.
After subscribing, you'll also have the option of upgrading your subscription to Technology Profits Confidential Pro. This gives you the following benefits:
Pot Timer Pro - An insider look at pot stock timing

Hype Cycle INsider - Monthly reports about the biggest tech innovations

Private Inner Circle Meetings - A monthly meeting that Blanco himself hosts and goes over the biggest breakthrough trends.
How Much Does It Cost To Join Technology Profits Confidential?
The cost of joining Technology Profits Confidential is $199 a year. You'll get 12 months' worth of newsletters and the perks listed above.
They also offer a money-back guarantee during the first 90 days of the subscription.
If you're happy with the subscription during the 90 days and did not request a refund between that period, your subscription is good and valid for a year. Refunds will no longer be accepted after this period.
Who's Technology Profits Confidential For?
Technology Profits Confidential is meant for people who are already making money in investing and trading. This isn't something that new traders and investors can pick up and make money right off the bat.
Technology Profits Confidential Ugly Truths Revealed!
#1 Penny Stock Investment
The goal of Technology Profits Confidential is to go over the details of penny stock investment. Just like any form of investment, there are certain risks associated with it and takes a lot of effort to be successful in the investing game.
You just can't go into stock investment and make millions overnight.
#2 No Guaranteed Earnings
Technology Profits Confidential is not meant to make you earn money in itself. You have to take actions recommended by the program.
You also have to be consistently active in trading and investing to maximize the earning potential of Technology Profits Confidential.
This isn't affiliate marketing where you can just plug in your affiliate links and expect people to click and buy the products even when you're asleep.
If you don't take action, you'll never make money.
In general, stock trading isn't guaranteed as well because you also have a chance of losing money in the process.
The newsletter only gives you insight on what stocks are good to invest on, but does not guarantee that you will 100% make money out of it.
#3 Overhyped Publicity
Agora Financial is known for overhyping their products, and promoting Technology Profits Confidential was no different than the rest of their publications.
Their marketing videos for Technology Profits Confidential show that timing is everything and that you'll get 1000% returns on your investments. This is the exact same thing they say on all their product videos.
What I Like About Technology Profits Confidential?
#1 Opportunity To Learn About Penny Stocks
Technology Profits Confidential is a good source of information for stock investment and investing in startups. The price you're paying for the annual fee is worth it if you're already making consistent money from either.
It also gets you a better look at penny stock investment, which is what investors usually do to make a quick buck or two.
Is Technology Profits Confidential a Scam?
Technology Profits Confidential is far from being a scam. After all, when you get one of the Sharks from Shark Tank to help with the resources and knowledge, then they're doing something right.
But it's not meant for people who are just new to stock trading and investing. Rather, it's meant for those who're already established in the industry or have at least made enough money to do it full-time.
There are better resources out there to help people learn more about investing and trading, but Technology Profits Confidential will not exactly be able to help you do that. You can go
check out programs
such as
Betterment
to help you with investing on autopilot.
How I Make a Living Online?
I've personally created a 4-Figure Monthly Passive Income Stream and become financially independent at just 21 years old without any College degree or working experience!
Through my own hard work, I went from a broke restaurant waiter to living my dream laptop lifestyle in less than a year's time...
If you want to discover the secrets of how I did it at such a young age, click here!