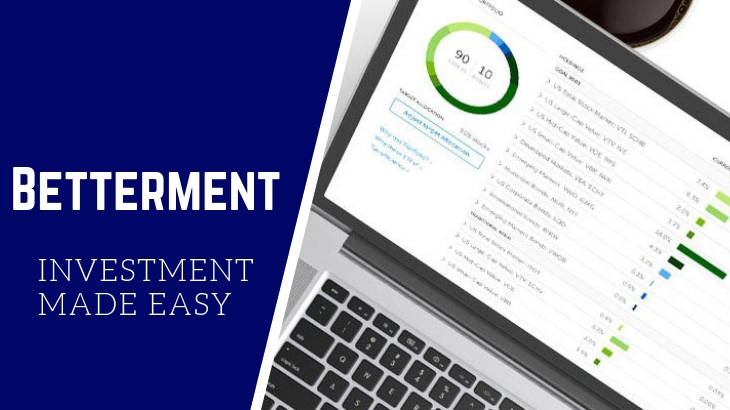 Betterment Review – A Solid Robo-Advisor For You!
Welcome to my Betterment review!
Being one of the world's largest robo-advisor brokerages, the company has more than $15 billion under management and catering to more than 400,000 users.
Simplified, diversified, and affordable, this is Betterment.
First of all, I must Congratulate you for taking your time to do your own research before buying into any "seemingly good" product.
That's the way to avoid scams and find the legitimate way to make money online!
Let me be completely transparent with you, I'm not associated with Betterment in any form.
So, rest assured that I'm not here to pitch or sell anything to you.
Instead, I'm here to reveal the ins and outs of Betterment and why this robo-advisor is for you.
Betterment Review Summary
Product Name: Betterment
Founder: Jon Stein
Product Type: Financial Investment and Wealth Management Platform
Price: $149 and above for financial advice packages. Varying Management Fees
Best For: People who want to start working with financial brokerages without worrying about spending a lot of money or a high minimum deposit.
Summary: Betterment is a financial investment robo-advisor that focuses more on algorithm-based automated processes than on human investors. This allows them to lower their management fees. They also provide a zero minimum deposit requirement to those who just want to avail of the basic services, which should encourage people to work with brokerages. This is why I would highly recommend this platform to anyone who want to work with brokerages or an investment platform.
Rating: 90/100
Recommended: Yes
More...
Betterment is an online financial robo-advisor that provides portfolio-based investment options for anyone who want to simplify their investing.
Founded in 2008 by Jon Stein and launched in 2010, Betterment shocked the industry by focusing on algorithmic portfolio investing rather than on labor-intensive human based management.
With a keen focus on ETF-based portfolios, Betterment continues to work towards their clients' ability to automatically diversify their investments and to be more efficient in taxing.
One of Betterment's most recent tools for its customers come in the form of their financial advice packages, which are tailor-made to help you at every stage of your life.
The packages are built around your would-be financial decisions that could accompany major milestones in life.
These are the following packages along with their benefits:
Getting Started Package: This is the package that gives new professionals more confidence in investing as they'll be accompanied by a professional that assesses their account setup.
Financial Checkup Package: The package that you want if you want to take your investments into the next level. This provides you with professional opinions on your portfolio and financial circumstances.
College Planning Package: As the name suggests the package helps parents who are investing with the goal of paying for their children's college education within the next 18 years.
Marriage Planning Package: A package intended for helping newlyweds and also engaged couples unite their lives and assets.
Retirement Planning Package: As you near your retirement age, your investment goals and strategies will change. This package helps you keep on target to meet your goals.
Betterment's Smart Saver For Automated Cash Management
Betterment's Smart Saver can help you optimize your investments at every level.
Smart Saver invests the extra cash lying around into low-risk bonds for higher returns that you would get with a traditional savings account.
Rather than being tied to a sign-on rate, your Smart Saver interest climbs as rates increase. With $0 in extra fees, Betterment provides users
With a goal of helping you optimize your investments at every level, Betterment has introduced a nifty new cash optimizing tool, called Smart Saver. Here's how it works. With Smart Saver, Betterment invests the extra cash you have laying around into low-risk bonds for a higher return that you would get with a traditional savings account.
Since Betterment is a robo-advisor, the whole process of managing your accounts is automated.
The Cash Analysis tool helps Betterment pinpoints the extra cash lying in your checking account. And through the Two-Way Sweep, it's able to sweep that surplus cash into your Smart Saver Account.
If your account runs low, the sweep will also send money right back into the checking account.
I'm Jerry!
I Created My Own 4-Figure Monthly Passive Income at just 21 Years Old!​
How Betterment's Portfolio Mix Works
The idea is to put together a simple model portfolio to show people what to expect with brokerage accounts.
The problem in trying to do this with Betterment is that they tailor your portfolio based on how you answered their questionnaire.
What I do know is that to avoid fees and to lower costs, Betterment does not directly invest in individual stocks.
Instead they rely on a mixture of both Bond and Stock ETF's.
No matter what your portfolio mix might be, the algorithm's goal is to optimize your investments based on the choices you make on their initial risk tolerance questionnaire.
You can always go back and make adjustments to your answers as circumstances change.
What are the accounts supported?
IRAs
Roth IRAs (Reference: Roth IRA contribution limits)
Taxable Accounts
Trusts
Signing Up with Betterment
Signing up is easy with Betterment.
In fact, it's known for being one of the most user-friendly brokerages out there.
There are instructions that you need to follow for their streamlined registration process and can be completed in a matter of minutes.
After the sign-up process, expect to do a simple transaction as they transfer funds into the account, which is similar to moving money from a checking to savings account.
How Much Does Betterment Cost?
Betterment uses technology instead of financial advisors, so it's able to cut down costs on managing accounts.
Betterment charges an 0.25% annual fee for its automated digital portfolio management with no minimum balance.
There are no additional trades, transfers, or rebalancing of fees and is a great option for beginners who want to be hands-off.
If you plan on investing a larger amount and want more account monitoring and interaction with financial advisors, then you can take part of their additional plans.
The Premium Plan charges 0.40% per year and makes you eligible for the annual phone consultation and proactive account monitoring by Betterment's team of experts. This plan requires a minimum balance of $100,000.
You can also purchase financial advice packages starting at $149, which gives you access to customized financial action plans based on where you are in life.
Much like another investment platform called Personal Capital, Betterment was designed for two kinds of investors:
You have your long term investors who have some financial knowledge and these are the people who'll plan and forget because they know how to be patient with their money.
Then you have your financial novices looking to simplify their investment approach while getting the best bang for their buck.
What I Like About Betterment?
#1 – There's No Account Minimum Balance!
Betterment is one of the better robo-advisors that don't require a minimum deposit, which usually puts off people who want to start investing.
But this only applies to their Digital offering. For those who want to go into Premium, you'll need to maintain a $100,000 balance in exchange for unlimited phone access to their certified financial planners.
#2 – Lower And Adjusted Management Fees
Betterment is all about flexibility, and through their plans, you're getting flexible management fees to help you manage you finances better.
Again, this is one of the biggest reasons why people shy away from brokerages.
Depending on your plan, Betterment will help you find your ideal management fee.
#3 – Minimal Human Error With Investments
I say minimal here because Betterment, much like Personal Capital, relies on both their robo-advisors and human advisors.
But Betterment relies more on their robo-advisors and automated processes than the human advisors, as opposed to Personal Capital being the other way around.
Because of their risk tolerance questionnaire, Betterment finds a way to adjust your investment goals and strategies based on your answers.
And as your goals and milestones change, you're able to adjust your investment strategies with minimal to no difficulty at all thanks to their automated processes.
Betterment Ugly Truths Revealed!
#1 – No Active Trading!
If you're interested in choosing your own investments or doing your own trades actively, then Betterment may not be for you.
While a more self-directed investing is available with a Premium account, you're still mostly limited to choosing your preferred asset mix rather than individual investments.
If you want a more active platform, I would look at 24Option or IQ Option.
Betterment is a legitimate financial robo-advisor that helps manages your wealth and investments through its innovative platform.
With that said, I would highly recommend this to anyone who wants to get started on working with brokerages without worrying about a huge minimum balance requirement and high management fees.
But if you're looking for a more active investment platform, then Betterment may not work out for you.
How I Make a Living Online?
I've personally created a 4-Figure Monthly Passive Income Stream and become financially independent at just 21 years old without any College degree or working experience!
Through my own hard work, I went from a broke restaurant waiter to living my dream laptop lifestyle in less than a year's time...
If you want to discover the secrets of how I did it at such a young age, click here!