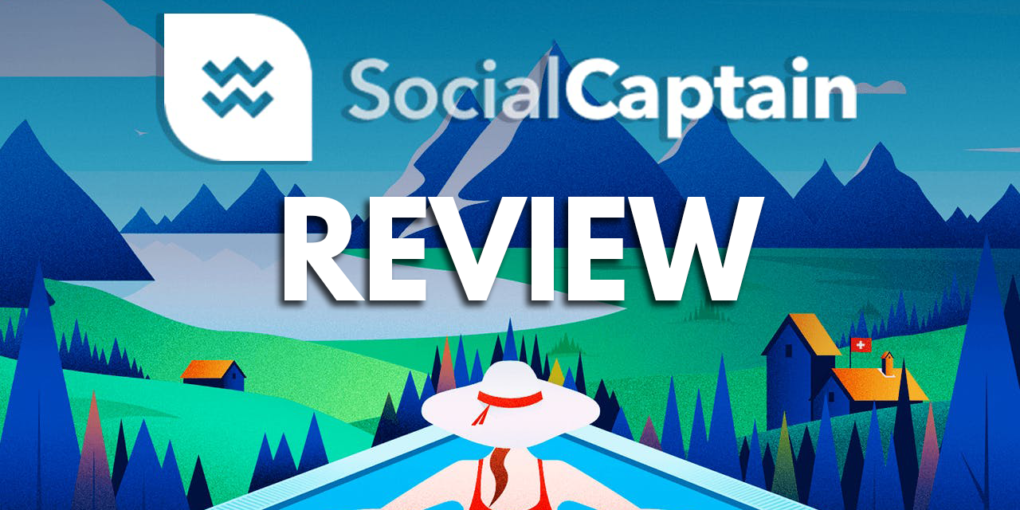 SocialCaptain Review: Organically Grow Your Instagram Followers With AI
2019 is fast approaching. Businesses and influencers are already looking into stepping up their social marketing game for the new year. Instagram is an especially major concern for many going forward; there seems to be no end to its expansion, and it's left people scrambling to keep up with its changes and demands.
One of the emerging solutions is automation. Through the use of tools, you can make your Instagram account more self-sustaining while you focus on other important tasks.
But which automation tool should you choose? There are so many different ones out there, and it's hard to tell them apart.
For this review I will be examining
SocialCaptain
, a service that guarantees real growth and real followers for your Instagram account.
More...
SocialCaptain Overview
SocialCaptain is an Instagram automation tool that seems to be rapidly growing in popularity. The reason for that? Well, for one thing, it actually works.
There's a lot of services vying for attention in the Instagram automation space. They tend to offer a fairly standard package of features, with too many of them that are just barely functional and are riddled with issues. SocialCaptain, meanwhile, does the job perfectly fine and without any hiccups.
Anyone who is trying to build and grow an organic audience on Instagram can benefit from Social Captain's assistance. If you are an influencer, artist, professional photographer, blogger, marketer, or a small business owner, this app will help you quickly build your account and efficiently guide traffic to your website or landing page.
Organic Automation
After SocialCaptain takes over your account, its artificial intelligence systems kick in and starts behaving as if there's a real user operating it. It interacts with others like an actual person would.
The fatal flaw with other automation services is that they act too much like a bot. They give out likes and follow accounts at a rate that's obviously not human, and often send vague, repetitive comments that sometimes don't even make sense.
With SocialCaptain, your activity looks completely natural. That attracts real users and leads to organic growth.
The Dashboard Interface
It's a simple dashboard interface that is pretty easy to figure out and use. There's also a great tutorial that shows you what each component does and how you can use it. It helped me out a lot in the beginning, so I'd recommend checking it out and not skipping over it.
Targeting Options
The targeting capabilities are very powerful in this app, and choosing your targets is straightforward. SocialCaptain can target users by their connection to a username, their location, and which hashtags they use. For the following sections, I will go over each of them in greater detail.
Username Targeting
Username targeting is meant for honing in on your competitor's audience. You can use the accounts of similar brands as a springboard to attract new followers.
I think it's possibly the most potent of all the targeting options. It's already evident that these users are interested in your particular field or type of products, so this is where you can potentially drive the most conversions.
I'd recommend adding several usernames to this section. You want at least five or more here in order to get more precise results. However, I'd cut it off at about a dozen. Any more than that might be too great of a range to cover at once. Feel free to play around and experiment, though.
Location Targeting
If you're a local business with a physical store address, then you definitely want to look into location targeting. It's a great way to bring in people from the nearby area and integrate your business into the local community.
The key to location targeting is keeping from going too broad. For instance, it's pointless to tag your country or state, as that usually covers a fairly enormous chunk of land. Entering your city is better, but exact locations and landmarks will get the best absolute results.
One thing that I think it encourages is exploring and creating content in your surrounding environment. People love seeing their local turf represented and given some love, and in return it might reward you with some loyal new followers.
Hashtag Targeting
Hashtags are essential to the Instagram experience. They are the central way that anybody finds content on the website; its search engine is directly tied to which hashtags are applied to each post. So if you want to get anywhere on the platform, then hashtag targeting is a necessity.
You've got to be selective, though. There are a lot of hashtags on Instagram to choose from. I'd suggest targeting a variety of both common and niche hashtags. The former will get your content in front of the most eyes, while the latter will appeal to smaller but more passionate groups.
Just make sure that you don't spam hashtags. If your content or brand isn't related to the tags being used, then it'll probably get disregarded. Remember to stay relevant at all times.
Automation Speed
In SocialCaptain, you can choose your automation speed. It comes in four different settings:
Slow - safe speed to perform (~400 actions per day)
Normal - smart speed to perform (~1000 actions per day)
Fast - supreme speed to perform (~2000 actions per day)
Turbo - premium speed to run at your account's maximum limit.
It's highly recommend using the Slow speed in the beginning, and then changing over to Normal or Fast after several days.
It's best to gradually increase the speed in order to grow steadily and safely. SocialCaptain performs as many activities as your account's rate limit allows at that time, therefore keeping your account secure at all times.
AI-Optimization Module
There's one feature that's unique to SocialCaptain's Turbo plan that I feel needs to be pointed out. That would be its AI-Optimization module, which I think is undoubtedly worth the upgrade.
What sets this module apart from most other automation systems is the advanced artificial intelligence behind it. It doesn't just repeat the same actions over and over like most. Instead, it learns and adapts based on every interaction that it completes.
The AI-Optimization module not only delivers a higher average rate of growth than regular automation, but will constantly outdo itself week after week as it improves.
Audience Filtering
You can filter your target audience by their gender, age, post type, and the amount of likes and comments their posts have received. These settings can be used to build a specific user profile that you think would be most receptive to your brand.
Pricing
There are three tiers to choose from based on your budget. They offer a 7 day, 30 day, and Turbo account. The 7 and 30 day packages are the same and offer all of the same features, which includes: smart AI-driven automation, unlimited actions (like, comment, follow, and unfollow), real-time results, and live analytics.
Here are the prices for each plan:
7 Day plan: $15 per week
30 Day plan: $39 per month
Turbo plan: $99 per month
For this article, I tried the Turbo account. I'd definitely say it was worth it. You get everything from the 7 and 30 day accounts, as well as considerably faster speeds, an AI-Optimization module, and access to their dedicated support team.
Final Thoughts
I'd highly recommend it for people that want to grow their account, but don't have a lot of time to dedicate to it. It has worked incredibly well for me so far, and has delivered the level of growth that I wanted. I started with 1,600 followers and within 14 days I've managed to double that number. That's better than a lot of other automation services that I've tried.