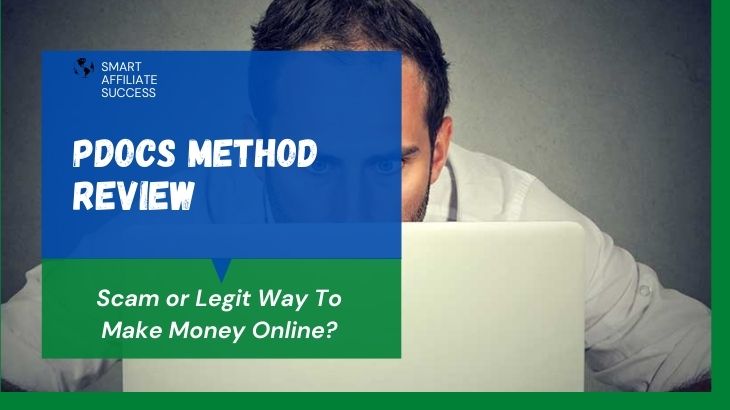 What Is PDOCS Method? A Decent Training Course For Agency Owners
Welcome to my PDOCS Method review!
This is a training course specifically meant for people who already run agencies. Is this training course going to do what it's intended, or will it not meet expectations? This is PDOCS Method.
First of all, I must Congratulate you for taking your time to do your own research before buying into any "seemingly good" product.
That's the way to avoid scams and find the legitimate way to make money online!
Let me be completely transparent with you, I'm not associated with PDOCS Method in any form.
So, rest assured that I'm not here to pitch or sell anything to you.
Instead, I'm here to reveal what this course has to offer...
PDOCS Method Review Summary
Product Name: PDOCS Method
Founder: Adam Lucerne
Product Type: Agency Entrepreneurship Training Course
Price: $47 one-time fee
Best For: Agency owners and business owners
Summary: PDOCS Method is a lead generation training course that will teach you how to manage and obtain leads using free and paid traffic. It's decent enough but not really meant for beginners who have no idea how things work online.
Rating: 50/100
Recommended: Yes and no
More...
PDOCS Method is all about teaching agency owners how to generate organic leads via Facebook groups and posting. PDOCS stands for Problems, Desires, Obstacles, Common Beliefs, and Steroids.
The website, according to Adam Lucerne, addresses 8 common obstacles that entrepreneurs are faced with.
Who Created the PDOCS Method?
PDOCS Method was founded by Adam Lucerne, also the creator of Always Be Testing. His agency is responsible for growing Fortune 500 companies and a whole lot of behind-the-scenes work for businesses.
The ABT Agency focuses on improving 20% of your company's growth campaigns and industries that will bring in 80% of the results. Needless to say, Lucerne knows what he's talking about.
How Much Does the PDOCS Method Cost?
Adam Lucerne values the course at about $7,000 or more, but he is selling it for $47. No catch, no upsells.
PDOCS Method has 8 days worth of training, which will guide you on how to acquire high-paying clients and more. They teach you a systematic process on how to identify your customers' PDOCS - problems, desires, common beliefs, and traffic drivers - to help you acquire more leads and convert them into sales.
Let's take a look at the 8 different days of training:
Day 1 – How to Research & Extract the Deepest Pain Points of Your Niche
Day 1 of PDOCS Method is all about researching any niche and how to identify their PDOCS. You'll also learn how to reverse engineer successful Facebook posts and messages that are focused on PDOCS Method.
You'll also be taught about finding the right groups and where to post them.
Day 2 – Systematically Reverse Engineer High Converting Copy Faster Than Anyone
Day 2 focuses on teaching you how to rewrite any successful ad on Facebook and using research strategies from Day 1 to create your own content calendar of posts and messages. You'll also learn about how to optimize your profile, how to build your offers, and more.
I'm Jerry!
I Created My Own 4-Figure Monthly Passive Income at just 21 Years Old!​
Day 3 – The EAACO Scripts Framework
The third day introduces the EACCO Scripts Framework that will teach you how you can close deals on Facebook Messenger without overselling or sounding like any one of your competitors.
You'll also learn about optimizing your framework and how to make it more effective without being repetitive.
Day 4 – Track Test & Optimize Your Messaging
The fourth day will talk about identifying and tracking winning and losing posts, and how to reverse engineer your successful posts. You'll be introduced into another framework called the 7A Contrarian Framework.
This framework allows you to write any copy or post, or improve existing posts without engagements.
Day 5 – Scale Your Messaging With LinkedIn to Find Executives for Your Offer
PDOCS Method's fifth day is about using LinkedIn to effectively communicate with other company executives and how to laser target prospects with a big budget. You'll also learn how to set up automatic LinkedIn outreach campaigns, how to manage the flow of the messages, and more.
Day 6 – On Demand Appointments With Cold Email
The sixth day teaches you how to use cold email outreach to book 3 to 5 appointments for every 100 emails sent. The lesson is broken down into four consecutive steps so you don't get confused.
Day 7 – Systemise and Scale the Process
The seventh day of training teaches you how to scale and grow the business and applying everything you've learned so far from Day 1 to 6. The first lesson on this module is about hiring virtual assistants, or VA's.
They are crucial to scaling and growing the business. You'll be taught how to onboard your own LinkedIn response teams and cold outreach copywriters.
Day 8 – Paid Traffic Masterclass
The last day is about how to get leads and sales through paid ads. Paid ads is great for scaling and you'll be taught how to effectively use them through what's called a "self-liquidating offer".
PDOCS Method is meant for agency owners who are struggling to generate leads and sales online, or who're struggling to scale the business.
PDOCS Method Ugly Truths Revealed!
#1 It's For Agency Owners
PDOCS Method is not something that people who want to make money online can get started with. It's fairly focused on those with already existing businesses or agencies running, so there's no basic training involved.
It's not necessarily a bad thing, if you ask me. But it does limit the audience which PDOCS Method is supposed to reach out to.
#2 Definitely Not For Beginners
As mentioned in the previous point, PDOCS Method does not provide you with basic training on what it teaches. It assumes that you already know a thing or two about the industry (social media, free and paid traffic, and more).
What I Like About PDOCS Method?
#1 Lead Generation Training
PDOCS Method is heavily focused on training for lead generation without focusing too much on paid ads, which is what most training courses are providing. PDOCS Method tries to help you get free and organic traffic as much as possible.
#2 Affordable!
For $47, it's a guaranteed steal and worthwhile investment for existing business owners. It's also really affordable compared to other agency-focused training programs out there, which are valued at more than a couple thousand dollars.
PDOCS Method is a legitimate training course for agencies and business owners on how to generate leads and sales through free and organic traffic. The various frameworks provided herein are effective in their own right, and handled by someone who's trained Fortune 500 companies how to grow their businesses.
If you are a business owner, then this course should be a good investment for you. It's less than $50, so it's not a total waste of time and money.
But if you just want to learn about making money online, this course is far from providing you with that kind of education. It's not meant for beginners.
How I Make a Living Online?
I've personally created a 4-Figure Monthly Passive Income Stream and become financially independent at just 21 years old without any College degree or working experience!
Through my own hard work, I went from a broke restaurant waiter to living my dream laptop lifestyle in less than a year's time...
If you want to discover the secrets of how I did it at such a young age, click here!