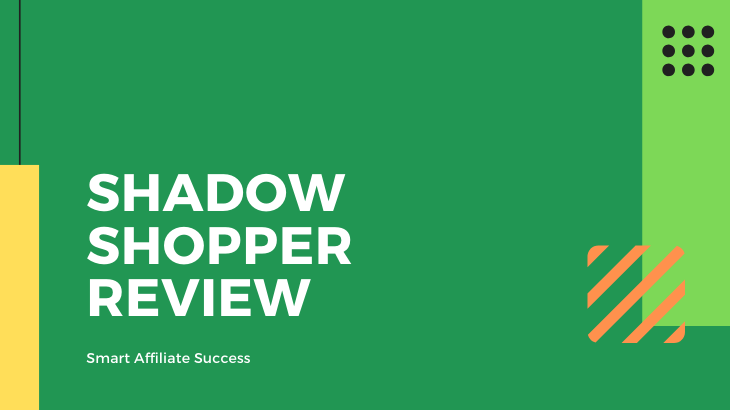 Shadow Shopper Review – Earn Money While Shopping?
Welcome to my Shadow Shopper review!
Mystery shopping isn't exactly a new gig when it comes to making money online. A lot of companies, even the huge corporations, hire mystery shoppers to evaluate their branches. The income is there, but it's not enough to guarantee a full-time income.
Is Shadow Shopper the program to change all of that?
Find out in this review…
First of all, I must Congratulate you for taking your time to do your own research before buying into any "seemingly good" product.
That's the way to avoid scams and find the legitimate way to make money online!
Let me be completely transparent with you, I'm not associated with Shadow Shopper in any form.
So, rest assured that I'm not here to pitch or sell anything to you.
Instead, I'm here to reveal if you can make money as a shopper for this program.
Shadow Shopper Review Summary
Product Name: Shadow Shopper
Founder: Not disclosed
Product Type: Mystery Shopper Program
Price: Free to join. Premium is $6.95 a month minimum
Best For: People who love to shop.
Summary: Shadow Shopper is a mystery shopping platform that provides third-party shopping opportunities to its members. Despite being a promising program, it has some issues. One of the main issues that I found is its misrepresented sales claims, which makes you think that you can earn a lot of money. There are several issues I found, and we'll talk about it in this article.
Rating: 50/100
Recommended: Yes and No!
More...
Shadow Shopper is a curator of mystery shopping programs. This means that they don't host their own shopping tasks, but rather, they're more of a middleman between mystery shoppers and companies looking for them.
For those of you who don't know how mystery shopping works, this is how the process works:
You get the assignment from a company. This includes which store to go, and what you need to do.
Go to the store mentioned in the assignment and do the assigned tasks.
Some of the assigned tasks will include:
Checking if certain products have price tags
Check the prices of the company's competition
Assess the customer service provided by the company
And a whole more…
You fill up the form provided to you and give necessary feedback
You submit the form to them and await their review. This takes anywhere between 24 and 48 hours.
You get compensated if your feedback gets approved.
From what I've seen, Shadow Shopper looks like a legit opportunity, but I found some issues with it and I'll explain them all in the next few sections.
Again, Shadow Shopper does not host its own mystery shopping tasks, but rather they host various companies who want to hire people for mystery shopping tasks.
Think of it as a Craigslist of sorts where companies post their tasks instead of ads and people will respond to these tasks.
The people will submit their application or pitch for these tasks before they get approved to do it.
Once you've completed the tasks and once feedback has been approved, you will be compensated by the companies who hired you and not Shadow Shopper.
The Membership Perks
So one of the main issues that I have is that you need to pay for membership in order to avail of their opportunity. Once you're a member, you will be able to check out the different mystery shopping assignments posted.
These assignments refresh every day, and based from what I read, there seems to be no issue with regards to people running out of assignments. This means that there's a decent number of them posted at any given time.
To become a member, you need to be:
At least 18 years old
Residing in the USA, Canada, or Australia
Then if you want to have a seamless shopping experience, the following will help you, but aren't required to apply for Shadow Shopper.
Have a car, bike, or motorcycle to get to various shops
Access to different stores, specifically big-named stores such as Walmart, Costco, and so on
The first membership tier is Bronze, which will allow you to access select job listings on the job board. These listings have been posted more than 7 days ago.
You'll also be able to access Promoted Jobs, which are the ones with the immediate request for shoppers.
As a member, your contact information will be made available and searchable through the site's database. You also get access to their educational articles.
The next membership tier is Gold, which gets you all of the benefits of the Bronze tier and access to the most recent job postings on their board.
You also have priority access to their database, so when companies want to look for shoppers, your details will be on top of the site's database.
I'm Jerry!
I Created My Own 4-Figure Monthly Passive Income at just 21 Years Old!​
How Much Does It Cost to Join?
Bronze membership is free to join, while Gold membership requires a monthly subscription.
It's clear to me that they want to push the Gold membership, which isn't that surprising.
You'll have to fill-in your details for their profile, and then you'll be sent an email containing all of the information for their subscription.
You have to pay a monthly fee of $6.95 to access the Gold Membership, but you can opt for their different plans. You can sub for 60 days for $9.95, 180 days for $27.95, or an annual subscription of $47.95.
Who's Shadow Shopper For?
Shadow Shopper is a program that's probably for people who love to shop a lot, and who're familiar with the mystery shopper concept.
This isn't something that can give you a full-time income, so let's get that out of the way. However, there's some cash to be made through this program.
Shadow Shopper Ugly Truths Revealed!
#1 It's Not Free!
Shadow Shopper advertises itself as a free program, but in reality, they try to push their gold membership, which can be misleading.
On top of that, you also have to sub with your credit card so the monthly renewals are automatic. They only want to push the Bronze membership as a way to lure you in and then they try to push the Gold Membership once you've spent a few days into the program.
#2 Misrepresented Income Claims
Shadow Shopper tries to claim that you can make a lot of money from the program, which isn't true.
You won't be able to pay your major bills with this program, but it can give you some extra money. Don't quit your day job for this program.
#3 Useless Basic Membership
Their Bronze Membership is actually pretty useless because it just allows people to check outdated job postings. It's no more than a way for Shadow Shopper to push their Gold membership.
#4 They Share Your Information
What you probably don't realize here is that Shadow Shopper can share your personal information with whoever they want. In this case, they can share your information to other companies who are using their platform.
So if you value your privacy, you might want to stay away from this program.
What I Like About Shadow Shopper?
#1 Affordable Premium Membership
Their premium membership isn't that unreasonable, and for as low as $7 a month, you can access the premium features. If you have access to a lot of commercial shops, you might be able to make the most out of their membership.
#2 Legit Shopping Tasks
Their shopping tasks are legit and a lot of their members are quite satisfied with the opportunities provided to them.
Is Shadow Shopper a Scam?
All in all, Shadow Shopper is a legitimate mystery shopping platform/provider that has the potential to make you some cash online.
However, I found some issues about the program that could've turned this review from mediocre to great.
The income claims are misrepresented, so don't expect to earn a five-figure income once you become a member.
They share your personal information to their clients, so if you value privacy, you might want to stay away from Shadow Shopper.
Their basic membership is useless, and you will be convinced that the Gold membership is the way to go.
Despite these issues, you can still check out Shadow Shopper if you are curious about what mystery shopping is.
How I Make a Living Online?
I've personally created a 4-Figure Monthly Passive Income Stream and become financially independent at just 21 years old without any College degree or working experience!
Through my own hard work, I went from a broke restaurant waiter to living my dream laptop lifestyle in less than a year's time...
If you want to discover the secrets of how I did it at such a young age, click here!