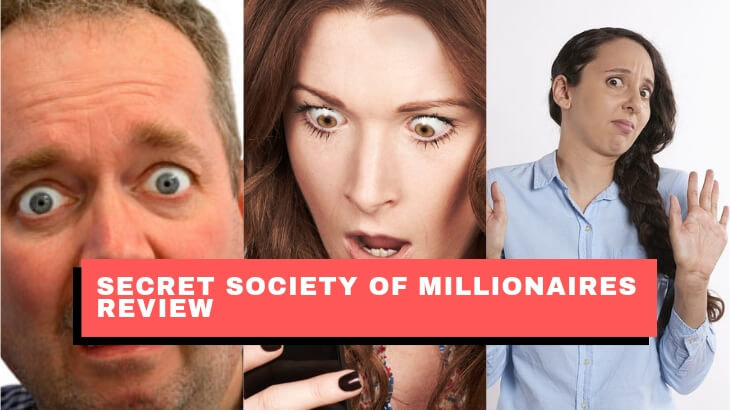 Secret Society Of Millionaires Review – It's Another MOBE Scam!
Welcome to my Secret Society Of Millionaires review!
The name of this program makes you think that you're buying into a group of entrepreneurs that're going to help you make a lot of money.
And I don't blame you.
With a name like this, I can't imagine turning down their offer.
But are they legitimate, or is something wrong with this program?
This is Secret Society Of Millionaires.
First of all, I must Congratulate you for taking your time to do your own research before buying into any "seemingly good" product.
That's the way to avoid scams and find the legitimate way to make money online!
Let me be completely transparent with you, I'm not associated with Secret Society Of Millionaires in any form.
So, rest assured that I'm not here to pitch or sell anything to you.
Instead, I'm here to reveal why this program is up to no good.
Secret Society Of Millionaires Review Summary
Product Name: Secret Society Of Millionaires
Founder: Jason Alton
Product Type: Affiliate Marketing Training Program (MOBE Scam)
Price: $49 + MOBE Upsells
Best For: No One!
Summary: Secret Society Of Millionaires presents itself as an affiliate marketing training program but once you paid their membership fee, it reveals itself as a sales funnel for a very notorious pyramid scheme called MOBE. This program then requires you to pay thousands of dollars before you can start earning. That's more than enough reason to avoid this program at all costs!
Rating: 1/100
Recommended: No!
More...
What is Secret Society Of Millionaires?
Secret Society Of Millionaires, or SSOM, is a 21-step program that teaches you the basics of affiliate marketing.
On the landing page, you'll be greeted by a sales video hosted by Jason Alton, who'll teach you how to make money online.
As the video progresses, he'll show you how he's making thousands of dollars online and how you can be just like him.
The only problem here is that he doesn't really explain how he does it.
Nor does he actually explain what the program is all about.
Everything in the video tries to hype you up to make you purchase on impulse.
Unfortunately, you're going to be in quite for a shock the moment you spend money on this program.
And I'll explain more in great detail in the next few sections.
Inside Secret Society Of Millionaires
Secret Society Of Millionaires tries to sell you an affiliate marketing training program for $49.
But the true purpose of the program is to funnel you into higher ticket products within their main program, which is MOBE or My Own Business Education.
You're probably given a book or slideshows to cover the basics of affiliate marketing, but you're not earning through that.
You're means of earning through this program is to resell MOBE to other customers.
Why?
You're getting training to resell MOBE, and this is where it starts to get interesting.
MOBE relies on a PAY TO PLAY system where you need to own the products that you're promoting. You're not going to be able to sell their products as a referral only.
So, in order to make thousands of dollars a day, you're going to have to buy their products that are worth that amount.
And it's not that far for MOBE to price their programs within that range.
Here are some of the memberships that you're going to purchase and then resell:
I'm Jerry!
I Created My Own 4-Figure Monthly Passive Income at just 21 Years Old!​
You have to spend money to make money, which is not the way that affiliate marketing works.
Affiliate marketing works based on commissions made from your referral URL
To recap, here's how the system works:
You join SSOM for $49 to get the resources
You are then funneled into MOBE
You're required to purchase the memberships in order to resell them
What Is MOBE?
I mentioned MOBE a couple of times, and you're wondering what in the world that is and why it has to do with SSOM.
Who's Secret Society Of Millionaires For?
No one.
SSOM and MOBE are illegitimate programs that are not going to be beneficial for you or anyone else.
There are far more legitimate affiliate marketing training programs out there, and if you want to get started the right way, check out my step-by-step guide right here.
It's free and doesn't require any commitment from you.
Secret Society Of Millionaires Ugly Truths Revealed!
#1 – You're Not Getting Any Mentors Or Coaches!
Somewhere in the video, the host will mention that you're getting a coach who's a millionaire to guide you through the process.
In reality, you're talking to a sales rep who's going to make a commission on the sales that he or she makes from you.
Once he or she gets every cent from you, they'll drop you and move on to the next.
#2 – Fake Testimonials!
SSOM uses video testimonials to showcase members who've succeeded in making money online.
Unfortunately, those are paid actors from a site called Fiverr, and these actors get paid to read a script.
Here's an example:
Now, this is quite common in scams because they need to make the program appealing and realistic.
That's why these programs prey on unsuspecting novices because they wouldn't think that the person talking to them is an actor.
#3 – The Owner Is Not Real!
Remember Jason Alton?
Well, he's not a real person. Or at least, the person that pretends to be Jason Alton isn't.
The photo that you see on the sales video comes from a stock photo site, as seen below:
And much like the use of fake testimonials, hiding behind a fake owner or spokesperson is a common tactic used by scams like SSOM.
This is done to draw attention away from the actual owners of the company so they remain in complete anonymity.
#4 – It's A Rehashed Version Of Another MOBE Funnel!
I reviewed another program of similar nature called Online Success Plan, and the MO is the same as SSOM.
You buy the training program, and then you're introduced into MOBE.
I don't know if these programs are connected to each other at all, or if they belong to one company.
But I'm sure that there are a lot more out there that are the same as Secret Society Of Millionaires!
What I Like About Secret Society Of Millionaires?
The products are both shameless in their nature to go after those who have no idea how affiliate marketing works.
Is Secret Society Of Millionaires a Scam?
There's enough evidence for me to safely conclude that Secret Society Of Millionaires is a scam!
Probably the biggest reason why it's a scam is that it funnels you into another scam, that forces you to pay thousands of dollars more than advertised.
And the scam that they're trying to funnel you into has been shut down by the FTC, so I don't know why they are still operating.
How I Make a Living Online?
I've personally created a 4-Figure Monthly Passive Income Stream and become financially independent at just 21 years old without any College degree or working experience!
Through my own hard work, I went from a broke restaurant waiter to living my dream laptop lifestyle in less than a year's time...
If you want to discover the secrets of how I did it at such a young age, click here!