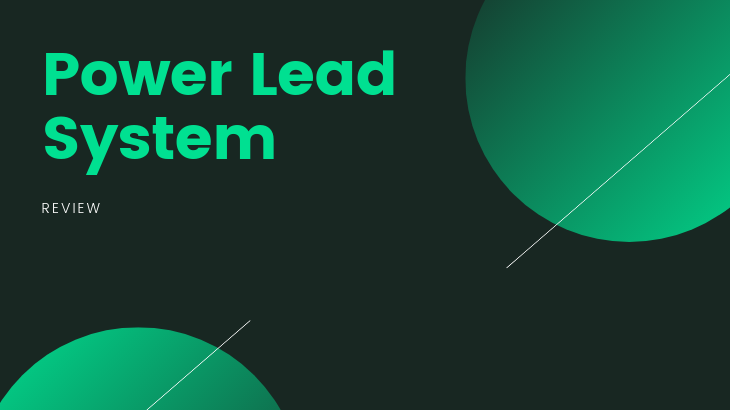 Power Lead System Review – An Internet Marketing and MLM Program?
Welcome to my Power Lead System review!
This program caught my attention because it has the makings of an affiliate marketing program but with the compensation scheme of a MLM company.
But which one is it? Is it an affiliate marketing system or a MLM scheme?
Find out in our review of Power Lead System!
First of all, I must Congratulate you for taking your time to do your own research before buying into any "seemingly good" product.
That's the way to avoid scams and find the legitimate way to make money online!
Let me be completely transparent with you, I'm not associated with Power Lead System in any form.
So, rest assured that I'm not here to pitch or sell anything to you.
Instead, I'm here to reveal what this program is all about.
Power Lead System Review Summary
Product Name: Power Lead System
Founder: Neil Guess and Michael Price
Product Type: Internet Marketing Training Program MLM
Price: $30 per month + various products
Best For: People with existing businesses
Summary: Power Lead System is a MLM company that markets an Internet marketing program that shows people how to market their businesses online. As promising as the program might sound, this is not exactly a great way to earn a full-time income, and I'll tell you why in this review below. The main reason why I can't recommend this program is that you have to spend money to make money, and this will be explained later.
Rating: 50/100
Recommended: No
More...
What is Power Lead System?
Power Lead System is a MLM company that markets a business suite of tools that includes: Google hangout pages, lead capture pages, audio and video postcards, autoresponder tools, and much more.
These are all designed to help you market your existing business online.
Power Lead System was founded in 2013 by Internet marketer Neil Guess and MLM veteran Michael Price.
Neil Guess is an Internet marketer based in Washington and is a known co-founder and co-owner of Power Lead System. Prior to starting PLS, he was an affiliate of Solavei, a MLM company that sold contract-free mobile phone services.
Michael Price is a MLM veteran who's won many sales and MLM awards, such as Sales Rep of the Year at a Fortune 100 Company. He also used to be a trainer for Tony Robbin's Robbins Research International.
Power Lead System Product Line
Power Lead System (Gold) - $30 a month
This is the main product inside PLS, which is their website/funnel builder with an autoresponder system. It comes with a 7-day free trial and gives members a chance to try out all of the features.
Free Ad Secrets - $147 one-time fee
This is a complete training program on how to generate quality leads for free, so don't expect some generic training module.
You'll be exposed to how seasoned marketers create multiple streams of income using the same traffic and leads.
Social Profit Academy - $497 one-time fee
This is a training course on how to do social media marketing without chasing family member and friends to like and follow your business' social media profiles. The program goes in depth on using Facebook and Google ads, YouTube paid ads, and more.
Master Traffic Institute - $1,497 one-time fee
This program is the most expensive amongst them all. This is a course that puts together all of the top earners in PLS and they'll show you all of their secrets to earning lots of money on a daily basis.
Lead Lightning - $7 one-time fee
This is a funded proposal type of program under PLS. This is included as a bonus and as an additional income stream (you'll see what I mean later on in the program).
This program includes a starter marketing funnel where customers get a simple capture page and autoresponder sequence to resell Lead Lightning.
I'm Jerry!
I Created My Own 4-Figure Monthly Passive Income at just 21 Years Old!​
Does The Product Work?
It's difficult to gauge if these products work or not because these are mostly training modules. As of this writing, I couldn't find any testimonial from members about their modules.
But at a glance, it looks like these are quality training modules that don't contain generic information about building your business online.
Each module is tailor-fit to match your business' needs online and will show you how to maximize these modules as you complete them.
How To Make Money With Power Lead System?
Power Lead System runs a MLM compensation plan that allows you to earn money on commissions sold for their different programs.
You don't need to recruit people to make money from the system.
How To Get Started With Power Lead System?
To become a member to use their tools, you need to subscribe for $30 a month.
Their affiliate program costs another $24 a month, so you're looking at a total of $54 a month to use both the tools and to sell them.
Power Lead System Compensation Plan?
The Power Lead System compensation plan is strictly voluntary so you don't need to sign up if you don't want to.
This is how their system works:
When you sell their PLS product and have someone sign up for $30 a month, you get $20 in commission and $10 is passed up to the next qualified affiliate.
The next product, Free Ad Secrets, sells for $147 a month. When you sell this product, you get $100 in commission and $25 is passed to the next qualified affiliate.
Social Profit Academy sells for $500, so you earn $400 in commission and $50 is passed on the next qualified affiliate.
The last product is Master Traffic System which is $1,497. Selling this will get you $1,000 and $200 is passed to the next qualified affiliate.
However…
There are several conditions that need to be met before you can earn the amount of money listed above.
You need to be subscribed to whatever it is you're selling. So if you want to sell Master Traffic System, you have to sign up for the program as well.
Affiliates have to maintain active subscriptions if they want to continually earn from this program.
There's also a 4.97% sales deduction marked as merchant processing fees, for which you're responsible for. This also covers all fees incurred from chargebacks and refunds.
Power Lead System Ugly Truths Revealed!
#1 - No Training To Build Businesses
Their programs are intended for those who're already running a business and are just looking for ways to bolster their sales online.
I read some feedback about their training videos and most of them mentioned that a lot of the modules talk about getting the program's affiliate links and how to sell them.
They also show you where to get the sales videos and the done-for-you landing pages for you to promote.
However, they don't take you through a step-by-step guide on how to use this system and how to use it around the business you are trying to promote on top of their products that you're trying to sell.
They don't show you how to get your website to rank in Google, nor do they teach you how to create content that gets ranked by Google on Page 1.
There's just a lot of missing information that could've been covered by these modules, and that's just not worth the time and money at all.
#2 - So Much Sales Hype!
There's just a lot of hype and sales pitches going on about the program's huge income potential. Now there's nothing wrong with that, but promising $500 a day with little to no work is just over the top if you ask me.
If I were to dissect the way their business model works and how their compensation plan runs, you need to sell the products twice in order to recoup your losses every month.
You're also down $24 a month because of the recurring monthly affiliate fee, which is quite unnecessary given the high-ticket programs they're marketing.
All these programs do is make false promises to beginners that there's just some serious money to be made here without doing a lot of work.
#3 - MLM Type Compensation Plan Is Difficult
The PLS compensation plan has the characteristics of an MLM scheme, but it's going to cost you hundreds of dollars to get back what you spent on this platform.
You see, you buy their product to get the rights to sell them. And the customers have to maintain their subscription every month if you want to earn.
So, if they just try out the product for a month, you're only going to earn for that month.
Your income stream here is totally reliant on not only selling the programs, but making sure that your customers are maintaining their subscriptions.
What I Like About Power Lead System?
Even though they have a decent program in place, I don't think there's something about this program that I like. It kind of reminds me of other programs such as MOBE or My Own Business Education.
Is Power Lead System a Scam?
Power Lead System is definitely not a scam, but my verdict about this program is that it's not a great way to make money online.
And I say this because of their compensation plan, which is difficult to maintain and to build consistently. There's just a number of factors that make their compensation plan barely decent enough to make it worth investing money on.
The training modules are barely decent enough to get you what you need to know, but I feel that there's still some information that could've been included. You could do a search on Google about how to build your business online and it would return better results than the modules you get from PLS.
How I Make a Living Online?
I'm not a fan of MLM, not because it's illegal or not profitable, but because of all the restrictions and the expensive costs involved.
Instead, Affiliate Marketing is my top recommended business model for anyone to make money online.
The reason is simple...
You don't have to recruit anyone to make money
You have the freedom to promote any products you want and not being restricted to only promote the products from one MLM company
It's Free to get started
In fact, with affiliate marketing...
I've personally created a 4-Figure Monthly Passive Income Stream and become financially independent at just 21 years old without any College degree or working experience!
Through my own hard work, I went from a broke restaurant waiter to living my dream laptop lifestyle in less than a year's time...
If you want to discover the secrets of how I did it at such a young age, click here!