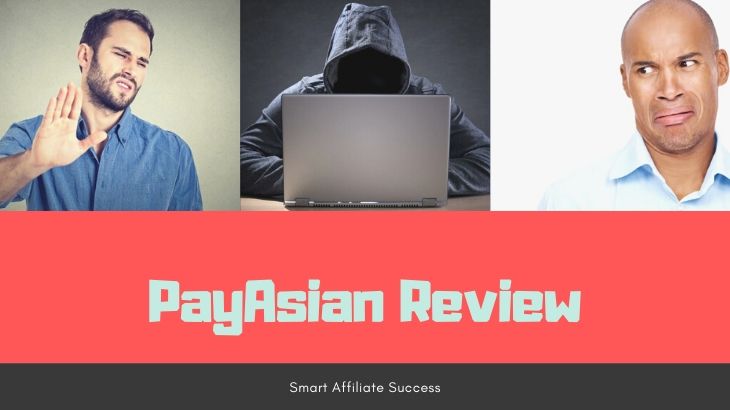 PayAsian Review – This Scam Could Send You To JAIL!
Welcome to my PayAsian review!
Do you want to know why cryptocurrency is getting such a bad reputation? It's because of these pyramid schemes and scams that proliferate the Internet. Since its inception, people have taken advantage of the fact that this is a new and upcoming industry where majority don't know anything about.
I mean think about it. All you have to do is market cryptocurrency as a product that could get you millions for a minimum investment and it's still relatively new. The best time to get into the industry is now, right?
That's what these scams are doing. They go after those who don't know much about the industry, get them to invest a lot of money, and then disappear.
Today, we're reviewing PayAsian.
First of all, I must Congratulate you for taking your time to do your own research before buying into any "seemingly good" product.
That's the way to avoid scams and find the legitimate way to make money online!
Let me be completely transparent with you, I'm not associated with PayAsian in any form.
So, rest assured that I'm not here to pitch or sell anything to you.
Instead, I'm here to reveal what this scam is about and why promoting this could send you to jail!
PayAsian Review Summary
Product Name: PayAsian
Founder: Hero Vu
Product Type: Cryptocurrency Investment MLM
Price: $100 to $100,000 investment
Best For: No one!
Summary: PayAsian is a cryptocurrency MLM company that's actually a pyramid scheme. We're going to reveal their red flags and even the government warning issued against them. There's nothing good about this program, and you should not even think about promoting this!
Rating: 1/100
Recommended: No!
More...
PayAsian is a MLM or multi-level marketing company belonging to the cryptocurrency niche. The CEO of the company is named Hero Vu and is based out in Singapore.
According to research, the company has been around since 2018. The domain name, payasian.co, was registered in April 2018 and with Singapore as its registrant's country. There's no other pertinent details included.
PayAsian named Hero Vu as the CEO and co-founder, meaning there are other people who founded the group. There's no information on who these other co-founders are.
But PayAsian isn't Vu's first MLM company, as what others thought. As it turns out, further research done by BehindMLM shows that Vu also founded another company named SunCoin.
According to BehindMLM's sources, Vu was caught promoting SunCoin in March 2018. But whatever this company was, it looked like it never got off the ground and collapsed. However, we are inclined to believe that this paved the way for PayAsian.
More information about SunCoin revealed that the company targeted Cambodian investors whom Vu scammed. He took their money and never got back once he found out it was never going to get to where he wanted it to be.
A month after promoting SunCoin, PayAsian's website was registered and promotions followed by late April and early May.
PayAsian Product Line
There's no product here, really. The main goal of the program is to make you invest real currency for PAYA coin (their crypto), which can only be used through their program PayAsian.
PAYA Coin has no real value because it's not mined and is not accepted anywhere. The price of PAYA coin is determined arbitrarily, and not based on supply and demand. So the higher ups can actually increase or decrease its value just because.
All of this amounts to this program being a pyramid scheme. There's no real product here, and you're just getting into unregulated investment opportunities.
Everything revolves around you recruiting people into the program and hoping to get a cut from their income. That's about it.
I'm Jerry!
I Created My Own 4-Figure Monthly Passive Income at just 21 Years Old!​
Does The Product Work?
The only reason why Bitcoin and other LEGITIMATE cryptocurrencies have impressive values is because these are mined for a certain amount at a time and is accepted in many places. A lot of online stores even accept them as a form of payment. There's also the fact that they're a part of a huge network that maintains the integrity of these coins.
PayAsian's PAYA Coin doesn't have any value because it's not mined and it's not dictated by supply and demand. There's just arbitrary decisions on how much it's worth.
How To Make Money with PayAsian?
The only way to make money from PayAsian is to get people to join the program. Sure, you can invest money in coins, but that's not the point of the program here.
How To Get Started with PayAsian?
You have to invest a minimum of $100 to get into the company and their income opportunity.
Here's the amounts that you can invest and rank you'll be able to get:
S1 - invest $100 to $1000
S2 - invest $1001 to $5000
S3 - invest $5001 to $10,000
S4 - invest $10,001 to $25,000
S5 - invest $25,001 to $100,000
S6 - invest $100,001 or more.
How much you invest determines your rank, which then determines how much money you can make and how much you can withdraw.
All bonuses and commissions are paid out in PAYA coins. Again, worthless.
How much you invest and your rank determines how much you can make, commissions and how much you can withdraw.
All bonuses and commissions are paid out in PAYA Token (again are in reality worthless).
PayAsian Compensation Plan
Their compensation plan is very complicated, which is typical of crypto MLM companies. PayAsian's compensation plan is about 20 pages long, filled with charts, graphs, and tables.
This is the summary of their compensation plan:
Referral Commissions:
You get 30% commission on investments made by the people you recruit. So you want to recruit them and make them invest on a higher amount. You also get 20% on commissions on the investments of the people your recruit recruits.
Residual Commissions:
Majority of the money is made from recruiting, and follows a binary structure like this:
Rank Leader Bonus:
You get a 10% Rank Leader bonus based on your profit volume generated on the weaker binary leg. This gets paid out when 2 million PAYA is received across your weaker binary team side.
Confusing, right? Yeah it's confused us too.
Rank Achievement Bonus
There are various ranks associated with PayAsian and you get a bonus when you get promoted eac time. you can earn up to 15% on PAYA orders and about $50,000 in cash bonus.
However, they mentioned that they don't pay out in cash, so what's the $50,000 for actually?
PayAsian Ugly Truths Revealed!
#1 Business Will Collapse
Cryptocurrency MLM's that are actually pyramid schemes end up collapsing or worse, getting caught by the authorities.
These schemes collapse because the only source of income comes from recruiting. Once people are no longer joining, the income stream is immediately cut off.
#2 Already Being Investigated
The Philippines's SEC, which is the USA's counterpart for FTC, has already put out a fraud warning for the company. The warning mentioned that the company is committing securities fraud due to their unregulated activities.
The warning also mentioned that they were never properly registered and that they're misleading investors into thinking that they are.
On a side note, promotion of unregulated trading companies such as PayAsian can also land you some jail time.
#3 CEO Has A Shady Reputation
This isn't the first time that the CEO of the company has gotten himself involved with pyramid schemes. His previous company, SunCoin, tried to fool people into investing and got away with it. It appears that PayAsian is following suit.
#4 Coin Is Worthless!
Again, their coin is worthless because it's not even a legitimate form of cryptocurrency. PayAsian's PAYA coin isn't mined and it's not part of the network of cryptocurrencies. The value of the coin is determined by the higher-ups, and not by supply and demand.
What I Like About PayAsian?
Absolutely nothing. This is obviously a pyramid scheme and absolute scam.
PayAsian is nothing more than a pyramid scheme hiding behind a legitimate MLM business model. Take note that not all MLM companies are pyramid schemes, and some of them are actually good at what they do.
But PayAsian is a scam for the following reasons:
It relies too much on recruitment, so there's no other source of income coming in. Once the money stops coming, the business will collapse.
They already have a warning issued against them by the Philippine government, indicating their illegal business practices.
Their CEO has a history of running a pyramid scheme.
Stay away from this company and this business opportunity at all costs. In fact, do this. The moment you read up Hero Vu's name anywhere on another program, stay away from it too.
How I Make a Living Online?
I'm not a fan of MLM, not because it's illegal or not profitable, but because of all the restrictions and the expensive costs involved.
Instead, Affiliate Marketing is my top recommended business model for anyone to make money online.
The reason is simple...
You don't have to recruit anyone to make money
You have the freedom to promote any products you want and not being restricted to only promote the products from one MLM company
It's Free to get started
In fact, with affiliate marketing...
I've personally created a 4-Figure Monthly Passive Income Stream and become financially independent at just 21 years old without any College degree or working experience!
Through my own hard work, I went from a broke restaurant waiter to living my dream laptop lifestyle in less than a year's time...
If you want to discover the secrets of how I did it at such a young age, click here!