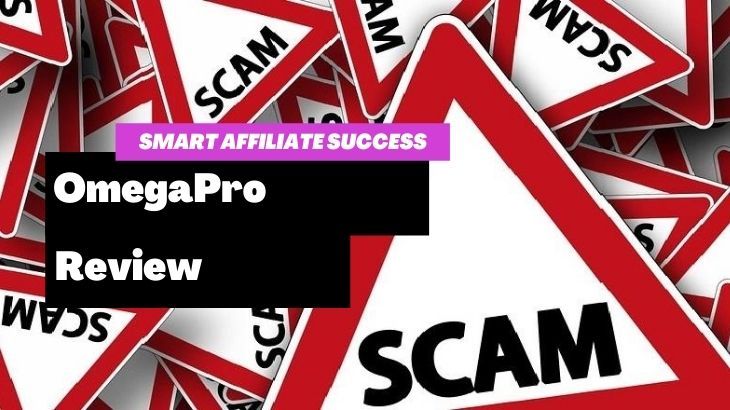 OmegaPro Review – A 200% ROI in 16 Months Scheme!
Welcome to my OmegaPro review!
Cryptocurrency MLM's are dime-a-dozen, and that's the sad part. There's a lot of them popping out like mushrooms after a rain because it just takes advantage of people's lack of knowledge about the industry.
Cryptocurrency is legitimate and it works on the premise of people using it being anonymous. Without going much into the technical explanation of things, the network secures the identities and transactions of buying and selling parties without the need for third-party individuals or companies.
There's also the premise of cryptocurrency investments and trading being very lucrative income opportunities, but they are as risky as trading stocks and Forex.
But companies like OmegaPro will never tell you that. All they'll give you are fake promises of making passive income and more.
First of all, I must Congratulate you for taking your time to do your own research before buying into any "seemingly good" product.
That's the way to avoid scams and find the legitimate way to make money online!
Let me be completely transparent with you, I'm not associated with OmegaPro in any form.
So, rest assured that I'm not here to pitch or sell anything to you.
Instead, I'm here to reveal what this Ponzi scheme tries to snake their way into...
OmegaPro Review Summary
Product Name: OmegaPro
Founder: Dilawar Singh and Andrea
Product Type: OmegaPro
Price: $29 random fee + minimum investment of $100
Best For: No one!
Summary: OmegaPro is a Ponzi scheme that promises a 200% ROI within 16 months, and while it sounds promising, it really isn't. There's nothing legal going on here with the way they operate, and there's just a lot of things wrong here. For starters, you could be jailed for securities fraud if you do end up promoting this company and making money out of the members.
Rating: 1/100
Recommended: No!
More...
OmegaPro, or Omega Pro, is a MLM or multi-level marketing company that operates under the cryptocurrency trading and investment niche. Their domain name was registered privately on Nov 2018.
On their landing page, they also have a UK Corporate Address, which belongs to Prime Secretarial, a virtual office merchant. What they don't provide on their landing page is the owner of the company.
But third-party research, as well as a formal warning from France, led us to the identities of both owners: Dilawar Singh and Andreas Szakacs.
Singh is cited as the co-owner of the company and is based out of Germany. Prior to creating OmegaPro, he was an ambassador for Omnia Tech. Omnia Tech was also a Ponzi scheme.
Because OmegaPro started right after Omnia Tech's collapse, we have reason to believe that this is a continuation of the scheme.
Meanwhile, Szakacs operates out of Dubai but has no notable MLM experience at this time of writing.
OmegaPro Product Line
OmegaPro offers no retail products or services, which is a strict requirement if you're operating a MLM in any country.
You are only investing your money to take part in their income opportunity.
I'm Jerry!
I Created My Own 4-Figure Monthly Passive Income at just 21 Years Old!​
Does The Product Work?
At the heart of it all, OmegaPro is your typical MLM cryptocurrency scam. It claims that it generates external ROI via trading of indices, stocks, and cryptocurrencies. But there's no proof or evidence that all of this is being done.
They also don't provide any evidence on their website that they're allowed to perform these financial transactions. You see, to carry out these financial transactions, the company has to be registered and authorized to operate with the country's financial regulatory agencies. For example, if they operated in the USA, they would have to be registered with the SEC or Securities and Exchange Commission.
So what happens here is that they are also committing securities fraud, which could land you some jail time if you do promote this company and make money out of people.
Needless to say, the only way that this company makes money is through the new member investments. These investments are cycled through the top tier and work their way downwards. As long as you remain on the bottom tier, you will never be able to get a slice of the pie. This is where recruitment becomes crucial. Your first move in a Ponzi scheme is to make sure that you're not at the bottom of the pyramid.
And just like any other Ponzi scheme, OmegaPro will collapse once the recruitment has stopped.
How To Make Money with OmegaPro?
There is only one way to make money from OmegaPro and that's through recruiting people. You make money off of various recruitment commissions promised by their compensation plan.
How To Get Started with OmegaPro?
OmegaPro offers free membership but does not guarantee you a spot in the income opportunity. You need to pay out a $29 fee plus a minimum investment of $100. The maximum investment is $15,000.
We don't know where this $29 is being used for, or what this entails members if they pay it.
OmegaPro Compensation Plan
At the root of their compensation plan is the promised ROI commission that the company offers, along with various recruitment commissions.
You're promised a total of 200% ROI after 16 months in the business.
There are 8 levels in which you can earn from this company:
Start-Up Level – This level costs $100. You make a 200% ROI in 16 months.

Basic Trader Level – This level costs $500. You make a 200% ROI in 16 months.

Light Trader Level – This level costs $1000. You make a 200% ROI in 16 months.

Pro Trader Level – This level costs $3000. You make a 200% ROI in 16 months.

Advanced Trader Level – This level costs $5000. You make a 200% ROI in 16 months.

Tycoon Trader Level – This level costs $8000. You make a 200% ROI in 16 months.

Premium Trader Level – This level costs $10,000. You make a 200% ROI in 16 months.

Master Trader Level – This level costs $15,000. You make a 200% ROI in 16 months.
Once you cash out, you're required to reinvest 30% of your daily returns.
Sponsorship Commissions
There are different commissions when you personally refer someone to make an investment. When they invest into one of the levels, you earn 5% of the investments made.
Residual Income Commissions
This is earned through your team built by your personally referred members and their recruits. This follows a binary compensation structure, where two personally recruited members are placed on your right and left leg, marked as the first level. Their recruits are placed on their legs and are your second level. And this goes on infinitely. You earn a commission from these levels and these are paid out every week.
Leadership Pool Commissions
OmegaPro offers a company-wide commission pool that you can join in and earn up to 3% of that pool. The commissions are split with everyone that qualifies, earning up to 1% from these pools.
Virtual Lottery Mystery Bonus?
We don't know much about this bonus because it's not listed on their site, but you'll need to reinvest 10% of your commissions from your ROI to qualify.
OmegaPro Ugly Truths Revealed!
#1 Obvious Ponzi Scheme
The main source of income for the program comes from recruiting people. There's no incentive to sell products or services because there's none to begin with. If you were to follow FTC guidelines and its counterparts, then this makes OmegaPro a Ponzi scheme.
There's no way to prove that OmegaPro is a legitimate company too.
#2 Securities Fraud
OmegaPro is also committing securities fraud on the account that it promises ROI, investments, and passive income.
They have to be authorized by financial regulators to carry out these transactions. You can also do a quick search on SEC or any government database that handles these registrations to check on their legitimacy.
What I Like About OmegaPro?
There's nothing to like about OmegaPro. It's nothing more than a Ponzi scheme.
OmegaPro isn't a legitimate MLM company and we're confident that it's a Ponzi scheme. At best, its red flags are too obvious and that there's a lot of things wrong with the program.
The incentives are focused on recruitment and not much else. You don't make any money if you don't recruit people. That's what makes it a Ponzi scheme.

It commits securities fraud because it promises passive income and investments on behalf of its members. They need to be registered with financial regulators before they can carry out such activities.
This program is 100% bad news and 100% scam. Stay away from it.
How I Make a Living Online?
I'm not a fan of MLM, not because it's illegal or not profitable, but because of all the restrictions and the expensive costs involved.
Instead, Affiliate Marketing is my top recommended business model for anyone to make money online.
The reason is simple...
You don't have to recruit anyone to make money
You have the freedom to promote any products you want and not being restricted to only promote the products from one MLM company
It's Free to get started
In fact, with affiliate marketing...
I've personally created a 4-Figure Monthly Passive Income Stream and become financially independent at just 21 years old without any College degree or working experience!
Through my own hard work, I went from a broke restaurant waiter to living my dream laptop lifestyle in less than a year's time...
If you want to discover the secrets of how I did it at such a young age, click here!