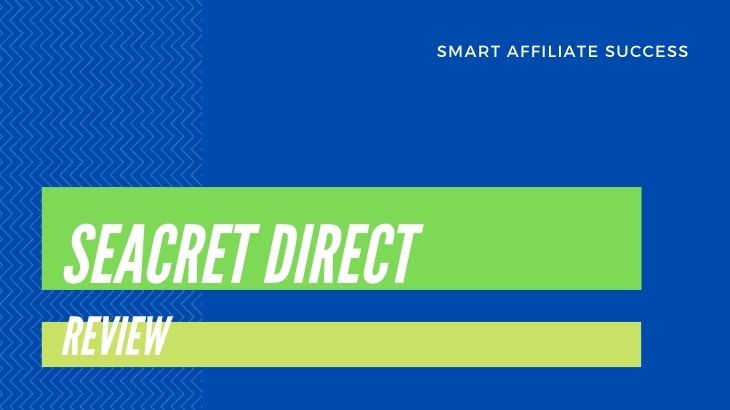 Is Seacret Direct a Scam? A Dead Sea Mineral MLM Company
Welcome to my Seacret Direct review!
We've reviewed a few unique MLM's but none would ever come close to what this company has to offer.
You see, it's easy to say when your company markets about a unique product but it's another story when you're actually one of the experts on that field.
Today, we're going to talk about Seacret Direct and why they're considered one of the experts for Dead Sea Minerals.
First of all, I must Congratulate you for taking your time to do your own research before buying into any "seemingly good" product.
That's the way to avoid scams and find the legitimate way to make money online!
Let me be completely transparent with you, I'm not associated with Seacret Direct in any form.
So, rest assured that I'm not here to pitch or sell anything to you.
Instead, I'm here to reveal what this health and wellness MLM company all about...
Seacret Direct Review Summary
Product Name: Seacret Direct
Founder: Ben Shabat
Product Type: Health and Wellness MLM
Price: $49 annual fee + Various starter packs
Best For: People who can market health and wellness supplements
Summary: Seacret Direct is a MLM company that markets health and wellness products infused with dead sea minerals. They're considered to be one of the experts of the minerals in the MLM industry, making them reliable. Their products are generating positive reviews from Amazon and other places. But it's an expensive business venture to start with, and there are several requirements to meet in order to qualify for the commissions.
Rating: 50/100
Recommended: No!
More...
Seacret Direct is a MLM or multi-level marketing company that belongs under the personal care and wellness niche. The company was founded by Ben Shabat and his brother back in 2001, driven by the mission to help people "look and feel their best from head to toe".
Seacret Direct offers various skincare and nutrition products, which you'll know more about from their video below:
Seacret Direct started out as a small company, with the two brothers never expecting to even start what they started. They initially migrated to the USA to attend medical school and never even thought about starting a business but here they are.
From selling ice cream to selling toys for children, these brothers are the best examples for "started from the bottom".
They broke out on to the Dead Sea Products and their entrepreneurial journey only went up from there. They crossed more than $500 million in sales since and have opened shops in 9,000 different locations with 40,000 marketing agents doing direct selling.
That's a lot of growth in less than 10 years.
Seacret Direct Product Line
Seacret Direct is a direct selling MLM company that markets cosmetic and other personal care products imbued with dead sea minerals, mud, and nutrients. The company claims that the products will rejuvenate the skin and bless it with youth thanks to its anti-aging properties.
Seacret Direct offers the following various product categories:
Skin Care - Includes products such as their BB and CC Cream, Cleaners, Moisturizers, Serums, and Exfoliators.

Body Care- Includes creams and lotions, wash & scrub, hand & foot lotion, oral and cleanser products.

Hair - Includes hair care products such as shampoos and serums.

Men - An exclusive product category for men that includes products such as face wash, eye gel, soal, and more.

Make-up - Includes a wide range of products meant to enhance natural beauty. This line includes mascara, foundation, and other tools. a wide range of make-up products that are said to empower and upgrade natural beauty.
I'm Jerry!
I Created My Own 4-Figure Monthly Passive Income at just 21 Years Old!​
Does The Product Work?
We were lucky to find these products on Amazon, as you can see from the screenshot of the listings I saw. Note that these are probably from one of their direct agents and not from Seacret Direct itself.
The positive reviews were overwhelming, making up more than 80% of their reviews on the site. The customers who loved the products cited that they loved the smell and the way that it works on their various skin problems. At one point, a mother claimed that Seacret Direct helped cure her daughter's eczema.
The negative reviews, on the other hand, were not directly made towards its efficiency but rather the way the product arrived or was delivered. I am inclined to think that the products are safe and that they are free from any side-effects because Seacret Direct's manufacturers made sure that the ingredients are perfectly safe.
But for the positive reviews, we would like to remind people to take these with a grain of salt. We don't know if these reviews are true or fake, and we have no proof for either. All that we know is that you can try it out and see for yourself and you be the judge whether it works or not.
How To Make Money with Seacret Direct?
You make money from Seacret Direct via:
Retail sales

Recruitment commissions

Sales bonuses from building a team and selling as a team
How To Get Started with Seacret Direct?
Working with Seacret Direct lets you become a distributor for their products, dubbed as Seacret Agents (get it?).
You have to pay the following costs to get started:
$49 registration fee (recurring annually)

$50 for the 5-in-5 Agent Kit
To qualify for commissions, you need to close each week with:
200 PV

4 active customers

Place a total of 35 BV order every 4 weeks
You're looking at a total cost of about $600 annually to keep active.
Seacret Direct Compensation Plan
Their compensation plan isn't that any different from the usual MLM companies we reviewed. It's still confusing, but we're going to get right to the meat of it:
Retail Customer Commission
You purchase products at wholesale price and sell for retail pricing. You're earning up to 150% in commissions for the retail price.
Recruitment Commission
Seacret Direct offers a commission for every person you recruit. You get $20 if your recruit buys the 5-in-5 starter packs, $50 for the WOW Starter Pack, and $150 for the Professional Starter Pack. Note that these are one-time payments.
V.I.P. and Elite Customer Commission
There are two options here in order to become a VIP Customer. First, you can get 500 points in one year, or when you place a minimum order of at least $99. To become an Elite Customer, you need 2000 points.
Team Commission
Seacret Direct offers team commissions and you qualify once you recruit 2 people. This then builds onto a binary level compensation structure.
Requirements To Qualify For Commissions
You're required to meet the minimum requirements for commissions:
35 PV every month

200 GV every week

Get at least 4 V.I.P Customers or Elite Retail Customers.
Seacret Direct Ugly Truths Revealed!
#1 Expensive Products and Startup
Product-wise, their products are great and have positive reviews from the customers. But they're pricey, as mentioned by their customers too. But we think that every cent is worth it for what they have to offer.
As from a distributor's point of view, it looks like you have to subscribe to a form of autoship to keep up with the requirements to earn commissions. This is nothing new for direct selling companies. You're more or less purchasing at least $50 worth of products every month, which brings you to a whopping $600 per year.
#2 Lack Of Training
There's no training provided by this company, so you'd have to rely on whoever it is recruited you to help you get started. Again, this isn't something that's odd in the MLM industry. It would greatly help their Agents if there were training videos and resources included in the enrollment fees.
What I Like About Seacret Direct?
#1 It's A Unique MLM
Seacret Direct is probably the only company in existence today that markets products made out of dead sea minerals, and they're quite good at it too. After all, they've had more than 10 years of experience in learning, researching, and marketing this type of product niche. I would say that they're probably an authority figure in this niche in the MLM industry.
Is Seacret Direct a Scam?
Seacret Direct is a legitimate MLM company as far as we're concerned. There's nothing wrong with the way they operate. It could only be difficult to make money out of their company because:
The products are on the expensive side and people might be skeptical about how they receive these products and its ingredients.

There's a lack of training provided by the company. We could be wrong here.
But if you want to give this opportunity a shot and feel like you could make a few dollars here, then by all means give it a try.
How I Make a Living Online?
I'm not a fan of MLM, not because it's illegal or not profitable, but because of all the restrictions and the expensive costs involved.
Instead, Affiliate Marketing is my top recommended business model for anyone to make money online.
The reason is simple...
You don't have to recruit anyone to make money
You have the freedom to promote any products you want and not being restricted to only promote the products from one MLM company
It's Free to get started
In fact, with affiliate marketing...
I've personally created a 4-Figure Monthly Passive Income Stream and become financially independent at just 21 years old without any College degree or working experience!
Through my own hard work, I went from a broke restaurant waiter to living my dream laptop lifestyle in less than a year's time...
If you want to discover the secrets of how I did it at such a young age, click here!