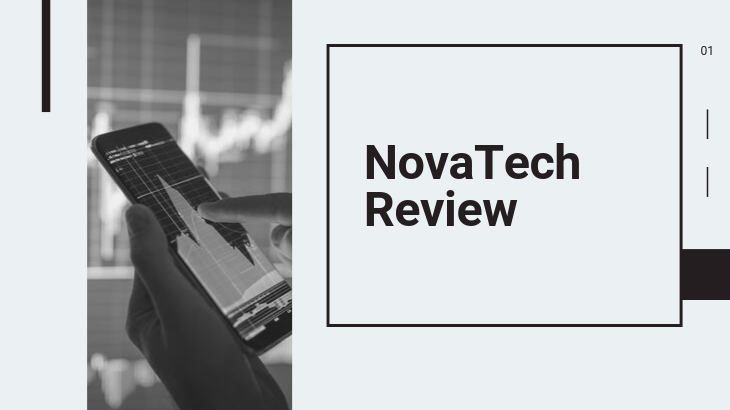 NovaTech Review – An Investment-Based MLM Or Ponzi Scheme?
Welcome to my NovaTech review!
Investment-based MLM companies are coming out of the woodwork like mushrooms after rain. Which is why more and more people are starting to fall for scams that has anything to do with investments.
For this review, we're going to talk about NovaTech.
First of all, I must Congratulate you for taking your time to do your own research before buying into any "seemingly good" product.
That's the way to avoid scams and find the legitimate way to make money online!
Let me be completely transparent with you, I'm not associated with NovaTech in any form.
So, rest assured that I'm not here to pitch or sell anything to you.
Instead, I'm here to reveal what this program is all about and why I think this is a Ponzi scheme.
NovaTech Review Summary
Product Name:  NovaTech
Founder:  Not Disclosed
Product Type:  Investment and Trading MLM
Price:  $500 minimum investment
Best For:  No one!
Summary:  NovaTech markets itself as a investment and trading MLM company, but it doesn't appear to be legitimate. In fact, I think this might be a Ponzi scheme due to the numerous red flags that I found when I made this review. One of them is that it focuses too much on rewarding recruitment and nothing else, and I have more red flags in this article.
Rating: 1/100
Recommended:  No!
More...
Author's note: This is not to be confused with Novatech.UK, a company that manufactures laptops.
NovaTech is an online MLM or multi-level marketing opportunity that markets a trading bot technology. By making an investment, you'll be able to use the bot to generate profits for you and your team.
But just by looking for information about their company, we already found some red flags.
There's no information as to who runs the business, who founded it, and where they're located. The domain was registered just in June 2019 under Novatechfx.io. Domain owner is Novatech LTD.
Their listed company address is Vatican City, but their website claims that they're registered in the USA, British Virgin Islands, and Estonia.
NovaTech Product Line
Another red flag here is that the company doesn't offer any retail products for sale at this time. The main thing that they offer is a trading bot that trades cryptocurrencies and fiat currencies to generate profit.
Their bot is powered by their proprietary AI called "N-Tech Artificial Intelligence", which is designed to maximize profits by sifting through thousands of trading possibilities.
There's no other information as to how their software works, but they just claim that this is how their company sustains the expenses and ROI profits that's paid out to members.
I'm Jerry!
I Created My Own 4-Figure Monthly Passive Income at just 21 Years Old!​
Does the Product Work?
For this part, I couldn't find any feedback as to whether or not their trading bot works as promised.
The company is relatively new based on research, and I have not seen any members come forward to provide their reviews.
This means one of two things:
That no one's bought into the program yet, thankfully
The focus is on recruitment so they don't need to use the product
How To Make Money With NovaTech?
Their MLM opportunity provides you with 2 ways that you can make money from NovaTech:
Some promised ROI
Referral Commissions
How To Get Started with NovaTech?
NovaTech's membership requires a $500 investment plus a monthly fee of $35.
Investing at $25,000 will get you to VIP Tier and comes with a monthly fee of $250.
All NovaTech investment tiers come with an annual $250 payable after the first year.
NovaTech Compensation Plan
There are different tiers for members to invest their funds on based on advertised variable return:
Bronze – $500 to $2499 plus $35 a month
Silver – $2500 to $4999 plus $30 a month
Gold – $5000 to $9999 plus $25 a month
Platinum – $10,000 to $24,999 plus $20 a month
VIP – $25,000 or more
NovaTech fails to mention the ROI rates, but does mention that VIP Tier affiliates earn 1% a month more than every other tier.
Here are the withdrawal fees for each NovaTech tier:
Bronze – 35%
Silver through Platinum – 30%
VIP – 25%
NovaTech Affiliate Ranks
There are 5 membership ranks within NovaTech's compensation plans:
Associate – sign up as a NovaTech affiliate and invest
Junior Executive – invest at least $2500, recruit three Associates and generate $50,000 in downline investment volume
Executive – invest at least $5000, recruit two Junior Executives and generate $500,000 in downline investment volume
Senior Executive – invest at least $10,000, recruit two Executives and generate $2,000,000 in downline investment volume
Director – invest at least $50,000, recruit two Senior Executives and generate $10,000,000 in downline investment volume
Ambassador – invest at least $100,000, recruit two Directors and generate $50,000,000 in downline investment volume
As far as I'm concerned this is where most of your profits would be coming from, and not from the promised ROI.
Recruitment Commissions
NovaTech also pays out commissions when you recruit investors, and here's the chart:
Recruit a new Bronze tier affiliate and earn $50
Recruit a new Silver tier affiliate and earn $100
Recruit a new Gold tier affiliate and earn $150
Recruit a new Platinum tier affiliate sand earn $200
Recruit a new VIP tier affiliate and earn $250
Also, when a member recruits three Bronze tier members within 45 days of signing up, they earn a $100 Fast Start Bonus.
If they recruit 5 Silver tier members within 45 days of signing up, they earn $300 as Fast Start Bonus
ROI Match Bonus
There's also a ROI match Bonus paid out via Unilevel compensation structure.
The member is placed at the top of his or her unilevel team, with each personally recruited affiliate placed under them as Level 1. If their Level 1 recruits people, they are placed on the member's Level 2 leg. And so on and so forth.
This bonus is paid out in percentages of returns paid to the five levels as follows:
Associates earn a 5% ROI Match Bonus on level 1 (personally recruited affiliates)
Junior Executives earn a 5% ROI Match Bonus on level 1 and 2% on level 2
Executives earn a 5% ROI Match Bonus on level 1, 2% on level 2 and 1% on level 3
Senior Executives earn a 5% ROI Match Bonus on level 1, 2% on level 2 and 1% on levels 3 and 4
Directors and higher earn a 5% ROI Match Bonus on level 1, 2% on levels 2 and 1% on levels 3 to 5
Rank Achievement Bonus
You're also rewarded for qualifying at Junior Executive or higher with the following Rank bonuses:
Qualify as a Junior Executive and receive $500
Qualify as an Executive and receive $2000
Qualify as a Senior Executive and receive $5000
Qualify as a Director and receive $10,000
Qualify as an Ambassador and receive $25,000
Profit Sharing
There's also a company-wide investment volume developed by NovaTech and places this into three Profit Sharing pools.
These pools correspond to each rank:
Senior Executive Pool – 2%
Director Pool – 3%
Ambassador Pool – 5%
NovaTech pays out the Profit Sharing pools quarterly.
NovaTech Ugly Truths Revealed!
#1. No BBB Accreditation
NovaTech is not accredited with BBB or Better Business Bureau as of this time of writing. Now this doesn't mean that they're a scam outright just because they are not accredited.
Some legitimate companies are not even accredited by Better Business Bureau, but mostly because of requirement issues.
#2. Too Focused on Recruitment
If you noticed their compensation plan, it's too focused on recruitment and you're incentivized to do so because you're paid out a bonus if you recruit people and you get promoted when you recruit people.
This is a red flag that this program might be a Ponzi scheme if I were to base it on FTC's guidelines for Ponzi schemes, as seen below.
They don't have a product or service to avail of, so the only way for anyone to make money here is to invest and to recruit. That's it.
#3. No Information about Owners
Another red flag for me is the fact that they haven't listed any information about their owners and where they operate.
Any legitimate trading and investment operation would list their owner information because this is part of their selling point. If members know that the people behind any investment program are knowledgeable people, then it gives them confidence to get into the program.
But this also works both ways. When there's no information about the owners, people aren't going to be confident in investing in the program.
#4. Not Regulated
We all know that legitimate trading and investment platforms are regulated by different financial institutions from different countries, mostly in where they want to work and where they are currently operating.
This makes them 100% liable for any wrongdoings and legal issues that may affect their customers.
Regulation is also a selling point for these companies because again it gives customers the peace of mind knowing that their money is in the hands of well-established companies and being watched over by the government.
Sadly, NovaTech isn't regulated and I don't think there's evidence of them being regulated in the first place.
What I Like About NovaTech?
There's nothing that I like about NovaTech because they just don't give me any reason to. There's just a lot of things going on in their program that don't sit well with me.
NovaTech may not be officially classified as a Ponzi scheme, but they have the makings of one if I were to base it on the FTC guidelines. I cannot recommend this program to anyone simply because there's no proof that anyone's making any money here.
Even if people did make money from this program, their business model wouldn't be sustainable in the long term because they are driven by the investment of their members and once that investment stops, their cash flow stops too.
How I Make a Living Online?
I'm not a fan of MLM, not because it's illegal or not profitable, but because of all the restrictions and the expensive costs involved.
Instead, Affiliate Marketing is my top recommended business model for anyone to make money online.
The reason is simple...
You don't have to recruit anyone to make money
You have the freedom to promote any products you want and not being restricted to only promote the products from one MLM company
It's Free to get started
In fact, with affiliate marketing...
I've personally created a 4-Figure Monthly Passive Income Stream and become financially independent at just 21 years old without any College degree or working experience!
Through my own hard work, I went from a broke restaurant waiter to living my dream laptop lifestyle in less than a year's time...
If you want to discover the secrets of how I did it at such a young age, click here!