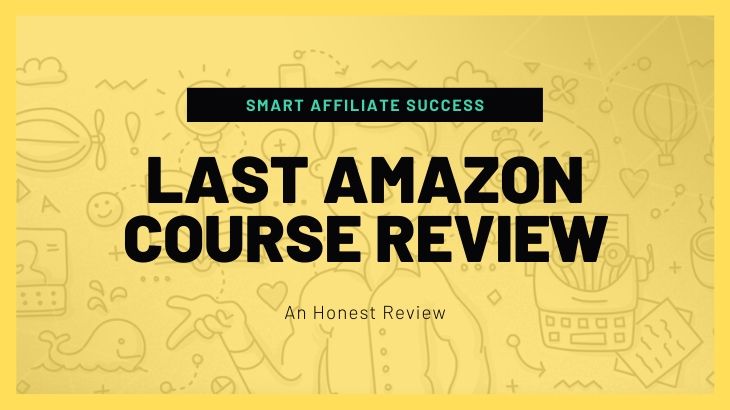 Last Amazon Course Review – The Best And Cheapest FBA Course Yet?!
Welcome to my Last Amazon Course review!
In e-commerce, there are plenty of opportunities to set up your online business. One of the most popular opportunity happens to be Amazon FBA (Fulfillment by Amazon). This is a program by Amazon that lets you sell some of their products without worrying about physical space, inventory, and shipping.
It's quite different from affiliate marketing where you sell products on commission. With Amazon FBA, you actually own the products. It just so happens that they're all on the Amazon warehouse or shipping centers and they do the rest
Today, we're looking at a training course that will let you start your own Amazon FBA business from scratch. This is Last Amazon Course.
First of all, I must Congratulate you for taking your time to do your own research before buying into any "seemingly good" product.
That's the way to avoid scams and find the legitimate way to make money online!
Let me be completely transparent with you, I'm not associated with Last Amazon Course in any form.
So, rest assured that I'm not here to pitch or sell anything to you.
Instead, I'm here to reveal why it's the best and cheapest one out there yet...
Last Amazon Course Review Summary
Product Name: Last Amazon Course
Founder: Brock Johnson
Product Type: Amazon FBA Training Course
Price: $3 every month for 3 months, or $18 lifetime membership
Best For: People who want to know more about FBA
Summary: Last Amazon Course is a FBA training course by Brock Johnson, an expert Amazon FBA entrepreneur who's made millions of dollars through his business. This course is probably the cheapest and best Amazon FBA training course out there because it's so comprehensive that it has a separate beginners' module. The course content is always updated with the relevant information and latest trends. To date, they've gone through 3 revisions so far.
Rating: 90/100
Recommended: Yes!
More...
What is Last Amazon Course?
Last Amazon Course is marketed as a training program specifically for building your own Amazon FBA business from the ground up.
This program was created by expert Amazon entrepreneur Brock Johnson, who owned a popular YouTube channel before.
Who Is Brock Johnson?
Brock Johnson made millions of dollars selling on Amazon and is who I would consider to be a influential person in the e-commerce industry.
He owned a popular YouTube channel before he decided to call it quits, stating that he didn't like how the YouTube culture was becoming, and even made a video about his decision to do so.
His videos on his YouTube channel may come off as "guru-ish" since he talks about things that would make the world a better place. But he does provide some valuable information that people would normally charge for.
His training modules on his Last Amazon Course are a reflection of how he did his YouTube videos: no clickbaits, no overly-hyped promises, and other stupid things that a lot of marketers do.
Inside Last Amazon Course
Last Amazon Course is one of the longer Amazon FBA courses that we've reviewed, clocking in at about 45 hours of training and 340 videos.
On top of the 45 hours of training, there's also a module dedicated for complete beginners, meaning those who have no idea about how Amazon FBA works or e-commerce in general.
This way, it won't feel too overwhelming for beginners and will give them a decent enough of a foundation to get started.
At a glance, it looks like the Beginner's Modules are also packed with valuable content.
With that said, the actual training videos are divided into the following sections:
Product Research
This section contains about 80 videos about product research, which focuses on how to find a winning product as well as more advanced ideas on how to pick out products.
Johnson also dabbles into game theory and how it affects certain trend predictions, and this is advanced stuff that you won't find anywhere else.
​Sourcing
Another section that contains a lot of videos, sourcing talks about how to find suppliers in China and USA, and how to go about with negotiating the prices. You'll also learn about various topics such as:
- Setting up your company logo
- Packaging
- Ordering
- Shipping
- How Amazon fulfillment works
Perfect Listing
While this isn't as long as the previous 2 sections, this one talks about how to set up the perfect listing on Amazon. This section will also tackle keywords and how to find them to help you drive free traffic. Think of it as getting a crash course on SEO.
I'm Jerry!
I Created My Own 4-Figure Monthly Passive Income at just 21 Years Old!​
Product Photography
Last Amazon Course will also teach you about how to make your products look presentable on Amazon. Brock also explains that he could charge more money on his products because he took the best photos.
This may not be the most important section, but it does help you become more successful in your Amazon business.
​Launch Your Product
This section covers how to launch your products and will also talk about how to set product prices, how to prevent negative reviews, and other tips to help you boost your sales.
​PPC
This section is all about traffic coming from PPC or Paid Per Click Marketing. You'll be introduced to Facebook Ads, Google Ads, and Bing Ads to help you drive traffic to your listings.
But this section isn't as long as the others, and so you might have to resort to investing in training videos that will help you learn more about PPC marketing.
Brand
This section only has 4 videos and will cover more on how to build your brand on Amazon.
Business Fundamentals
This more of a general business course that covers tax information, how to pick brand names, and more.
Outsourcing
You can't do everything all at once, but this video will show you how to hire virtual assistants and workers to help do most of the daily tasks. This section tackles how to hire people more effectively and goes on to talk about how to get people from the same site where I got my writer: OnlineJobs.Ph.
Defense And Maintenance
This section covers the boring stuff on how to be more compliant with Amazon and how to deal with people that steal your product.
Scaling
The shortest section on Last Amazon Course will talk about how to grow your business on Amazon. This one only has two videos and will talk about growing with a second seller account.
Reimbursements
Last Amazon Course will also help you deal with product returns and will provide you with tools to assist you with reimbursement.
Legal And Taxes With Master Of Law, Paul Rafelson
This one is about laws and taxes that you need to be aware of to do business legitimately, so your Amazon FBA career doesn't get you in trouble
Is Last Amazon Course Updated?
The course content is regularly updated by Brock Johnson and his team. You get access to the courses and then all future updates.
As of this writing, the course has gone through three version changes, which is a sign that lets us know that they're constantly improving and updating with relevant information.
Signup For Last Amazon course
You'll have to sign up for the course by paying for a 3-month subscription, valued at $3 every three months.
You can also pay for the lifetime membership, which is $18.
This is probably the most affordable training course that reviewed on this site.
Who's Last Amazon Course For?
Last Amazon Course is intended for people who want to build their Amazon FBA business. It's affordable enough that it might be helpful for people who just want to expand their knowledge on e-commerce
What I Like About Last Amazon Course?
#1 Brock Knows His Stuff!
Brock is a legitimate Amazon entrepreneur, and you can easily track his results by searching his name on Google.
He's made millions of dollars doing Amazon FBA, so he's one of the most legitimate teachers out there.
#2 Affordable Course!
At $3 every 3 months, or $18 for a lifetime membership, this happens to be one of the most affordable courses out there.
The price that you pay is far off from the quality of content you're getting.
#3 Thorough and Comprehensive
The course is comprehensive enough that it even caters to beginners and will let them start from scratch.
You'll learn everything you need to know about FBA just by enrolling in this course.
#4 Frequently Updated
The course material is updated consistently and you'll have access to the new content as long as you're signed up.
Last Amazon Course Ugly Truths Revealed!
#1 Amazon FBA Is Expensive
The only downside to FBA is that it's an expensive business to start. You have to buy the products yourself, so you're going to have to shell out a lot of money for the initial investment.
Is Last Amazon Course a Scam?
Last Amazon Course is as legitimate as it can get, and we highly recommend it if you want to start your Amazon FBA business the right way.
1. The course is so comprehensive that it actually provides additional modules for beginners who have no idea or experience with e-commerce.
2. It's the most affordable training course we've reviewed, and the quality of the course is undeniably impressive.
3. Brock Johnson teaches and leads by example, and he'll show you why he's made millions on Amazon FBA through his training course.
This program is meant for the serious entrepreneur and for those who want to expand their knowledge on how Amazon FBA works.
How I Make a Living Online?
I've personally created a 4-Figure Monthly Passive Income Stream and become financially independent at just 21 years old without any College degree or working experience!
Through my own hard work, I went from a broke restaurant waiter to living my dream laptop lifestyle in less than a year's time...
If you want to discover the secrets of how I did it at such a young age, click here!