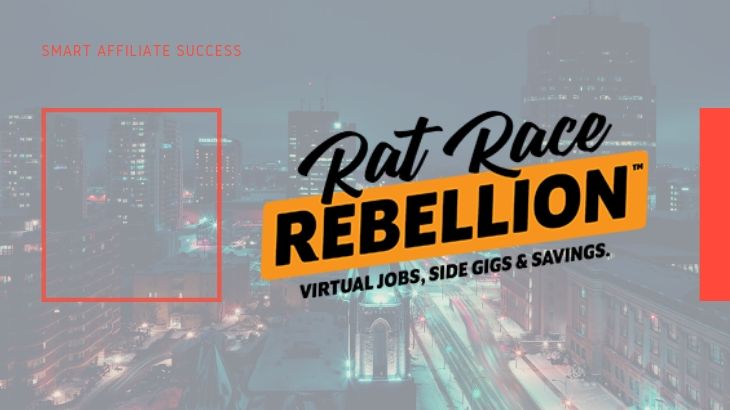 Is Rat Race Rebellion a Scam? – Work From The Comforts Of Your Home!
Welcome to my Rat Race Rebellion review!
There are a lot of work-at-home opportunities you can find online, and most of them are legitimate.
In fact, some of them have been around since the 1990's, so these are probably the sites that're worth your time.
One of these sites is Rat Race Rebellion.
First of all, I must Congratulate you for taking your time to do your own research before buying into any "seemingly good" product.
That's the way to avoid scams and find the legitimate way to make money online!
Let me be completely transparent with you, I'm not associated with Rat Race Rebellion in any form.
So, rest assured that I'm not here to pitch or sell anything to you.
Instead, I'm here to reveal how you can make money from their platform and whether or not it's worth your time.
Rat Race Rebellion Review Summary
Product Name: Rat Race Rebellion
Founder: Christine Durst and Michael Haaren
Product Type: Work-At-Home Listing Platform
Price: Free
Best For: People who want to work from home.
Summary: Rat Race Rebellion is a legitimate work-at-home platform that has been providing work-from-home job listings since the 1990's. However, there are things about the program that doesn't make me want to recommend this as a source of full-time income. It's only available to US Residents (as of this writing), and there are a lot of low-paying jobs that are quite demanding. But it doesn't mean that there are no good jobs either. You just have to learn how to spot them.
Rating: 50/100
Recommended: No!
More...
What is Rat Race Rebellion?
Rat Race Rebellion is a work-at-home listing platform similar to the likes of Upwork and Fiverr where freelancers like you can look up for different jobs online.
The platform was developed by Christine Durst and Michael Haaren's initiative to create a virtual workplace for people who want to work at home.
This platform started from their first online training company called Staffcentrix back in 1999.
But before they developed the platform, both Durst and Haaren worked small-paying jobs to make ends meet and both knew what it was like to juggle different jobs at once.
Because of these experiences, Rat Race Rebellion was born to create an avenue for people who want to work from the comforts of their own home.
Since its establishment, RRR has been featured as part of the work-at-home movement in the late 90's in media outlets such as CNN, Forbes, and Businessweek.
Inside Rat Race Rebellion
Rat Race Rebellion basically lists down all of the work-at-home opportunities that you can apply for.
You don't need to sign up for a membership go get access to their site, but you may sign up for their email listing so you can get updated when new jobs are posted.
You can also use their Facebook page to get updates on their listings.
Their site is easy to navigate enough since you have four pages that you can check out:
The NEW?! Start Here Page gets you to the history of the site and how to start exploring it.
The Newest Jobs and Gigs page shows you an updated listing.
The BIG LIST of Work from Home Jobs shows you the main listing.
The Customer Service Jobs shows you a specific listing for call center and customer service jobs.
I'm Jerry!
I Created My Own 4-Figure Monthly Passive Income at just 21 Years Old!​
How To Make Money With Rat Race Rebellion?
To make money using this platform, you're going to have to search and apply for jobs.
Based on what I've seen from their listing, it looks like there's no minimum salary requirement for companies when they post on Rat Race Rebellion, so there's a chance you'll be stuck with a low-paying job.
Most of these jobs fall under these categories:
Coaching
Editor
Proofreading
Fashion stylist
Voice over
Pet Sitter
Driver
Chat Host
Answering questions
Complete menial tasks
Instructor
Tutor
Artist
Customer service
There's A Big List Of Jobs!
A long list of organizations that are recruiting home-based workers can be found on RRR>
You'll find both freelance and GPT (Get Paid To) opportunities, but as well as companies that hire permanent staff to work 100%.
This is great if you're looking to work from home without worrying about job security.
When you click on a listing, you'll find all of the details about the job.
For example, Aetna is one of the companies that run a telework program and offer permanent job positions in customer service, financial services, healthcare, legal, underwriting, and more.
Signing Up For Updates
So, signing up for Rat Race Rebellion doesn't require you to pay for anything.
You only sign up for the email newsletters, which provides you with an updated list of jobs available.
You'll also receive news and other updates from RRR.
Who's Rat Race Rebellion For?
Rat Race Rebellion is designed for people who want to look for work-at-home opportunities that also provides some form of job security.
From the listings that I've perused, you don't need to have any special skills or prior experience to apply for the jobs, but they could increase your chances of landing them.
If you're looking for a consistent source of full-time income, then I want you to check out my step-by-step guide on affiliate marketing.
It's free and doesn't require you to sign up for anything.
Rat Race Rebellion Ugly Truths Revealed!
#1 – For US Residents Only!
At this time of writing, most of the jobs available are only for US residents. While some companies don't mind hiring people from overseas, but they will require you to live in the USA.
#2 - Demanding Work for Low Pay!
One thing I noticed about their listings is that the jobs posted are for full-time positions, and not just job assignments.
Some of them are quite demanding and some have low rates.
For example, one posting requires at least 4 years of experience with a wide range of computer skills that pays about $10 an hour.
But I don't doubt that there are good opportunities on the site. You'll just have to sift through the junk to find them.
#3 - Some Broken Links!
With some of the job listings, some of them either redirect back to Google or will display a "Page Not Found" error.
What I Like About Rat Race Rebellion?
#1 – Listings Are Updated Daily!
RRR provides you with updated job listings, so you can always come back the next day to check if there are new opportunities.
You also get notified via email if there are opportunities made available, so you're always updated in one way or the other.
#2 – Variety Of Jobs!
I like how there are a lot of job opportunities made available to accommodate anyone with different backgrounds.
There's always a chance that there's a job out there for you at RRR. You'll just have to sift through the garbage first.
Is Rat Race Rebellion a Scam?
Rat Race Rebellion is a legitimate work-at-home listing platform that provides you with a somewhat decent list of jobs online.
However, I don't think this is worth looking into if you're looking for full-time income because there are some jobs that have low salaries but demand a lot of work.
It's also only available to US residents, which is a deal breaker for me.
But there's no doubt that there are good opportunities to be found in Rat Race Rebellion. Otherwise, this site would've been gone long ago if there weren't any.
How I Make a Living Online?
I've personally created a 4-Figure Monthly Passive Income Stream and become financially independent at just 21 years old without any College degree or working experience!
Through my own hard work, I went from a broke restaurant waiter to living my dream laptop lifestyle in less than a year's time...
If you want to discover the secrets of how I did it at such a young age, click here!